For those of us who associate Arab culture with the authoritarianism and religious extremism so prevalent in so many countries of North Africa and the Middle East today, Midnight in Cairo is a major eye-opener.
Raphael Cormack's book is characterised by meticulous academic detail and the first half of it is scene setting, giving the reader a sense of the historical, political and social background of Egypt in the years after the First World War. It highlights the cosmopolitan culture of the capital and its unexpected tolerance of all races and religions. There is also, of course, a sense too of Cairo's rather limited artistic and entertainment world in the early years of the Twentieth Century – and one that did not feature women much at all, and most certainly not decent women.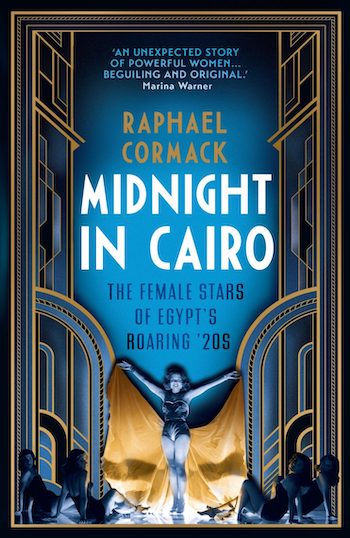 And then, gradually it all began to change. Women became the stars; they ran their own theatre companies and owned their own theatres; they became wealthy, well travelled and influential. One, Rose al-Youssef, did all of this and then decided to launch an arts magazine. It still runs to this day and bears her name.
Midnight in Cairo tells the stories of these women who, for a brief period, were not just the most illustrious stars in Egypt, they did things decidedly their way. Fatima Rushdi was often described as the Sarah Bernhardt of the East and, like Bernhardt, enjoyed playing male roles as much as female ones – she was, for instance, Mark Antony in an Arabic Julius Caesar, an approach still regarded as innovative today. The celebrated singer, Oum Khalthoum became massively wealthy and established the Egyptian Musicians' Union.
The dancerBadia Masabni ran Cairo's hottest club and casino; actress Aziza Amir became a pioneer of Egyptian cinema. This is an astonishing parade of powerful women who, against all the odds, ran the capital's night-time economy for decades. Their colourful life stories are recounted by Cormack in detail – their lovers, their (often numerous) marriages, the dodgy deals, the criminal gangs and the protection rackets. You even discover the origins of the belly dance – not quite as you might expect.
Cormack closes the book during the years of the Second World War and its aftermath, as Egypt was on the brink of change and Cairo's nightlife would change with it – and forever. The stars who shone in the Twenties and Thirties would fade, and in the new political and social climate could never be replaced. It is a bitter-sweet conclusion – but it is good to see the stories of these vibrant women shine one last time.
'Midnight in Cairo: The Female Stars of Egypt's Roaring 20s' by Raphael Cormack is published by Saqi Books. For more information, please visit www.saqibooks.com.
Header photo: 'Lights on the market in Cairo' by Naomi Koelemans on Unsplash