This is speculative thriller writing at is most beguiling with author Eve Smith creating in Off Target a world in the not too distant future when genetic engineering is commonplace, when parents can manipulate a foetus' make up not just to avoid certain illnesses and hereditary diseases but also, more worryingly, to enhance the types of talents and strengths a child may have. No one seems too bothered about ethics as governments around the world compete in a genetics race in which the unthinkable could happen with appalling consequences.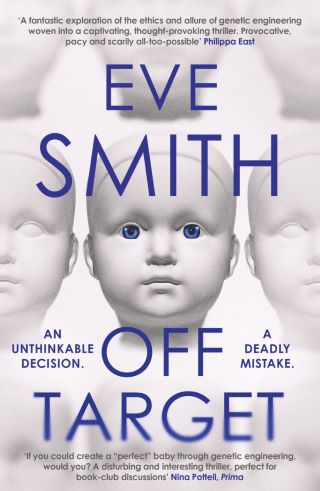 For years Susan has been longing for a child but her husband, haunted by his experiences with his first wife, which he refuses to discuss, is totally against IVF. Then a drunken one night stand with a colleague leaves Susan pregnant and in a quandary. She's desperate to keep the baby but what about the husband she loves… With the help of a close friend she makes a decision with far-reaching ramifications that would mean her secret stays safe. But secrets lead to lies and not all of them remain buried.
The novel is told in two parts: the first narrated by Susan, The Wish, which begins with the birth of the longed-for child then steps back ten months to reveal the events leading up to it. And the second, The Consequence, eleven years later, related by Susan and her daughter Zurel. By now there has been an alarming outbreak of depression and suicide by children with one thing in common – the modifications they underwent in utero. Zurel is refusing to communicate orally and is being supported daily in her school. No one knows what promoted her mutism and Susan is frantic both for her daughter and for the awful secret of her conception and genetic adjustments.
This narrative makes readers repeatedly question their own feelings about the morality of the situations. The gradual revelations and plot twists are brilliantly interwoven so that you are continually reassessing all the characters' motivations and honesty or lack of it.
The character who pulls your heartstrings the most is the young girl at the heart of the story. The only truly innocent in a cast of many self-servers. However Eve Smith manages to make her other characters fully credible and the nail-biting tension rarely lets up.
Off Target is a novel that will stay with you long after the final page.
Eve Smith writes speculative fiction, mainly about the things that scare her. Described by Waterstones as "an exciting new voice in crime fiction", Eve's debut novel The Waiting Rooms, set in the aftermath of an antibiotic resistance crisis, was shortlisted for the Bridport Prize First Novel Award and was selected as a Book of the Month by Eric Brown in The Guardian. Eve's previous job as COO of an environmental charity took her to research projects across Asia, Africa and the Americas, and she has an on-going passion for wild creatures, wild science and far-flung places. Off Target was released on 17th February 2022, published by Orenda Books.
Anne Coates is a journalist and author of the Hannah Weybridge crime thriller series published by Red Dog Press. The latest, Stage Call, was published in February 2022.