This week it's another double bill in Books, as crime writer Anne Coates recommends two new titles that'll keep you gripped to the last page…
Quicksand of Memory by Michael J Malone
Memory is a curious thing. It can ruin a life, break relationships, create havoc –especially when people have a different take on situations and conversations. Malone juggles characters' memories and reactions in a compelling novel dealing with revenge and bitterness.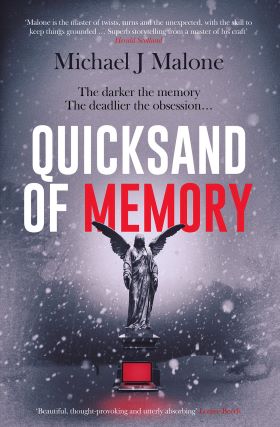 Just as Luke feels his life is getting on track, creating a loving and safe home for the son of his partner who died and building up his therapy service, his world is turned upside down by someone determined to make him pay for mistakes made years before.
After a relationship, which left her devastated, Jenna has had to give up her career and flat to become her mother's with a part-time job in a books shop. Plagued by a young man who seems smitten with her and haunted by her past, she turns to Luke for counselling.
As they begin to fall in love (she only has one therapy session!) ghosts from both their pasts collide and create a terrifying present. Malone's novel encourages the reader to challenge characters' recollections and reminiscences and perhaps confront the ways in which we recall our own past histories.
A great narrative from various characters' perspectives, with perfect plotting, beautiful writing and twists to keep you guessing until the satisfying dénouement.
Michael Malone is a prize-winning poet and author who was born and brought up in the heart of Burns' country. He has published over 200 poems in literary magazines throughout the UK, and Blood Tears, his bestselling debut novel won the Pitlochry Prize from the Scottish Association of Writers. His psychological thriller, A Suitable Lie, was a number-one bestseller, and the critically acclaimed House of Spines and After He Died soon followed suit. Since then, he's written two further thought-provoking, exquisitely written psychological thrillers In the Absence of Miracles and A Song of Isolation, cementing his position as a key proponent of Tartan Noir and an undeniable talent. Michael lives in Ayr. Quicksand of Memory is out now, published by Orenda Books.
The Haven by Amanda Jennings
Amanda Jennings whose books I have enjoyed for many years now for the quality of her writing has created an all too believable world that begins in the present day and then jumps back to 1995 and then the early twenty-first century.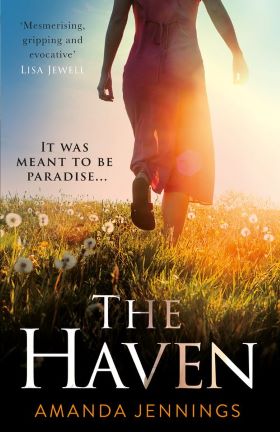 Kit and Tara both dropped out of university when she became pregnant in her first year (Kit was near to graduating which made this reader want to berate him for not completing his course!). Both want a different family life from the ones they have experienced: Kit's wealthy and privileged, Tara's strangulated by middle class conventions; both lacking a loving upbringing. Yet they begin life in a cramped bedsit with their close friend Jeremy exhorting them to break the chains of convention. He wants to create a self-sufficient community where they can work the land and ignore society.
Although it is money from Kit's trust fund, which buys Winderfall farm, it is obvious that Jeremy is the leader of the group, which includes an array of well drawn characters, and Skye the only child. Jeremy's behaviour becomes more and more authoritarian. His conduct becomes more extreme but no one challenges his leadership. Then he goes off and returns with a young runaway and the dynamics change.
The story is mainly told from Kit and Tara's viewpoint in first person narratives, with Jeremy's in third person. This means the reader has an overall wider appreciation of what transpires than the characters. For me the early part doesn't work as well as when they move to the farm when the story really comes into its own. As tensions rise it becomes apparent that living off-grid has serious consequences.
Beautifully written and brimful of dark suspense.
Amanda Jennings lives in Oxfordshire with her husband, three daughters, and a menagerie of animals. She studied History of Art at Cambridge and before writing her first book, was a researcher at the BBC. With a deep fascination for the far-reaching effects of trauma, her books focus on the different ways people find to cope with loss, as well as the moral struggles her protagonists face. Her previous books include The Judas Scar, The storm, In Her Wake and The Cliff House. When she isn't writing she can usually be found walking the dog. Her favourite place to be is up a mountain or beside the sea. The Haven is out now in hardback and ebook, published by Harper Collins. For more information, please visit www.harpercollins.co.uk.
Anne Coates is a journalist and author. Stage Call, the fifth in her Hannah Weybridge crime series, was recently published by Red Dog Press.
Header photo by Ravi Sharma, courtesy of Unsplash