So, where do I begin? Simply put, this is one of the most original and absorbing books I've read in a long time. It's heart warming and life affirming and runs through a whole gamut of emotions in a single chapter.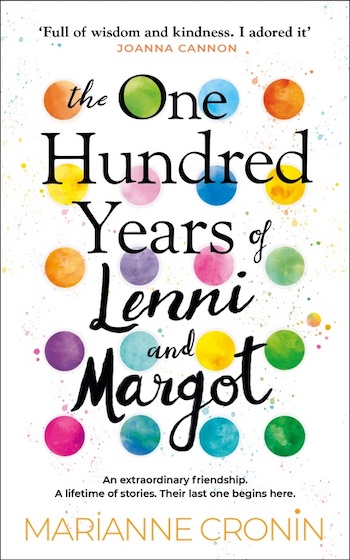 So you may find it counterintuitive that its subjects are death and dying. It's set in a hospital in Glasgow, specifically in the Rose Room where the art therapy class takes place. It is here that terminally ill Lenni Petersson aged 17 strikes up a friendship with Margot Macrae aged 83, who has recently had heart surgery. Between them, they have one hundred years of stories to share and paint. Obviously Margot has rather more tales to tell; she entertains Lenni, transporting her to various places and stages in her life beginning at the age Lenni is now. Together they escape the present confines of the hospital through imagination and stories.
Clearly Margot and Lenni are at the centre of the book but there are, too, other stand-out characters who move in and out of focus, gradually revealing their own idiosyncrasies and virtues. Father Arthur the hospital chaplain is Lenni's sounding board for the big questions like "Why am I dying?" New Nurse (as Lenni calls her) with her cherry red hair slips off her trainers and sits on her bed. There are Paul the porter and Pippa The Temp who created the Rose Room but then lost her job. Lenni's Swedish mother with her mental health problems is fast fading from her memory and her gift to her father is to tell him not to visit her – until the end.
What is perhaps most surprising is the assured and authoritative way Marianne Cronin writes – especially from the point of view of Margot in her later years and the earlier scenes, which take place before the author was born. The relative youth of Cronin and the fact that she began The Hundred Years of Lenni and Margot in her early twenties puts me in mind of Emma Healey's accomplished début, Elizabeth is Missing. Both authors write about old age with tremendous empathy and perception.
Marianne Cronin draws on own experiences of ill health and hospitals and, although the concept of friendship between a dying teen and elderly woman may seem sad, the book is riven with humour and wit, life and colour. People may regard Lenni with sympathy or pity but in the face of death, she is full of life. She is, at heart, still a rebellious and sometimes stroppy teenager.
The characterisation is excellently executed and Cronin's use of language and the plotting of her story is perfect. There is a beautiful symmetry to the narrative that will take your breath away.
The One Hundred Years of Lenni and Margot is published by Doubleday and is available at Waterstones and all good stockists, priced £12.99 (hardback). Born in 1990, Marianne Cronin studied English and Creative Writing at Lancaster University before earning a PhD in Applied Linguistics from the University of Birmingham. She now spends most of her time writing, with her newly-adopted rescue cat sleeping under her desk. When she's not writing, Marianne can be found performing improv and stand up in the West Midlands, where she lives. The One Hundred Years of Lenni and Margot is being adapted into a feature film by Sony/Columbia Pictures. 
Anne Coates is a journalist and author of the Hannah Weybridge crime thriller series published by Urbane Publications.