As someone who devoured Conan Doyle's original Sherlock Holmes stories – and indeed wrote one of my own for a magazine – I was apprehensive about reading Bonnie MacBird's latest offering. Would I be disappointed? Would the characters live up to Conan Doyle's creations? I need not have had any such fears. Fans of the master of deduction are in for a treat with MacBird's fourth book. Written in the style of Conan Doyle, The Three Locks is a prequel to Art in the Blood, Unquiet Spirits and the Devil's Due. So a perfect place to begin.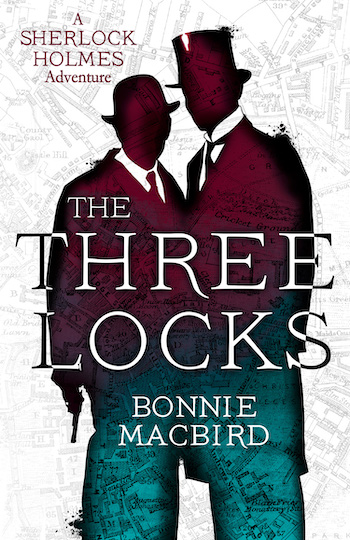 The settings are London and Cambridge during a sweltering Indian summer in 1887. A small locked box with no key arrives for Watson with a link to his past: a letter written by his mother which should have arrived on his twenty-first birthday, some ten years after her death. Holmes is unwilling to help and Watson goes off to Bath with some friends. When he returns some ten days later their rooms are in a state of disarray (Mrs Hudson's displeasure is apparent) and Holmes is wearing a straightjacket from which he is endeavouring to extricate himself… His efforts are linked to a case involving two renowned illusionists of the London stage, their personal and professional jealousy and the very clever woman who designed their "tricks".
Holmes' interest had been piqued by their triangle as well as by the dilemma of a young curate from Cambridge determined to rescue the beautiful young daughter of a celebrated don who is desperately trying to escape the life society and her father have set out for her. The two cases become intertwined with dramatic resolution as Holmes and Watson put their own lives at risk to solve the murders, tangling with conjurors and priests, scientists and scheming sisters and a heat wave that melts the countryside. Plus there is the question of Watson's locked box.
MacBird adroitly weaves the three stories into a compelling narrative featuring a range of characters whose motives are often hidden behind convention and deceit. No one is who they appear to be from first meeting and it is up to Holmes and Watson to solve the mysteries to prevent more murders and the wrong people being charged with them. Through meticulous research and rigorous attention to period detail, she eloquently evokes the Victorian atmosphere and, of course, the world of Holmes and Watson created by Conan Doyle.
The Three Locks by Bonnie MacBird is published by Collins Crime Club. The Three Locks is available in hardback, ebook and audiobook, the paperback will be published on 28 October 2021.
Now living in London, Bonnie MacBird was born and raised in San Francisco. She attended Stanford University where she earned a BA in Music and an MA in Film. Her long Hollywood career includes four years as a feature film development exec at Universal, the original screenplay for the movie TRON, three Emmy Awards for documentary writing/producing, eleven Cine Golden Eagles for scripted and documentary work, numerous produced plays and musicals, and theatre credits as an actor and director.
Anne Coates is a journalist and author of the Hannah Weybridge crime series: Dancers in the Wind, Death's Silent Judgement, Songs of Innocence, and Perdition's Child.