"Men ought to be severely exercised and disciplined in daily life, they should learn to lie on stone beads and eat black soup, but they should never have their hearts broken – a noble heart, once broken, never mends."
Rebecca Lipkin, The Arbuturian's arts editor, offers an evocative portrait of one of the most remarkable Victorians, the art champion and critic turned social commentator and philosopher, John Ruskin, in her recently published and already critically acclaimed debut historical novel, Unto This Last.
Although in essence the work is a tribute to Ruskin, this epic love story does not steer away from the great man's failings (which he himself did not), all the while shining a new light on his many complex personal relationships, namely with his domineering parents and his beautiful, enigmatic Irish pupil, Rose La Touche. This is the story of the misunderstood man behind the genius…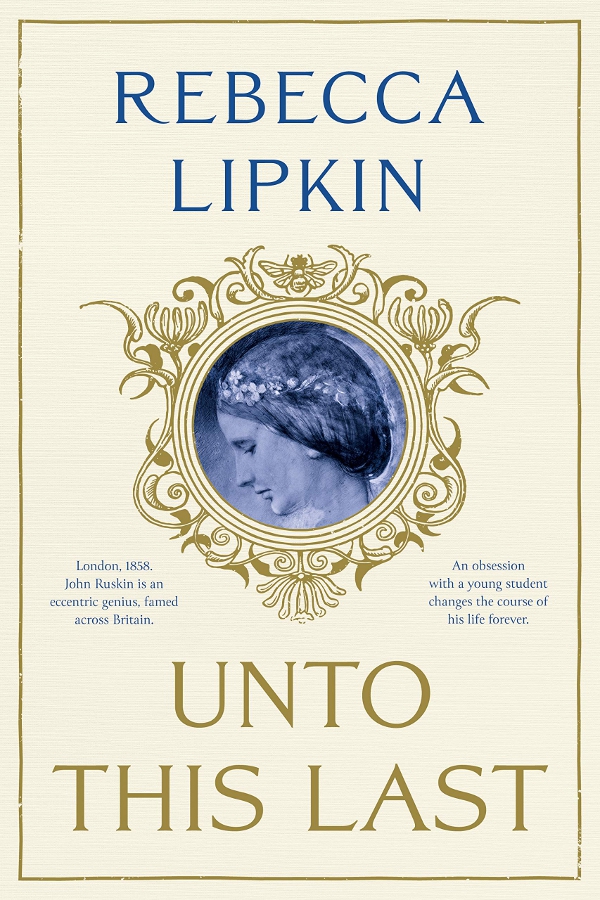 What People Are Saying
"This is an atmospheric and utterly convincing novel. Rebecca Lipkin has dug deep – has taken on the difficult story of Ruskin's relationship with Rose La Touche, tackling the subject with great empathy in prose that is both detailed and vivid. A considerable achievement." Michael Crowley, writer and dramatist.
"This novel enchanted me. Deeply researched and charmingly written, it resurrects not only John Ruskin, one of the most influential characters of the Victorian age, but his fascinating pupil Rose La Touche, who is portrayed so sensitively that you feel as though you know her." Daisy Dunn, author of In the Shadow of Vesuvius: A Life of Pliny
"Unto This Last draws the reader into the world of John Ruskin at a deeply felt, painful time in his life. Rebecca Lipkin's thoughtful novel about this complicated man – and his often confusing world – is a pleasure to read and a very welcome addition for all lovers of Pre-Raphaelitism." Lucinda Hawksley, biographer of Lizzie Siddal
Excerpt – Prologue
Ruskin chased the open carriage as it thundered across Westminster Bridge. Several times he very nearly lost sight of it, yet still he pursued the landau, drawn by a pair of sprightly grey mares. The tails of his frock coat flapped bird-like as he crossed the gustiest part of the bridge, while he could hardly avoid scuffing his fine leather boots when he stumbled in his hurry, for he had no time to look where he was going.

He did not consider what he would say or do if he should catch up with the vehicle, the simple desire to exchange a few words being enough to compel him onwards. He felt that he was fated not to allow this chance encounter to pass him by without at least attempting to seize it, a belief which fired him up and gave him a rush of energy he had not experienced since his youth.

Despite his limbs making him remember his age, he was possessed with an uncommon, exhilarating vitality, coupled with an excitement at the prospect of finally getting to see and speak to her that made him giddy.

A few spots of rain offered him the refreshment he needed, and though he could only see the back of her head and the fair hair which had ignited the chase, this urged him on when he could barely breathe for exhaustion.

The carriage eventually came to a standstill just after a mile when several milk carts blocked the Piccadilly thoroughfare. As the rain was worsening, the ladies asked the coachman to pull over to adjust the hood, a fortunate event which allowed Ruskin to stagger towards his goal, spent and breathless but ecstatic with success.

The canopy had not yet concealed the passengers by the time he approached, however he saw to his horror that he did not recognise either the two plump middle-aged women, nor the young lady, entirely plain with dull grey eyes who bore no resemblance to his dear one whatsoever.

On the contrary, the stranger's blank face with nondescript features so repulsed him with its many dissimilarities that he could barely look on her, though she was smiling and blushing at him as though he were a sincere admirer, for she rightly assumed that she had been the reason for his maniacal pursuit.

'Why, I do believe it's Mr Ruskin?' the eldest and roundest of the three women remarked, peering at him curiously and pressing her substantial bosom with false modesty.
'Indeed,' their pursuer admitted shamefully, running his fingers through his damp hair in abject humiliation.
'Well, what an honour! Whatever can we do for you?'
Crestfallen, he stuttered an apology because he believed he ought and not because he felt sorry for causing them delay, 'Forgive me, I mistook this lady for a friend,' and withdrawing his arm from the door of the carriage on which he had momentarily rested, he fancied that his heart was bound to rupture from both the vigour of the exercise and the heartbreak of the reality.
The stupid-looking girl regarded him searchingly and at last enquired, 'Is this how you greet your friends?' prompting her companions to snigger at his expense.
'This is my niece,' the portly woman offered without needing to, her expression and tone having changed from one of warmth to brusqueness.
Ruskin, nodding curtly to the young woman, but without taking up the introduction said, 'What a foolish error. I insist that you ladies go on your way, I have inconvenienced you enough already,' and he turned to go without so much as bidding the startled party farewell. After all, he was more baffled by his actions than they.

He was a desperate man, never more so than when he faced the disappointment of having to watch the carriage, without his love in it, rumble down Half Moon Street, taking all hope of seeing her away with it.
Unto This Last: A Novel is available from all bookstores and online, ISBN 9781913208820. For more information about Rebecca Lipkin, visit her website.