Finally, after two postponements due to Covid, Akram Khan's Creature had its world premiere last night at Sadler's Wells. The Creature of the title is Mary Shelley's and we begin where she left Frankenstein's "monster" – in the Arctic. However, if you imagine you're in for a night of Victorian-costumed Gothic horror, think again. Horror there is, certainly, but of a very different kind.
Khan's other principle influence in his latest creation was the Georg Buchner play, Woyzeck. Buchner died from typhus at the age of 23 and his play was not seen for some 40 years though it became far better known when Alban Berg used it as the basis of his opera, Wozzeck. It has a bleak story. Woyzeck is a man ground down by poverty, near-starvation and brutality. He represents the voiceless, used by the powerful for their own ends and then discarded. And Khan's Creature feels his pain.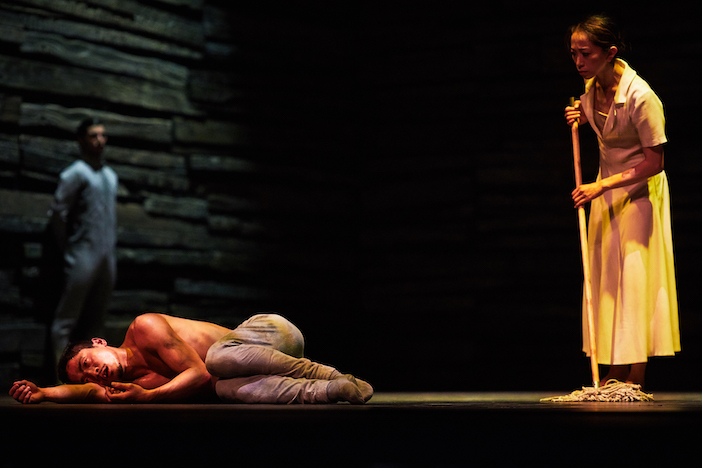 You hear, or perhaps feel, the action before you even see the Creature. The score begins with a rumbling that reverberates (rather uncomfortably) through your body. As the lights come up, you make out the Creature inside high makeshift wooden walls, and Marie, his keeper (the delicately luminous Erina Takahashi, an OCD Cinders, forever mopping and scrubbing). They are indeed in the Arctic and this is a dilapidated former Arctic research station with the Creature now the main focus of military research. What can he withstand physically and mentally in extreme cold and isolation?
He is an experiment for what faces mankind as we reach that final frontier and go into space, leaving behind a wrecked scorched planet. It is a bleak picture of the over-weaning ambition of the few at the unconsidered cost of the multitudes. (There is more, I suspect, than a slight dig here at space-obsessed billionaires.) Whenever it all becomes too much for the cowed, they are encouraged to look upwards towards those stars that they themselves will never reach.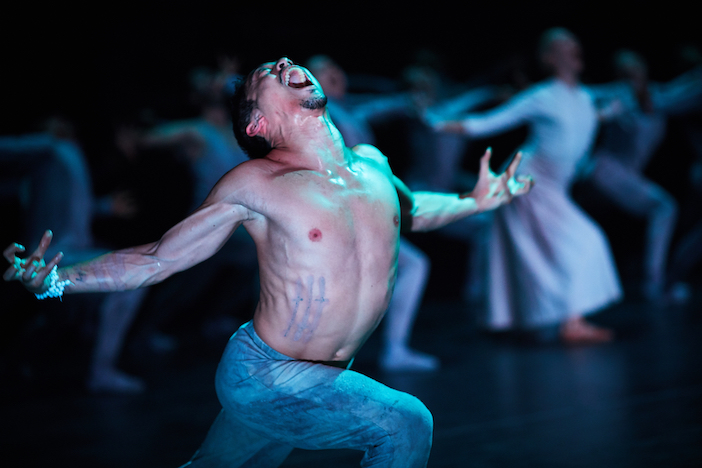 As the Creature, the magnificent Jeffrey Cirio is not always cowed. He is a pussycat with Marie, rubbing his head affectionately against her calf, lying on his back to be tickled. He copies the repetitive, techno moves of the soldiers who guard him, he trots obediently like a pony on a lunge at the behest of the imperious Doctor (Stina Quagebeur who has some dazzling moments), he plays games with his friend Andres (Victor Prigent). It is the Creature here who is the most human, full of innocence and emotion; the humans who are perhaps the monsters.
And then the Major arrives and the balance of power swings far away from the Doctor (even she is cowed by him). Swaggering and sinister in equal measure, Fabian Reimair owns the stage, the very picture of wicked entitlement. He sends the Creature out into a hostile environment, and then he focuses his attention on Marie. And from here, things go seriously downhill.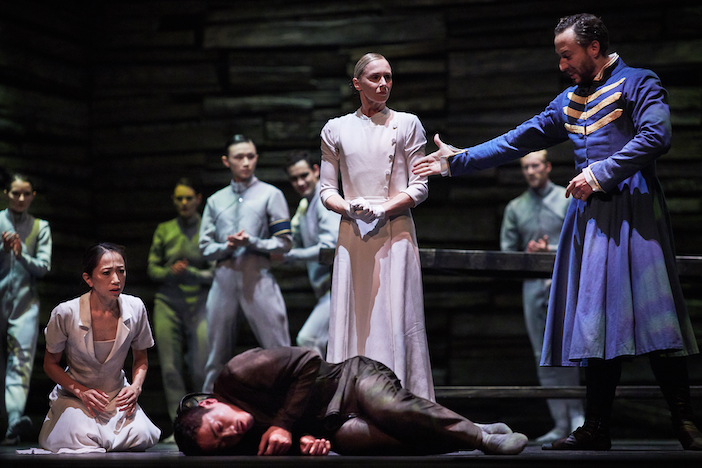 Creature is Khan's third work for English National Ballet and, just as in his earlier Giselle, this is a very dark piece. This is true literally in Tim Yip's three oppressive rickety walls and Michael Hulls' impressive lighting that leaves plenty of shadowy corners. It has a dark soundscape, too, beginning with that visceral rumbling, through a loop of Nixon from the White House congratulating Buzz and Neil on their moon landing, by way of nods to Ravel – Bolero gradually falling apart and tumbling into a minor key. It's electrifying – but also at times just too damn loud both for my ears and the English National Ballet Philharmonic under conductor Gavin Sutherland sometimes struggling to be heard.
Darkest of all, though, is Khan's vision. It's relentlessly bleak out there and that isn't just due to the Arctic temperatures. His choreography, though, is sublime and gloriously performed by ENB, as ever.  From goose-stepping stormtroopers to Cirio's astonishing animalistic grace and the soaring duets for Cirio and Takahashi, this is a visually astonishing piece.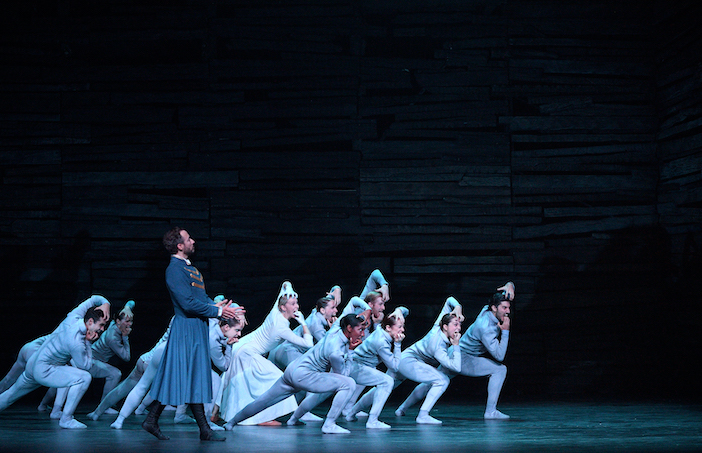 As for the plot, it does sometimes feel like a diatribe, heavy on delivering a moral message to the world. At others, it simply gets lost and some on-stage mysteries would remain unexplained without the programme. And then there are those that do remain unexplained. What, for instance, is the significance of those beads that get passed around in wonder and awarded like a prize?
For the true lover of contemporary dance, though, missing the new Khan is unthinkable. (Just please turn down the volume.)
Akram Khan's Creature runs until 2nd October at Sadler's Wells. For more information and to book tickets, please visit www.sadlerswells.com.