Akram Khan, as a ten-year-old, played Mowgli in Peter Brooke's The Adventures of Mowgli. Clearly, the story has been in his mind ever since and, in this remarkable dance-theatre version currently at Sadler's Wells, he has indeed reimagined Kipling's 1894 book.
So, just to manage expectations, you can forget any kind of Disney Jungle Book or Lion King here. Khan's Mowgli enters a dark world in every sense. Instead of the jungle, we are in an apocalypse of our own making – the waters have risen, the Eiffel Tower and Big Ben are toppling into the waves and a young girl, Mowgli, is adrift on a raft with her mother. The two are portrayed at this point as line drawings in a remarkable animation sequence by YeastCulture that sees Mowgli fall into the depths to be rescued by a whale and deposited on land and surrounded by animals.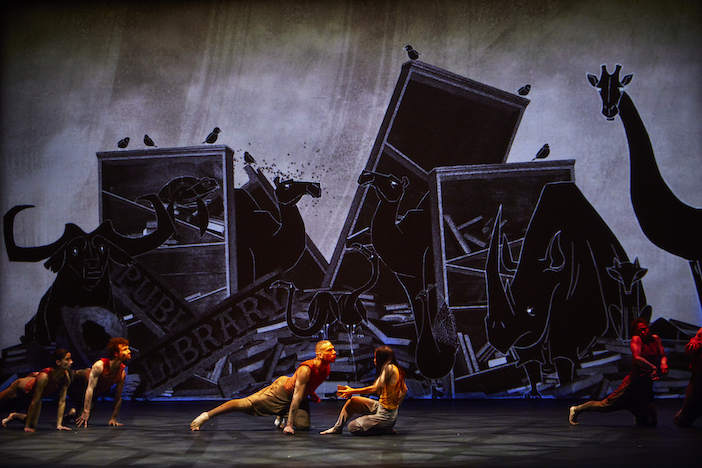 This is the point where the live action begins – and what action there is. The dancers become animals before your eyes. All dressed in the same red tops and brown harem pants (including Mowgli) they are differentiated only by their movements. But, such is the calibre of these dancers, that's pretty easy to do. First among equals here – this is very much an ensemble piece – there's Baloo (here an escaped dancing bear played by Tom Davis-Dunn whose lumbering comic moments frequently steal the show) who with Bagheera, (the wonderfully sinuous panther, Holly Vallis) befriends Mowgli and together they become her protectors.
The jungle they inhabit, though, is far from Kipling's. Rather, it is a decayed urban jungle, abandoned by the humans who have fled to higher ground. It's not just the set that is dark and brooding either. The animals themselves are all damaged by man – escapees from zoos and circuses or, in the case of the Bandar-log, monkeys that were in experimental laboratories.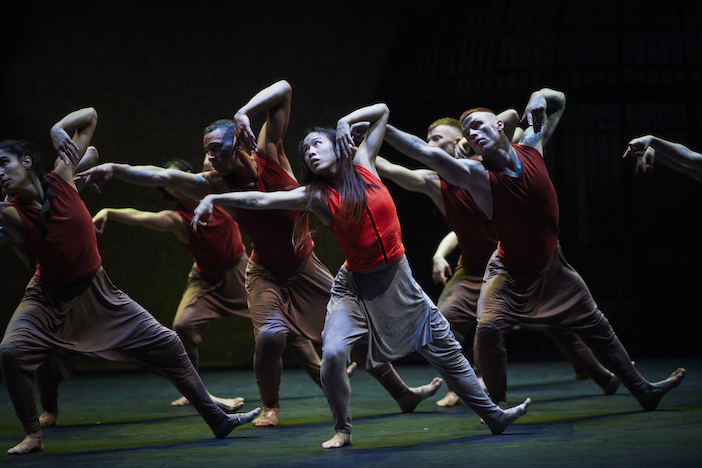 To be honest, there isn't much of a plot except for the Bandar-log kidnapping Mowgli so that they can get humanity's secrets from her and become the new humans. Harry Theadora Foster is marvellously menacing as their leader while the other villain of the piece, Kaa, is conjured by a remarkable feat of puppetry with dancers and cardboard boxes. Sadly, Shere Khan – the feared and ferocious predator in the original story – is nowhere to be seen but his fear of man and guns remains, a hovering threat for all the animals. And sure enough, there is a mysterious gunman who stalks the animals and eventually kills the beautifully animated Kite, Chil.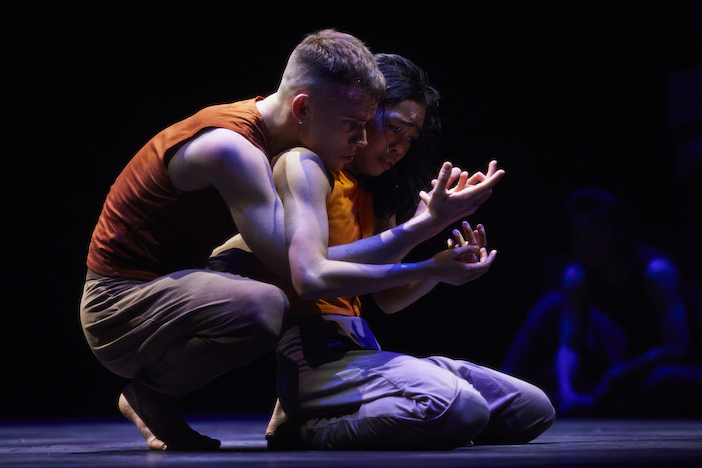 So it's all pretty dark (and not one for younger children in my opinion) and sometimes a bit preachy – in an otherwise marvellous soundtrack featuring the conversations between the animals (brilliantly enacted onstage by the dancers) and a truly fascinating and sweeping score by Jocelyn Pook, there was an all-too-predictable Greta Thunberg on a "how dare you" loop.
Overall, though, this is a spectacular production. The dancers are superb and the special effects are often breathtaking. YeastCulture's line drawn elephants will remain in my memory a long time.
Jungle Book: Reimagined runs until 15th April at Sadler's Wells. For more information, and for bookings, please visit www.sadlerswells.com.
Photos by Ambra Vernuccio