The Alvin Ailey company surely has some of the most versatile dancers on the planet – they can turn their hand to just about anything: hip-hop or Martha Graham, African, jazz or ballet. Ailey's own signature moves appear every night in the wonder that is Revelation, the joyous finale to each of the three programmes in the company's 2019 season at Sadlers Wells.
Alvin Ailey founded his company in New York in 1958 (Revelations was created just two years later). He died in 1989, leaving behind him the foremost African-American dance company in the US and a legacy of inventive choreography, powerful technique and sheer soulfulness. They're still in great shape and artistic director Robert Battle has brought a repertoire of 21st century choreography that shows off this company's passion and versatility.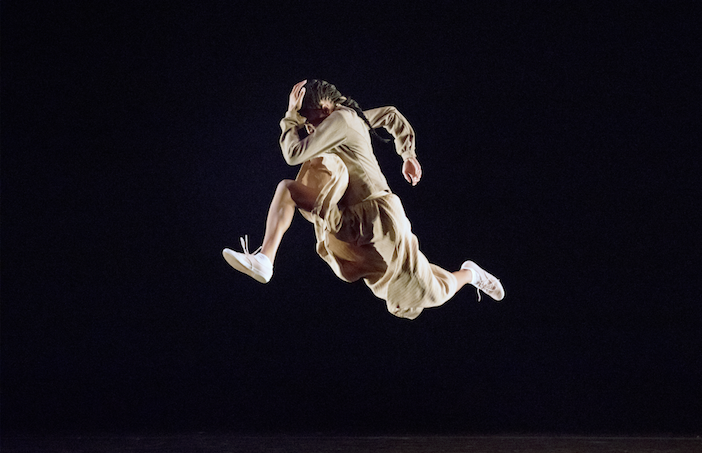 The first programme features a two-act hip-hop ballet by choreographer Rennie Harris with a soundtrack that includes Ailey himself talking about his company and his own life alongside Michael Kiwanuka singing Black Man in a White World and snatches of Nina Simone and Feeling Good. It intertwines Ailey's own life story from rural, segregated Texas to New York with the biblical character of Lazarus, raised from the dead by Jesus. For Ailey, of course, it was dance that propelled him into a whole new life. The dancers begin in an embryonic darkness but move on to dazzlingly fast footwork, ecstatic fervour, spinning rage and the piece really takes off, with Daniel Harder particularly impressive in the title role.
Programme two has three shorter pieces. Enis a luminous ensemble piece of abstract dance, choreographed by Jessica Lang. The company, dressed entirely in white, become chains of architectural shapes; groups form, disintegrate and reform; dancers hurl themselves into each others' arms and are carried off at a pace. It's beautiful to behold. The Call, created last year by Ronald K Brown, combines Bach and jazz with contemporary and African dance styles. It's a fluid piece and the dancers ripple their way through it, malleable as flowing water. The last of the three newer creations, Juba, by Robert Battle, is a modern-day Rite of Spring. The four dancers – three men and one woman – all in sky blue tunics pulsate across the music's uneven rhythms with a fervour you can feel in your bones.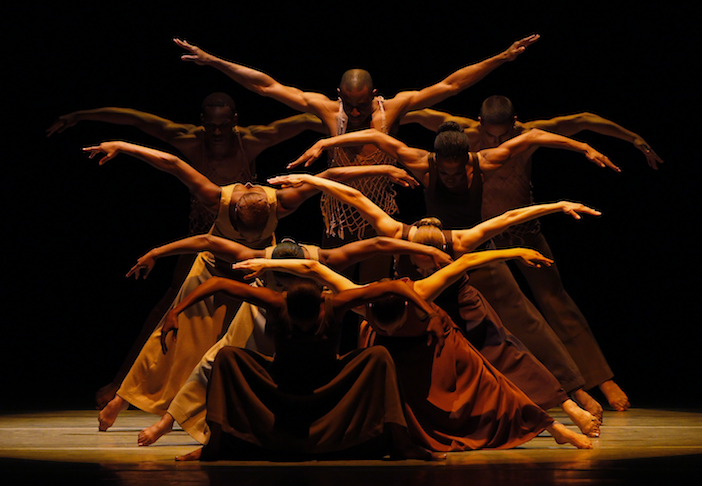 It's all building up (every single night, with different dancers in different roles) to the glory that is Ailey's masterpiece, Revelations. Set to traditional gospel music, it draws on Ailey's memories of his own childhood in the Baptist tradition of the South and its emotional range goes from deepest despair to euphoric joy. It begins with Ailey's signature moves – deep plies, bowed heads and outstretched arms – in "I Been 'Buked" through the yearning "Fix Me Jesus" to a river baptism in "Take Me to the Water", complete with waves.
Then we're on to the home strait with ladies in their Sunday best, fanning themselves in the southern heat, wearing hats, carrying parasols and dancing on stools. Sinner Men run and leap across the stage. By the time we get to "Rocka My Soul in the Bosom of Abraham" you can tell the audience would love to be up on stage with them. As Ailey said himself, this African American cultural heritage is "sometimes sorrowful, sometimes jubilant, but always hopeful". I saw it two nights running and would happily see it for another ten. Pure joy and flawless technique.
Alvin Ailey American Dance Theater performs at Sadler's Wells until 14 September 2019. For tickets, please visit www.sadlerswells.com.