Don Quixote is a ballet with which Carlos Acosta has strong links. His dazzling performance of Basilio's variations in the final act launched his international career at the Prix de Lausanne in 1990. In this latest production of the full-length ballet, Acosta gives us not just choreographic fireworks but comedy (even slapstick), fine story telling (and the material is pretty thin, to be honest) and a night that is full of joy. There can be no doubt the dancers themselves are loving it.
So, the first thing to say is, despite the name of this ballet, Don Quixote himself is fairly peripheral to the ballet. Tom Rogers has little dancing to do but is a convincing mime and stately presence, even when gripped by the terrors of windmills or astride his wooden horse. The real story is about Kitri, the innkeeper's daughter, and Basilio, her beloved. Kitri's father Lorenzo (Jonathan Payn with finely tuned comic timing) has other ideas for her future, though. Enter Gamache (Rory Mackay), a ludicrous nobleman – he looks like a cross between Jack Sparrow and Moliere's Misanthrope – kneeling on his hanky to propose.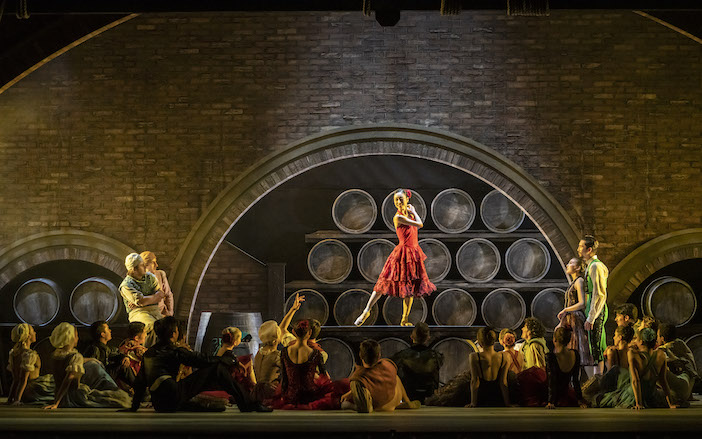 And, for the plot, that's about it. The lovers run away, there's a feigned death and, of course, a happy ending. What Acosta has done with this, though, is produce a feast for the eyes. The choreography is often super-fast and demanding on the dancers, there is story-telling all across the stage and the stage itself is full of colour. Tim Hatley's designs are quite lovely – highlights include the white and gold dream scene in the second act and the Spanish razzle dazzle throughout.
Spanish razzle dazzle is, in fact, all over this production. There are fluttering fans, swirling capes, castanets and tambourines and on-stage Gypsy guitarists. It's a busy stage and Acosta has plenty of business to fill it. Girls swoon at the arrival of the famous matador Espada (Brandon Lawrence strikes some great poses and milks every statuesque moment to the delight of the audience). There is gossip and sub-plot in every corner and lots of action for this company's virtuoso male dancers – leaping through the market for the sheer hell of it.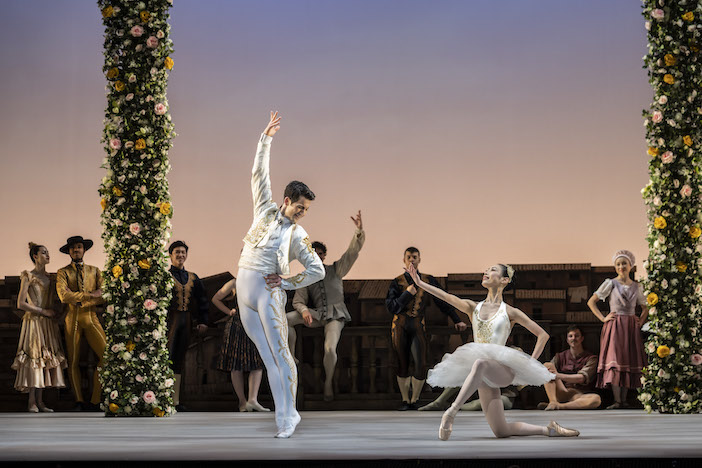 There's a great gypsy encampment scene (led by the impressive Isabella Howard and Javier Rojas), the Dryads are glitteringly lovely and a well padded Kit Holder does a fine comic turn as Sancho Panza. The night, though, belongs to Kitri and Basilio. Momoko Hirata as Kitri is elegant, flirtatious and light as a feather. This is good news for Mathias Dingman who lifts her with one hand (twice!) and there are plenty of death-defying leaps and lifts for them. They carry off the famous pas de deux from the last act with dazzling aplomb. The Royal Ballet Sinfonia plays the sparkling Minkus score joyously under Philip Ellis. The entire company dazzles with its charm and technical virtuosity and the audience leave with smiles on their faces.
It's a delight but there's only one night left – I'd get that ticket right now if I were you …
Carlos Acosta's Don Quixote runs at Sadlers Wells ends tonight, Saturday 9th July. For more information and tickets, please visit www.sadlerswells.com.
Photos by Johan Persson