With the appointment of ballet superstar Carlos Acosta announced as the new Director of Birmingham Royal Ballet, the company is experiencing something of a renaissance, the cast illustrating a keener than ever sense of pride and enthusiasm during current Director David Bintley's fantastical and Gothic Beauty and the Beast at Bristol Hippodrome where the company are currently in residence as part of a UK tour.
The tale of a pleasure-seeking Prince (Tyrone Singleton) who is transformed into a beast by a mystical, cloak-wearing Woodsman (Jonathan Payn) as punishment for indulging in the vice of hunting wild animals, he lives isolated at his castle with his court, whom the Woodsman also turned into myriad animals and creatures, until a visitor arrives who slowly unveils the beast's tender soul.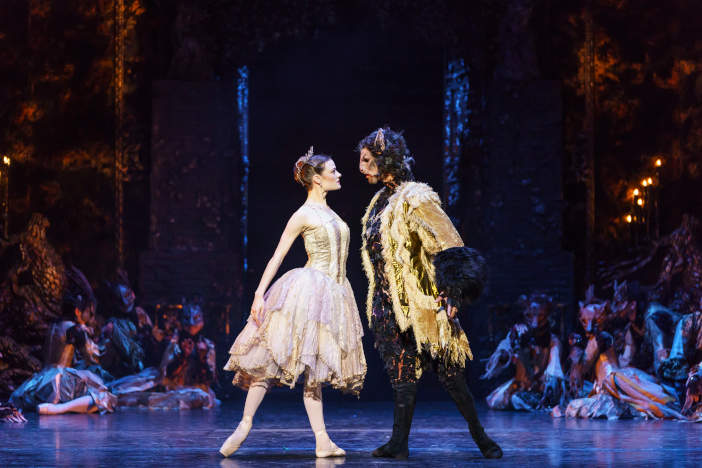 New Zealand born Principal Delia Mathews delivers an assured rather than a timid, stereotypical portrayal of Belle, the beautiful daughter of a hapless merchant (Michael O'Hare) who sacrifices her to live at the beast's castle when he makes the mistake of stealing a single rose for her and is thereby threatened with death. Belle is the merchant's selfless daughter, her other two siblings Fière (Laura Purkiss) and Vanité (Samara Downs) reminiscent of the ugly sisters in Cinderella, having urged him to bring home fine dresses and jewels. The conceited, grasping pair get their comeuppance upon his return, however, for they open the chest to find that their new gowns and jewels have turned to rags and dull paste stones. Beauty and the Beast is ultimately a moral lesson of the futility of greed and the benefit of love arising from an internal connection rather than a superficial attraction.
The entire company displays technicality and fluidity of movement throughout, harmoniously marrying with composer Glen Buhr's 2003 French-sounding score; a wonderfully nuanced work comprising of romantic interludes and masquerades, along with gusto brass sections which synchronize perfectly with the threatening storms and high energy sequences. The overall effect is akin to an early twentieth century score for a black and white silent film melodrama, with a lightness of touch and comedy fully expanded upon by the Royal Ballet Sinfonia conducted by Philip Ellis.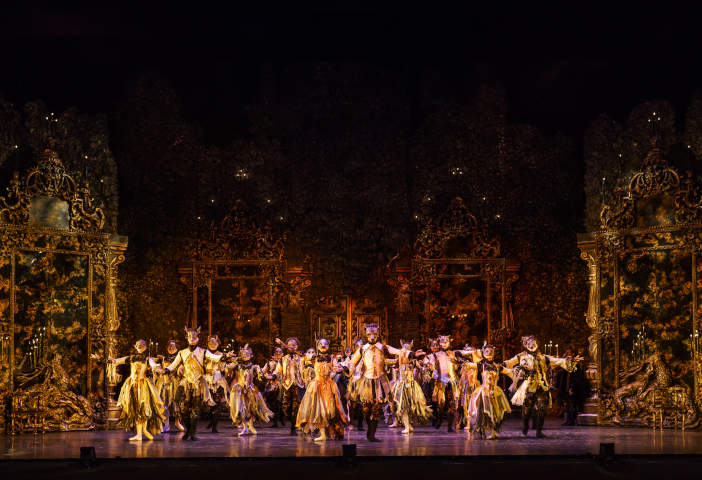 Even the smaller roles succeed in being equally memorable, from Beatrice Parma as the impish Vixen whom the Woodsman transforms into a flame-haired girl, to Tzu-Chao's Raven and James Barton as the portly Monsieur Cochon who can't decide which of Belle's two horrid sisters to woo. Marion Tait (also Assistant Director) delivers a charming cameo as Belle's hunched Grand-Mère, finger-wagging whilst dancing and spinning out of control in feeble giddiness.
Philip Prowse's lavish and highly detailed movable sets and magnificent costumes add a great deal to the magic and wonder of this production, with an opulent library which the studious Belle explores in the opening scene, to moving birds, old world gilt French furniture and a foreboding forest where the beast lurks in the shadows of his loveless dwelling, residing with his court in misery until Belle offers light in the darkness.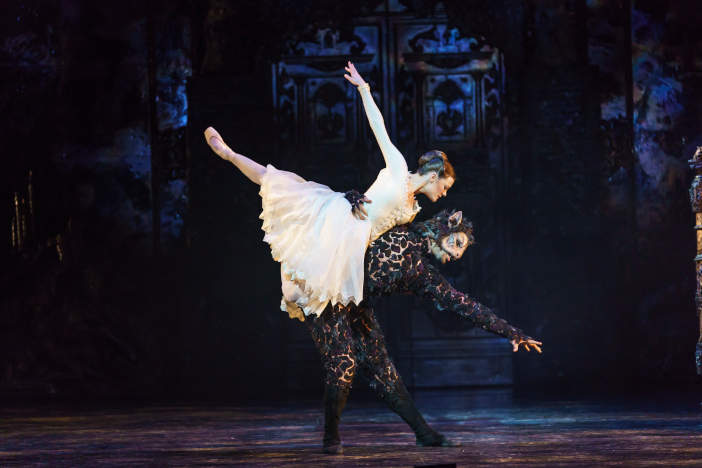 Initially repulsed by the beast, Belle is slowly won over by his devotion and kindness as the months pass. Allowing her to visit her father, whom she misses greatly, on the condition that she will return before the rose he gives her withers and dies (as will his heart), Singleton's second act suffering and agony when Belle fails to return is nothing short of masterly. Mathews is just as adept at conveying Belle's despair and guilt upon returning to find the beast on his deathbed, while the chemistry between the pair is undisputed when he is finally restored to his princely form in a heart-poundingly joyous finale worthy of any international stage.
Birmingham Royal Ballet's Beauty and the Beast at the Bristol Hippodrome until Saturday 4 May 2019. Running time approximately 2 hours including an interval. For more information and tickets please visit the website.