Billed as 'magic, mayhem and the original living doll', this Sir Peter Wright / Birmingham Royal Ballet production of Delibes' Coppélia is quite literally stunning and perfectly suited to the opulent surroundings of the London Coliseum where I was lucky enough to see it during a limited visit. My all-time favourite ballet, the choreography by Marius Petipa, Enrico Cecchetti and Peter Wright brought the comical and romantic story to life, as did the charming costumes and scenery by Peter Farmer. A revival of ballet visionary Sir Peter Wright's 1995 choreography, it is remarkable how fresh and vibrant it has remained.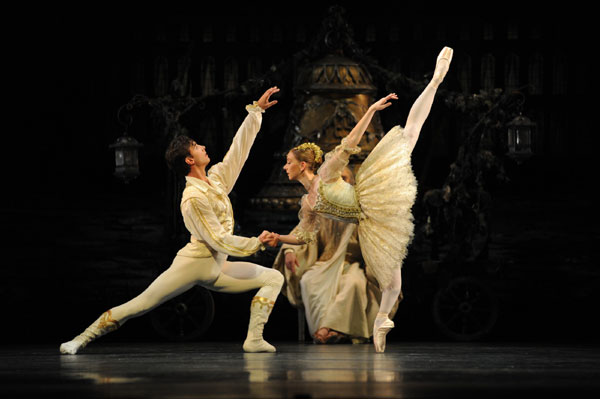 The enchanting tale, set in an eastern European village, is harmoniously set off by Delibes' memorable ballet score, first performed to great acclaim in Paris in 1870, and here revisited by the Royal Ballet Sinfonia, conducted by Koen Kessels.
Act I includes impeccably timed and energetic Mazurkas, complete with traditional red and green leather boots, and introduces us to Franz and Swanilda – a young couple betrothed in marriage. Ambra Vallo is ideally suited to the role of Swanilda, who succumbs to jealousy when she sees Franz blowing kisses to the beautiful Coppélia, who sits on her balcony and reads all day. Coppélia is in fact an invention of Old Dr Coppélius, performed by the wonderful Michael O'Hare, the village laughing stock, who has dedicated his life to producing mechanical dolls. He desperately wants to bring Coppélia, his pride and joy, to life, and is delighted when he realises the villagers believe she is real. Swanilda rattles an ear of corn to see if Franz is true to her in his heart, before engaging the other girls in the village to break into Dr Coppélius's house to see the beautiful yet mysterious Coppélia.
Although the entire cast are deserving of praise, Tyrone Singleton was especially noteworthy as the slightly arrogant and caddish Franz who likewise breaks into the workshop at night to steal another glimpse of the captivating Coppélia.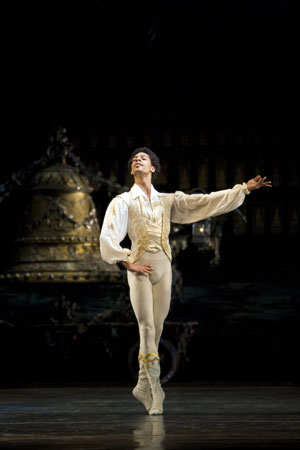 Act II continues with Swanilda happily discovering Coppélia is in fact a doll. She proceeds to trick Dr Coppélius into believing Coppélia has sprung to life, and moving her limbs stiffly and robotically (as an automaton would), she later pretends to rebel against her maker by operating the other mechanical dolls in the workshop – all of whom are of various nationalities – Chinese, Spanish and Scottish, and is undoubtedly the most infectiously funny sequence.
Secretly we all long for Coppélia to really fall under one of Dr Coppélius's magic spells and come to life and, like the young innocents in the audience, sympathise with Dr Coppélius's plight when Coppélia is left in ruins by Swanilda. Although it may not technically be a called a 'fairy' tale, the story, inspired by E.T.A. Hoffman's Der Sandmann, would not be complete without a happy ending and so of course the hero and heroine are finally united and many celebratory scenes of love and happiness are exquisitely performed by the company.
This Birmingham Royal Ballet production manages to overcome the difficulty in combining slapstick and romance with fluid and precise movement. Even to the very young or uninitiated, Coppélia deserves its place as one of theatre's best loved ballets. With the exception of the ignorant sod seated to my right who had his headphones in and was more interested in listening to a football match on the radio (don't worry I had words) – the pleasure of watching a ballet is timeless and continues to attract the whole spectrum of generations – from young girls (all of whom seemed to be aspiring ballerinas, enjoying practicing their moves in the interval), couples holding hands and enjoying a romantic evening out, to little old ladies who have probably seen Coppélia ten times but always delight in the experience.
Information: Next showing at The Alhambra, Granada, Spain on 5 July 2012 and Birmingham Hippodrome from 4-8 June 2013. Website.