Loie Fuller was a contemporary (and indeed supporter of Isadora Duncan) but as a "free dance practitioner" is pretty much unknown in this country. She's better known in the US (she was born in Chicago) and her renowned "Serpentine Dance" was even recreated for Taylor Swift's 2018 Reputation Tour during her performance of "Dress".
This is only appropriate given that Fuller's form of dance was all about fabric. Indeed there was so much fabric that Fuller's body was often completely hidden from sight and so some have argued that this isn't really dance at all. I am not going to open that particular can of worms here but, suffice to say, she was enormously popular in the early 1900s and highly influential on the new ideas about dance that were emerging at the time.
Fuller's costume was her art. A vast swathe of silk covered her and, with the use of long bamboo poles, she moved this around her body creating mesmerising shapes designed to represent the accompanying music in a fluid, visual form. She was also a pioneer of lighting techniques and used colour to breath-taking effect. There is no film of Fuller dancing (there are lots of photographs and artistic representations) but many dancers have attempted to recreate her style, most notably Jody Sperling (her "Clair de Lune" is on youtube). This gives you an insight into why audiences at the time found her so innovative. The dancer is part geisha, part archangel encircled by a rippling, hypnotic fabric that is perhaps the actual "dancer" here, sometimes a flame, sometimes a rippling sea.
The Ola Maciejewska performance at the Royal Opera House yesterday was not this kind of recreation though it was certainly a homage to Fuller. Maciejewska performed a silent solo using two of Fuller's signature vast tents of silk, one black, one yellow. It was thoughtful, slow and meticulous. Much of the show was the dancer engaging with the fabric itself, laying it out reverently, sliding underneath it, occasionally appearing to eat it! Then at times she takes flight – almost literally, and there is enough silk here for a parachute – and you get a glimpse of magic.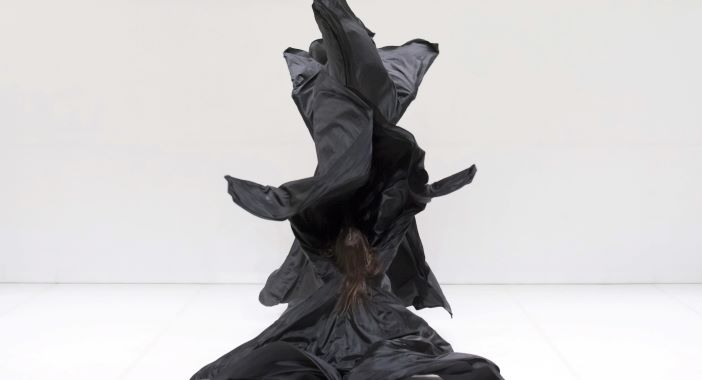 In terms of a recreation of Fuller's style of dance, there are two important elements missing – music and colour. The piece was danced in the bright day-lit space of Covent Garden's Paul Hamlyn Hall and was silent except for the swish of silk. However, as its title suggests – Maciejewska's work is an investigation into Fuller's choreography as well as her life and character. It's a tempting introduction to a dancer who should be better known.
The Dance Reflections season continues until 23 March with performances at the Royal Opera House, Sadler's Wells and Tate Modern. For more information, please visit www.dancereflections-vancleefarpels.com.