There is a rule in theatre that one should always leave the audience wanting more. In the ENB's new ensemble programme, Our Voices, one might argue that three performances might even leave you feeling short-changed.
Three works celebrating classical, contemporary and neo-classical dance, Our Voices represents the first programme by the ENB's new Artistic Director, Aaron S Watkin, himself a dancer with the company back in the '90s, embracing the diversity of repertoire, "respecting tradition and forging innovation", as he puts it. And Our Voices does just that.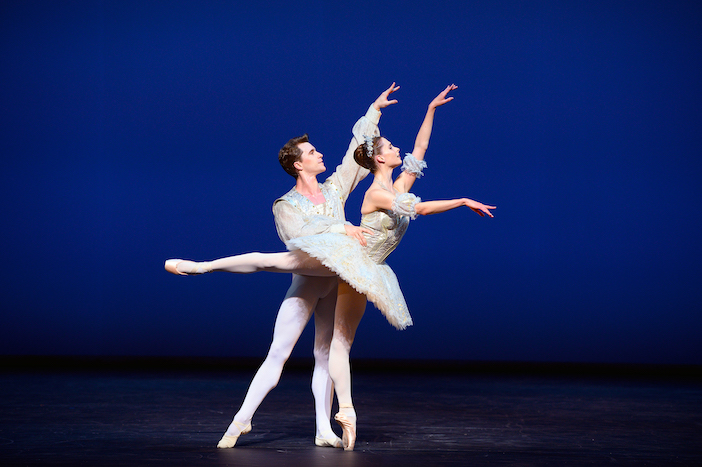 Theme and Variations is a delightful opener to the programme featuring 13 couples dancing to Tchaikovsky, from George Balanchine, the choreographer who brought his Russian Imperial Ballet background to America. Revived here by Victoria Sim, who danced in Balanchine's own production, this is a masterclass in technique and synchronous choreography; flurries of entrechat jumps and pitch perfect arabesques, with the corps performing almost exclusively on point. A mesmerising pas de deux in the middle section, by principals Emma Hawes and Aitor Arrieta, against a solo viola and pizzicato strings, it concludes with a full corps and orchestra set piece reminiscent of a Viennese ball, and makes for a terrific opening salvo for the evening.
In the same way one might contrast Stravinsky with Tchaikovsky, so the leap from classical to the contemporary could not be more stark in the second performance. Andrea Miller has created a visceral new work set to Stravinsky's score, Les Noces ('The Wedding'), on its 100th anniversary. Imagining the aftermath to Stravinsky's most-known work, The Rite of Spring, Les Noces examines the power of rituals and sacrifice, set against the backdrop of a 19th century Russian peasants' wedding.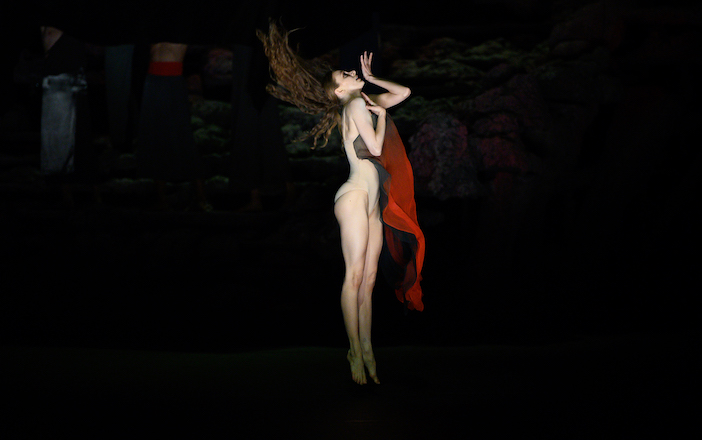 This is a dark, haunting piece; the elegance and lightness of the Balanchine is replaced with a visceral tension, as the narrative plays out; jealousy, death, fights, power struggles and mourning – what you might expect in any wedding, perhaps. Set against artwork conceived by Phyllida Barlow, the stage is cloaked in darkness, which allows for some brilliantly inventive choreography using props of black drapes. The dancers, too, are joined by the Opera Holland Park Chorus, themselves seemingly hovering against the backdrop, delivering an at once unsettling, discordant soundtrack to the performance.
Concluding the evening, British choreographer David Dawson takes us on a deeply moving journey with Four Last Songs, Richard Strauss's song cycle, often described as a poignant farewell to life. Underneath the heavens, twelve dancers unite in Dawson's poetic, often abstract style to the music's lush, lyrical melodies, enhanced by soprano Madeleine Pierard, bringing with them a feeling of serenity, eternity and the sublime. It's a beautiful, moving conclusion to the repertoire.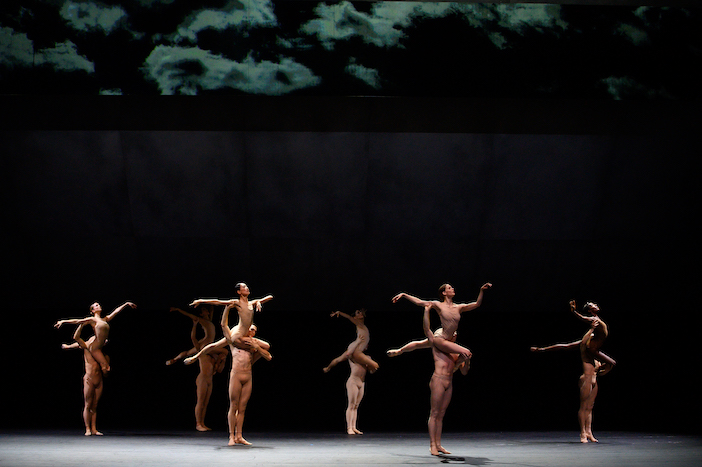 Our Voices is a captivating – at times entrancing – ensemble of dance; and not simply for the display of virtuosity delivered by the ENB, but for an evening of pure diversion. Three pieces, in contrasting styles, themes and executions, each pass in a moment, one is lost to the performance. For the untutored novice (ahem, full disclosure), to the most critical connoisseur, this is an evening for all, never more evident than from the hum of excitement in the intervals and the rapturous applause that met each act. This is a programme that will leave you clamouring for more.
Our Voices is on now at Sadler's Wells theatre, until 30th September. For more information, including performances dates and times, and for bookings, please visit www.sadlerswells.com.
Header image: Breanna Foad and Rentaro Nakaaki in Les Noces. Photos by Laurent Liotardo.