Reunion, the title of English National Ballet's first live performance since lockdown restrictions eased, has an obvious resonance. It's a reunion between dancers and the stage, the musicians, choreographers and all of the company's team and, perhaps mostly importantly of all, between the dancers and their audience. The audience were so overjoyed that even with so many empty seats (as still required for social distancing) they clapped and whooped to raise the roof even at the announcements at the start of the programme. Who can blame them? The show had been presented digitally but screened performances are just never going to conjure the magic of a live performance – and, finally, we'd made it through.
There was a short introductory film by Tamara Roja, ENB's Artistic Director, her face showing the sheer relief of getting the company back on stage. She has steered them through lockdown with a determination to see the light at the end of the tunnel. And this took the daring form of commissioning five short new ballets from different choreographers to put together to be danced on the Sadler's Wells stage.
Yuri Possokhov's Senseless Kindness was up first, introduced (on film) by the choreographer who described his reluctance – even anxiety – at the thought of creating a piece to the music of Dmitri Shostakovitch. In fact, Possokhov's interpretation of Piano Trio No 1 is profoundly musical, strongly classical in style but with romantic undercurrents and playful, even folksy, moments. There's a dazzling duet for the two men, beautifully danced by Francesco Gabriele Frola and the dynamo, Issac Hernandez. Emma Hawes and Alison McWhinney were their lyrical partners and just as fluent with the kind of bravura Russian choreography Possokhov creates.
Laid in Earth by Sidi Larbi Cherkaoui followed, a very different piece though again for four dancers. The music is based on Purcell's famous aria, "Dido's Lament" from his opera, Dido and Aeneas, reimagined in an arrangement by Gavin Sutherland and beautifully sung by mezzo, Catherine Backhouse. Against this austere, ethereal music, the four dancers intertwine organically in Cherkaoui's sensuous choreography, meeting and not quite meeting. Utterly beautiful.
Take Five Blues is a complete change of pace. Fast paced and bursting with joy, Stina Quagebeur's choreography is all about the energy and excitement of the dancers, electrifyingly transmitted to the audience. The music was inspired by Nigel Kennedy's album Recital and Paul Desmond's Take Five and the cross-over between classical and jazz works brilliantly. Quagebeur focused on his individual dancers to bring out their own unique qualities and characters and this works in spades. Playful syncopation gives way to male sparring and, indeed, complete frenzy. Hats off to the dazzling Fernando Carretala Coloma and all the dancers – it was just the most immense fun.
Russel Maliphant's Echoes couldn't be more different. Slowing the pace right down, the dancers flow and ebb together like waves in the ocean or, as one of the dancers observed in the introduction, "like flowers put together to create something beautiful". There are moments when the abstract and compelling choreography disappears into the light and shade created by video artist Panagiotis Tomaras, but these elaborate patterns certainly are beautiful and hypnotic.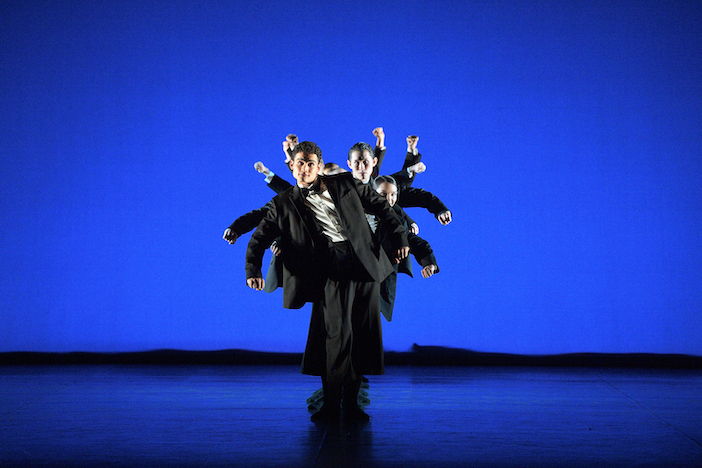 Last up is Jolly Folly and it couldn't be more of crowd-pleaser to round off the evening. Arielle Smith took old silent comedy movies as her inspiration – and the entire cast is a manifestation of Charlie Chaplin. The music is simply fabulous – the Cuba Percussion, Klazz Brothers' version of Strauss (Cuban Danube), Tchaikovsky (Cuban Sugar, after the Sugar Plum Fairy) and Mozart (Kubanischer Marsch). Arielle Smith says all she wanted to do was celebrate escapism and make people smile. She certainly succeeds – frantic, zany, hilarious.
It's good to be back in the theatre.
Reunion runs at Sadler's Wells until 30 May. For more information and to book tickets, please visit www.ballet.org.uk.
Photos by Laurent Liotardo
Header image: ENB  company in Take Five Blues