After ten years at the helm of English National Ballet, Artistic Director Tamara Rojo CBE has announced that she is bidding the Company a fond farewell. Her swan song, before taking up the same role at San Francisco Ballet, is a sumptuous new version of Raymonda after Marius Petipa (renowned choreographer of Swan Lake and Sleeping Beauty) which opened at Bristol Hippodrome this week before they take the production to the Mayflower Theatre in Southampton and Teatro Real in Madrid.
Having never previously been performed in full in the UK, this lavish Raymonda is a fitting testament to Rojo's vision to "reinvigorate the classical ballet repertoire, making it relevant to today's audiences." Lucinda Coxon (screenwriter of The Danish Girl) has worked the oracle updating Raymonda (1898), originally set during the time of the Crusades (1095-1291) to the Crimean War (1853-56), drawing inspiration from the legendary figure of 'The Lady with the Lamp', Florence Nightingale, who did so much to challenge the confines of Victorian society and a woman's place within it and happens to be a natural heroine for ballet. We are immediately drawn into this tale of love and duty versus romantic passion that will tear you away from everything you know.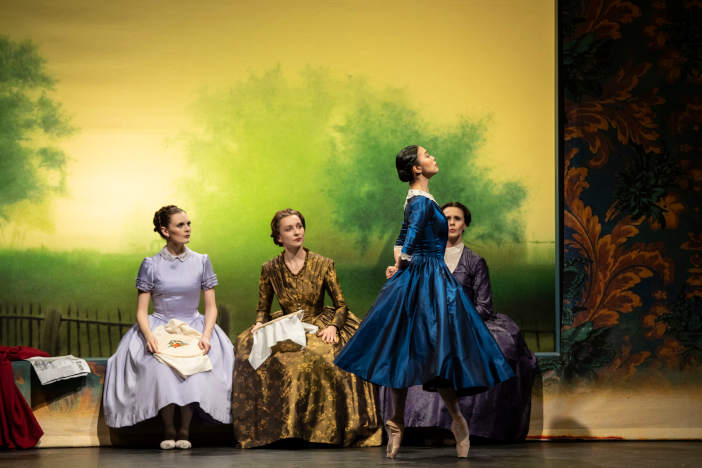 It has been a challenging six years since Rojo first suggested this staging, yet the events that have transpired in the interim have only heightened the drama of Raymonda and made it bring home to today's audience the poignant truth that history does indeed repeat itself across all continents and times.
First performed at the London Coliseum in January this year, I was surely not alone in immediately calling to mind the horrific images of the war in Ukraine on seeing the soldiers on stage preparing to fight, or whilst reading the projections informing us of the 19th century conflict which saw Russia lose the United Kingdom (among other nations) as its ally. If this wasn't a powerful enough theme, we remember our own dedicated NHS staff during the pandemic when Raymonda (Fernanda Oliviera), in full Florence Nightingale attire, administers to the sick and wounded in her charge, bearing her famous lamp as a symbol of solace and hope.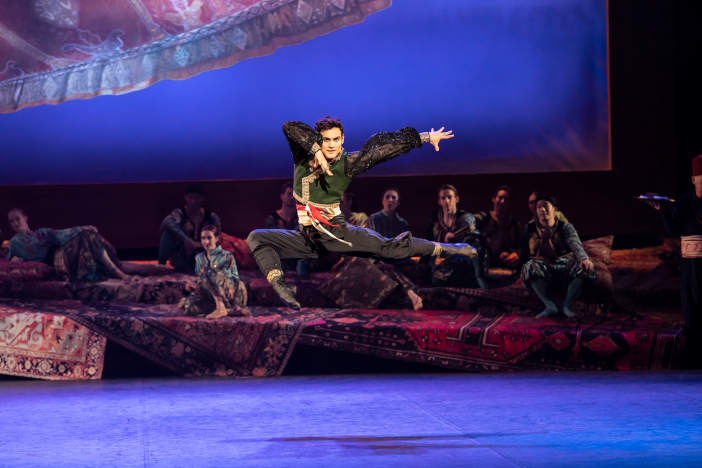 Performed in three acts taking us from Victorian England to a camp outside Sevastopol, Alex Gunarsson's video projection designs give the audience a helping hand when it comes to the overall historical context and setting of the action, and merge wonderfully with Antony McDonald's exquisite sets and costumes, with corsets occassionaly on show to remind us of the constrictions our Florence Nightingale-inspired heroine must battle within a man's world.
The first act sees the courageous and beautiful Raymonda, just like Florence Nightingale, leave her comfortable, privileged English home to serve as a nurse in the Crimean War. Yet, unlike Nightingale, the passionate Raymonda faces a romantic dilemma between the handsome soldier John de Bryan (Francesco Gabriele Frola) to whom she becomes betrothed or his more exotic friend, Abdur Rahman (Erik Woolhouse), leader of the Ottoman army. But never fear, Sister Clemence (Precious Adams) is standing by to remind Raymonda to trust both her conscience and her calling to nurse.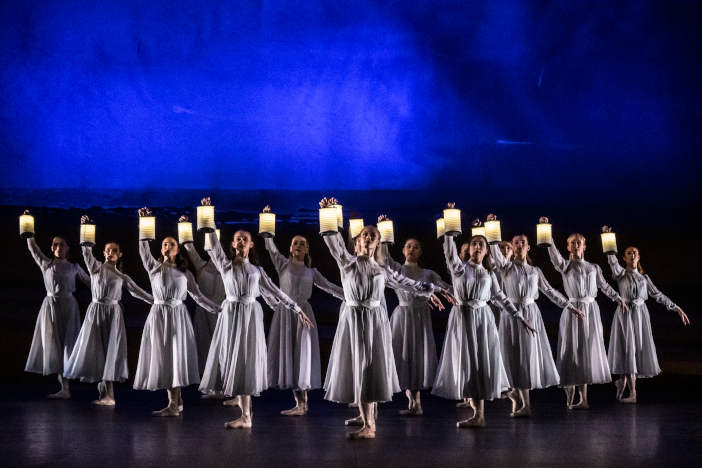 Underpinning Rojo's choreography, with its intentionally looser synchronicity reflecting her own illustrious career and wild dramatic power as a dancer, is Alexander Glazunov's powerful score, adapted by Music Director Gavin Sutherland and Lars Payne for this new revival. With 65 musicians performing live in the orchestra pit (several rows of seats having been removed) it was exciting to see a group on stage in Act Three for the Hungarian dances, playing, along with violin and clarinet, the more unusual cimbalom and hurdy-gurdy.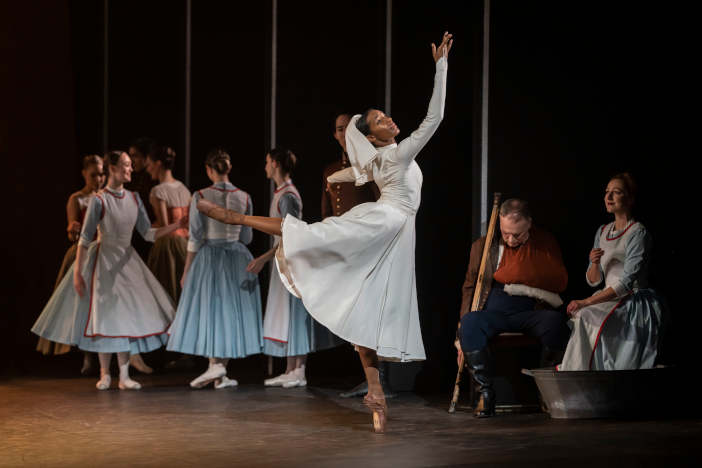 In an interview about the composition, Sutherland points to the fact that, "Tchaikovsky said he would never have tried to write Swan Lake if he had heard Raymonda. That says it all, doesn't it?…It's very sad to think that, not long before his death Glazunov believed he was forgotten and his music was worthless." Reflecting the emotions of the main characters, Glazunov's breadth as a composer marries scenes of adrenaline-fuelled soldiers preparing for battle to the hugely poignant dream of Ramonda's in which we see soldiers and nurses dance as ghosts, an entirely new addition created by Rojo set to music unearthed by Sutherland that proved the stand-out sequence of the production, reminiscent of Giselle and giving the audience an emotional connection to the characters of Raymonda that should reinstate this ballet within the UK repertoire. Sutherland's deft orchestration and Rojo's sublime choreography offers a long overdue celebration of this diverse and sadly neglected work and more than justifies fighting to get your hands on a ticket.
Raymonda at Bristol Hippodrome until Saturday 26 November 2022. Running time 2 hours 40 minutes with two intervals. For more information and tickets please visit Bristol Hippodrome website. For future tour dates of Raymonda see English National Ballet.
Production images by Johan Persson