Is it a prison? Is it an experimental hospital? Is it a borstal? We never really find out. The always excellent Lez Brotherson's stark white-tiled, metal-fenced set – aka the Verona Institute – sets Shakespeare's play in the right city but in a savagely different world. Choreographer Matthew Bourne has ditched the warring aristocratic families. These young people are fighting against and inside a repressive institution that divides the sexes and demands conformity and docility (with drugs and straitjackets, if necessary).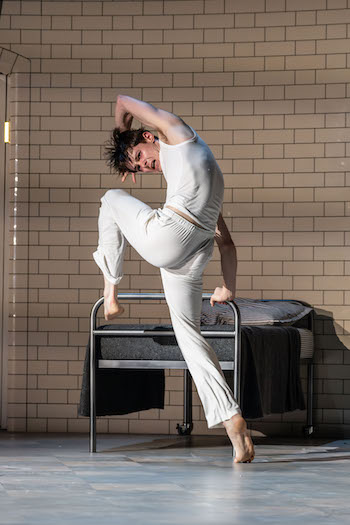 Romeo (a touchingly gauche Paris Fitzpatrick) is dumped here by his ambitious politician parents, who want him out of the way and perhaps reformed into a more acceptable son who fits the mould. The mould inside the Institute is quickly established. The inmates, white uniformed, are put through their paces (to the Dance of the Knights) and the power of their repressed anger has them at times literally climbing the walls. The stage fizzes with the energy of this young, electrifying company.
The Dance of the Knights returns on several occasions in this version of Prokofiev's score. Reworked by Terry Davies for a chamber-sized group, the New Adventure Orchestra bring not only the composer's music into the 21st century but give us the whole gamut of extra effects (alarm bells, slamming metal gates) and the dancers join in with a few sound effects of their own.
It isn't just the score that has changed. Bourne who is, of course, well known for his unusual takes on the classics, has taken some liberties with the plot, too. So Tybalt is now a vicious guard, violent towards his prisoners and the (offstage) rapist of Juliet. Danny Reubens is a powerful stage presence, utterly believable as the resident psychopath.
The ending isn't quite what you'd expect either (no spoilers here) though Bourne is completely true to Shakespeare's romantic tragedy. His Friar Lawrence becomes the Rev Bernadette whose attempts at arranging something along the lines of a school prom begin with the inmates dancing like automatons and ending up as the cast of Dirty Dancing.
The romance between the central characters is exquisitely drawn. There is almost certainly the longest danced kiss in history, that in turn leads them into an utterly beautiful duet of love and longing that leaves them panting, staring at each in astonishment. Cordelia Braithwaite was born to play this Juliet and lights up the stage with her passion.
By turns funny, touching, passionate and always exhilarating, this tremendous company do full justice to Matthew Bourne's thrilling choreography. I think it just might be my favourite of all his ballets.
Romeo & Juliet runs at Sadler's Wells until 2nd September. For more information, including performance dates and times, and for bookings, please visit www.sadlerswells.com.
Photos by Johan Persson