Natalia Osipova's Pure Dance returns to the Sadlers Wells after a successful world tour. As a showcase for the virtuosity and versatility of Osipova – and who could ever have doubted? – the evening unquestionably delivers. It does much the same for her three partners, Jason Kittelberger, Jonathan Goddard and, especially, David Hallberg. But it is the strength, fluidity and the sheer physical daring of Osipova that makes the evening so special.
In a series of short pieces (the longest is 22 minutes, most are less than 10), there is inevitably some unevenness, but this too is testament to Osipova's daring. Not only does she stray far from her classical comfort zone, she has chosen all of the pieces and thrown herself into a new style (sometimes literally).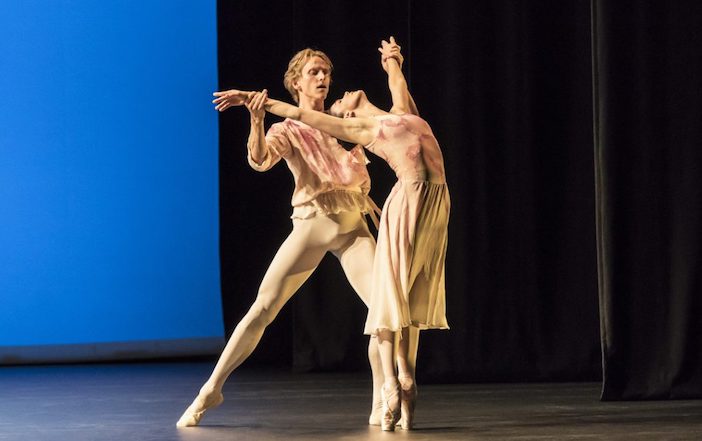 The first and last pieces, though, are very much in the classical style for which she is most famous. Both are danced with David Hallberg who is her classical partner of choice and is going to join her at the Royal Ballet as guest artist. And that's very good news because this is a thrilling partnership. In the opener, Antony Tudor's The Leaves are Fading, the two are bathed in golden light and this is a duet of lyrical, sometimes playful grace. The final piece Valse Triste, choreographed by Alexei Ratmansky to music by Sibelius, has an elegiac feel to finish the evening.
In between, Osipova challenges herself and our own preconceptions about what a classical ballerina can do. Left Behind is perhaps the most surprising of these. Danced with Jason Kittelberger (Osipova's real life partner) who also choregraphed the piece, this is a piece about a love affair that is almost violent in its physicality, full of fearless lifts and throws. In Flutter, Osipova's partner is contemporary (former Rambert) dancer Jonathan Goddard. The pair are dressed in shimmering translucent pyjamas and disappear in and out darkness to the accompaniment of Nico Mulhy's "Mothertongue", a soundscape of disjointed female voices. Gradually, they come forward into the light and perform a delicate, often aerial duet.
The first half closes with In Absentia, a solo for David Hallberg, lit to cast a gigantic shadow. This is a marvellous performance to music by Bach (choreography by Kim Brandstrup) and a perfect demonstration of a dancer as the music itself come to life.
The second half begins with Six Years Later, the longest piece of the evening and in some ways the most disappointing. Danced with Kittelberger, we're back in contemporary territory and, though there are some interesting ideas here, this is a downbeat, somewhat unsettling piece.
Osipova's solo, Ave Maria, is set to Schubert by the Japanese choreographer, Yuka Oishi. There are no religious overtones here, despite the music. Rather, it's a powerful tribute to a fierce female strength. Appropriate then for a dancer at her absolute peak whose fluidity, charisma and sheer intensity make this an extraordinary evening.
Natalia Osipova 'Pure Dance' runs at Sadlers Wells until 26 October. For more information, and box office, visit www.sadlerswells.com.