It doesn't really matter if you know what's going on in Don Quixote or not; knowledge of the plot will do little to aid understanding of its events in this gloriously barmy ballet. Carlos Acosta's tweaks to Petipa's 1869 work are having their first revival at the Royal Opera House this season, following last year's debut. In general, this is an ebullient and stirring production, which seems a little steadier on its feet than before, but the gregarious and uninhibited spirit that Acosta demands stretches the dancers of the Royal Ballet just a couple of infuriating inches outside their comfort zone, leaving most of the hard work to its star lead pair.
Based on the novel by Miguel de Cervantes Saavedra, we follow a rather delusional old codger who gets so swept up in tales of medieval knights and their fair maidens that he decides to set off on an adventure, with the main aim of taking part in some chivalry. The nobleman stumbles upon a loved-up couple facing opposition from the girl's father and, here, we are in typical ballet territory – throw in a lovers' escape, some rowdy gypsies, a couple of matadors and a prissy gent hoping in vain to win the girl's hand, and you've got yourself many valid elements of one big mish-mash of a story.
The main difference in Acosta's version comes from the free and easy, fiesta-like nature of his fictional community; doing away with some of classical ballet's more stilted traits, the corps is encouraged to shout and heckle rather than remain silent, and they are constantly bustling about as townsfolk well might instead of standing stock still at the sidelines. There is so much going on that one isn't too sure where to look.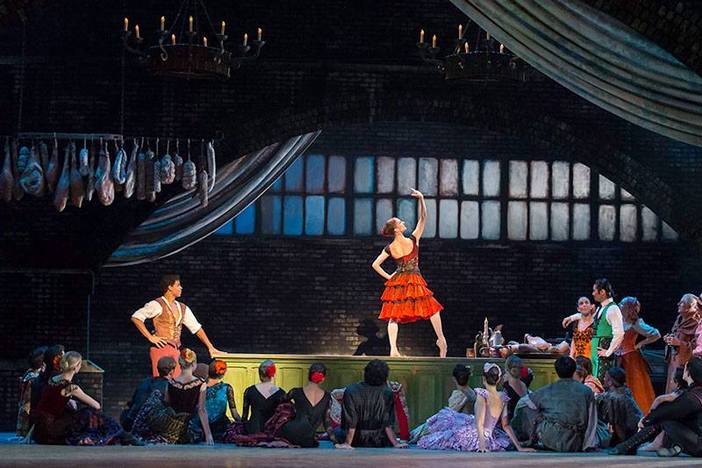 The drawback is that the dancers' precision and control are, in fact, a bit of a hindrance here; we want to feel how feisty and raucous and passionate the villagers are, and there are many occasions for them to hit flamenco-like poses, with the choreography screaming out for harsh, snappy staccatos and backs arched with some serious attitude. Everything is done exceedingly well but there comes a point when dancers might need to let go just a fraction, and allow that something sparklingly special to come through.
Perhaps, though, this more critical observation is down to the fact that Marianela Núñez as the loved-up Kitri is quite so captivating by comparison. Characteristically effortless, fluid and playful, the Argentine beauty positively relishes the Latin flair of her part. Her back curves in delicious coquettishness, her arms shoot into position as though electrified, her whole personality shimmers as this frisky, feisty but incredibly young girl. She is ardent yet comical, and has unbeatable chemistry with Acosta.
The man himself needs no introduction – and he knows it, leaping onto stage with the broad, toothy grin of a cat who has already drunk a bucket of cream – but he dances with the strength and vibrancy for which he is adored. And the charisma. And the humour. Thankfully, he also possesses the sensitivity towards his partner to stop such a buoyant production descending into pure farce. He and Núñez are an astonishing partnership: taking the time to indulge in the quieter moments of the pas de deux, and yet hamming up the comedic ones where you might think it physically impossible (him holding her with one hand above his head whilst she does an upside-down split on a slant; both of them staring each other out in a screechingly silent, protracted pause in the music).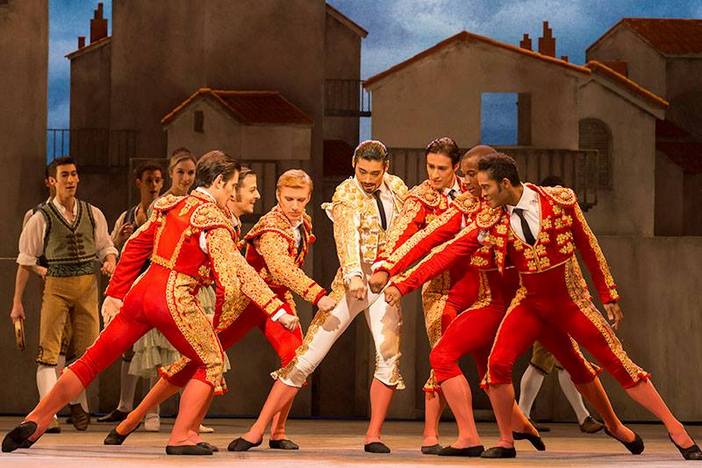 Strong support comes from Gary Avis in full character mode as Kitri's fretful father, and Ryoichi Hirano as a commanding but curiously humorous matador. Meaghan Grace Hinkis puts in an impish and completely captivating turn during Don Quixote's dream sequence at the half-way point – one only wishes to see that spritely presence all the more.
Ultimately, all's well that ends well, and off Don Quixote trots into the sunset on a mechanical horse fit for the West End, as most of Tim Hatley's magnificent designs are. With a metal plate on his head, a bedpost for a staff and a hopeless squire by his side, this knight looks more Monty Python than anything else, but he's a loveable eccentric on a quest that is noble, if a tad irrational. This ballet will put a smile on your face and leave your hands sore from applauding so many staggering lead moments. It would just be a cherry on top if the entire company could make it all look quite so easy.
Don Quixote at the Royal Opera House, Covent Garden, London WC2E 9DD, until 22nd January 2015. For more information and tickets visit the website.