Matthew Bourne knows how to tell a story – a story with his own unique twist, that is. Think of his Swan Lake or The Red Shoes. He is surely our most accessible narrative choreographer. And, in The Midnight Bell at Sadler's Wells, he is definitely in story telling mode.
The Midnight Bell is based on the work of Patrick Hamilton, best known for two plays that became movies (Rope and Gas Light – and, yes, this is where the modern term comes from). Bourne has, however, taken Hamilton's less well-known novels, stories of working class London in the first half of the twentieth century, as the basis for his latest ballet. Hamilton's London is a very far cry from Noel Coward's gilded version of the era. And this grittiness and authenticity have clearly appealed to Bourne and, indeed, to the magnificent New Adventures Company who co-choreograph with him.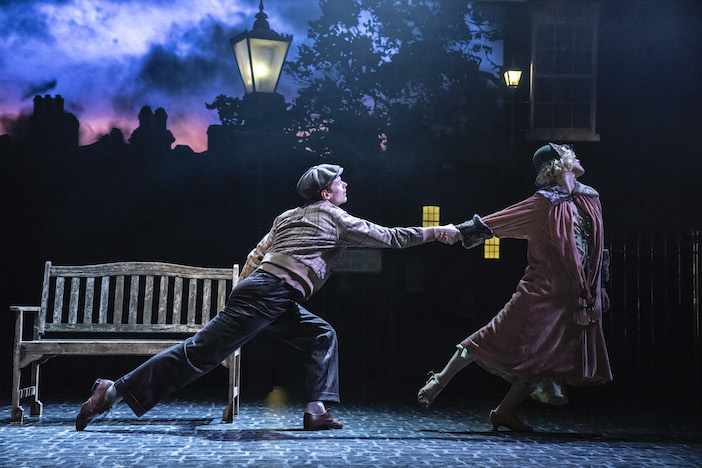 The set and costumes (by Lez Brotherston) fit the era to a T (I'm getting into the period here). The London sky, always dusk and gloomy; the dismal bedroom with its narrow single bed; the ornate lamppost under which a young prostitute stands; and the hilarious underwear in which the seducer/cad (a marvellous comic rendering by Glenn Graham) reveals himself with a lustful flourish – all set mood, time and place perfectly.
The piece starts with that single bed. A young waiter (Paris Fitzpatrick somehow manages to be both engagingly gauche and sinuously athletic) wakes up full of hope and eager for love. His miming of Al Bowlly singing "Man and his Dream" sets a tone of youthful optimism. This does not last long.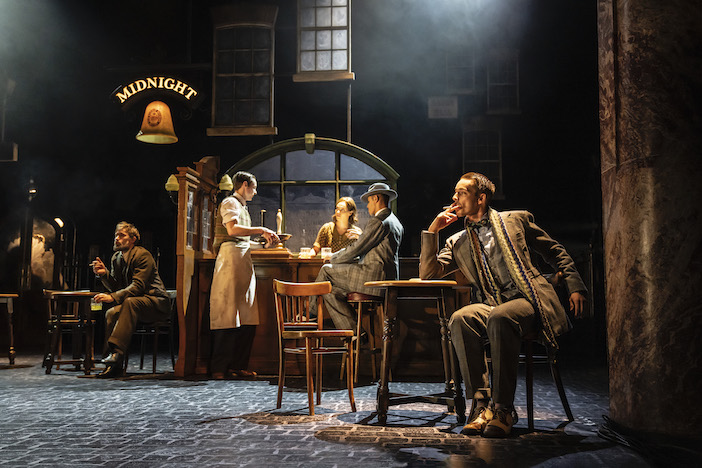 We are introduced to our characters in the pub where he works, The Midnight Bell. There's an out-of-work actress (a gloriously slinky Daisy May Kemp) and her doormat of an admirer (a tormented Richard Winsor). The prim lonely spinster (a gorgeous Michela Meazza channelling Cyd Charisse) falls for Glenn Graham's thieving cad and – just a small spoiler – gets her very apt revenge in the end. Ella, the barmaid (a poignant Bryony Harrison) falls for Paris Fitzpatrick's waiter but he in turn falls for the young prostitute (Bryony Wood) – and that passion in the end is unrequited. The endless search for love is well washed down with endless alcohol – one of Hamilton's best-known books is Hangover Square – and dancers stagger and stumble around in a drink-infused fog. So that early youthful optimism? It all seems a bit misplaced.
These are all characters from Hamilton's books (though characters meet others from different books sometimes). The only couple who are Bourne's own are gay – this, of course, would have been an illegal relationship at the time and Liam Mower and Andrew Monaghan give a fine display of (mostly) hidden longing.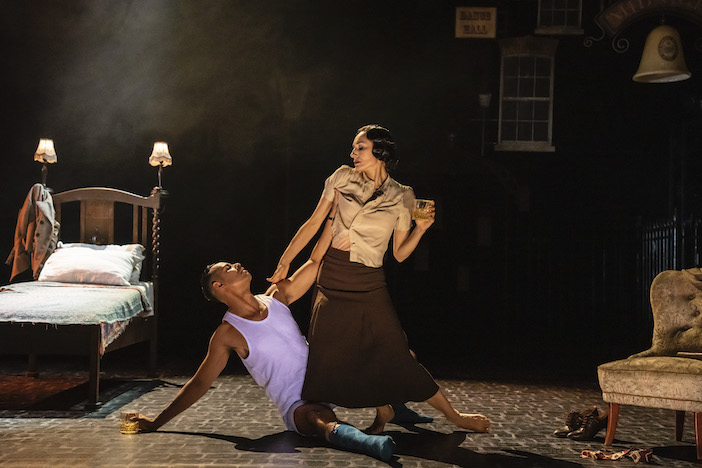 So, in two hours (including an interval), there is plenty going on. In the second act, one couple after another leaps onto that overused single bed, with sometimes tragic, sometimes comic consequences. And, if you don't want to lose the thread, you have to keep your eyes focused on every corner of the stage as relationships are played out simultaneously.
This could be The Midnight Bell's slight underlying flaw. There are just so many stories going on at the same time, it is difficult to engage with the individual characters or be as moved by their various plights as we know Bourne can make us. The great choreographic storyteller is perhaps trying to tell too many stories. This is a small quibble, though, and this marvellous company is a delight to watch and delivers a dark, compelling narrative.
The Midnight Bell runs at Sadler's Wells until 9 October. For more information, including bookings, please visit www.sadlerswell.com.