Director of The Royal Ballet, Kevin O'Hare, has thankfully chosen to revive Dame Ninette de Valois's glorious Coppélia; uniting world class dance and creative genius more than justifying the seeming extravagance of the ticket price. And this is one delight that demands a good seat. A highlight of the 2019/20 Royal Ballet Season, which commenced with an acclaimed production of Kenneth MacMillan's Manon, O' Hare's brilliant, understated direction makes this an unmissable treat offering festive ballet-goers a welcome alternative to Nutcracker.
Created by Arthur Saint-Léon in 1870, Coppélia is loosely based on E.T.A. Hoffman's sinister short story, The Sandman. Valois, founder of the Royal Ballet, premiered her enchanting version in 1954 and, although it hasn't been danced by the company for over a decade, it remains vivid and magical, enhanced by Osbert Lancaster's colourful designs of gingerbreadesque buildings and cloud-dappled blue skies, along with the atmospheric interior of toymaker Dr Coppelius's cavernous workshop in which some of his handcrafted mechanical toys are suspended from the ceiling.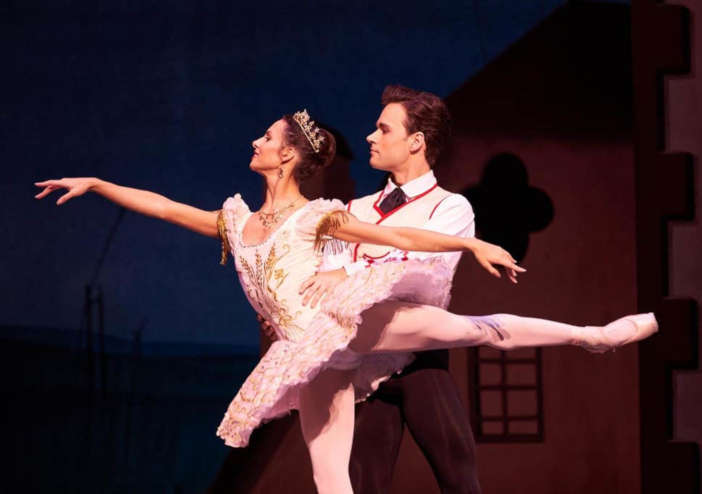 Unlike your typical fairytale of good versus evil, none of the characters are truly bad, rather they are mischievous, as in the case of the eccentric Coppélius (Gary Avis) who enjoys tricking the townspeople into believing that his beautiful doll, Coppélia (Ashley Dean), who sits reading in his window is a real woman. Avis's non-dancing performance steers away from previously lecherous interpretations, giving this production a more candy-coated flavour. Equally, our heroine Swanilda's fiancé, Franz (Alexander Campbell) whose head is turned by the said mysterious beauty who teases him by alternately ignoring him or blowing kisses, is misguided rather than utterly unworthy (or so we hope). Both the handsome young Franz and the bachelor Coppélius can be judged chauvinistic by modern day standards.
Francesca Hayward makes a convincing debut as the feistiest girl in the town, Swanilda, and is loveably impish when, after breaking into Dr Coppélius's workshop with her girlfriends, allows the toy inventor to believe that his book of magic succeeds in bringing Coppélia to life. In fact, the doctor gets a little more than he bargained for, much to the amusement of the audience when Hayward portrays a doll out of control; both setting off the other mechanical dolls of various nationalities, Japanese, Spanish and Scottish, and impersonating them to great comic effect. Filled with pantomime-style comedy and pathos, we can't help but feel concerned for Swanhila who, despite laughing on discovering that Franz has been tempted by a doll rather than a real girl, should perhaps question his loyalty rather than absolve him when the perceived danger is removed.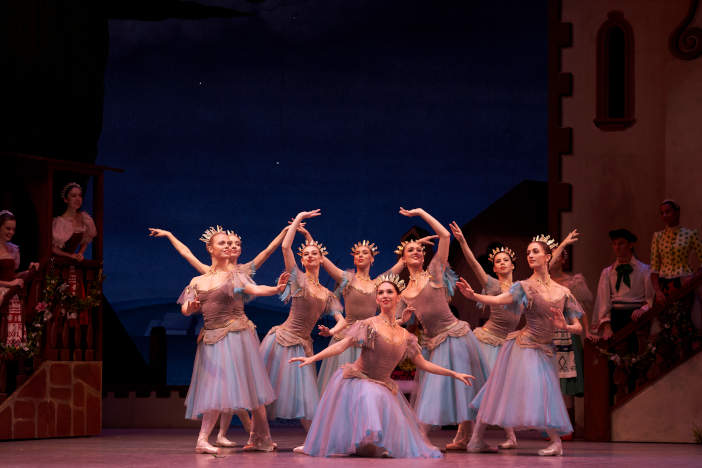 There is no doubt that Swanhilda is a demanding role due to the character being on stage for the majority of the ballet, and so I can overlook Hayward's occasional hesitation or waver when in hold with Campbell. In her solo performances she appears confident and dazzling, and gives us a Swanilda oozing personality, whilst her boxy, mechanical movements when posing as the living automaton, Coppélia, are nigh on flawless. Whilst she and Campbell look as if they need to trust one another more when it comes to the highly technical routines of the third act, there is a strong and redeeming connection between the pair; Campbell lending the arrogant lover just enough naivety for an audience to forgive him in time for the happy ending.
After spending a considerable amount of time passed out on Coppélius's workshop table after being drugged, the third act allows Campbell to come into his own, both in his pas de deux with Hayward and his impressive solo displays which involve jumps such as can make or break a career. The other benefit of the third act being somewhat lacking in plot, is that we are treated to a series of rather random dance sequences from the wider company and soloists, such as the Masque of the Hours, with Fumi Kaneko delivering a frankly jaw-dropping Aurora and Melissa Hamilton a poised and reverent Prayer. Throughout, conductor Barry Wordsworth leads the Orchestra of the Royal Opera House with a masterly and exuberant touch that does sublime justice to Léo Delibes, thus infecting the cast with an unshakeable energy. This production has only reinforced the special place Coppélia has in my heart. Understandably hailed as one of the most fantastical ballets in the classical repertoire, it appeals to the child in all of us and will surely have you wanting to dance a Mazurka after the curtain calls.
The Royal Ballet's Coppélia at the Royal Opera House, Covent Garden on selected days until 7th January 2020. The performance lasts approximately 2 hours and 35 minutes, including two intervals. Tickets from £5-£120. Production images by Bill Cooper. For more information and tickets please visit the website.