Umoja couldn't have opened at a better time. Against the grey, cold, miserable backdrop of dreary February pessimism, the sounds, sights and joy of South African culture are a welcome ray of light. If, like me, your spirits need a good hoist in a skyward direction however and whenever possible this month, Umoja is undoubtedly the medicine you need. Conceived by Todd Twala and Thembi Nyandeni, it was originally intended to educate a new generation of South Africans about their rich heritage: a sort of reminder of the glory days of South African music and dance, in a country which has seen its fair share of hardship. But the show went on to become much more victorious than either of its founders could ever have imagined: Umoja has already enjoyed two successful runs in the West End, and now returns in a riot of colour for another triumphant run at The Peacock Theatre.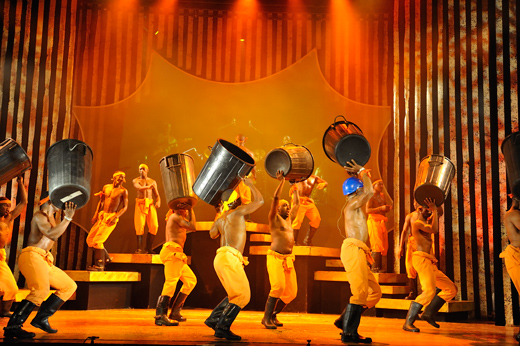 Umoja takes us on a historical journey from the earthy tribal dances of courtship and celebration, right through to the thumping rhythms of Kwaito, in joyous post-apartheid Africa. Guided by an incomparably wise, gently chuckling narrator, the audience is taken through various milestones in South African history. Gumboot dancing, bone-tingling gospel singing and chaotic Johannesburg shenanigans are but a few of the delights on offer. Rich in authenticity, Umoja offers a glimpse of African culture in a far more legitimate way than other African pretenders on the West End, like its Disney cousin The Lion King.
The unadulterated joy spilling off the stage is utterly irresistible, coming as a refreshing change from the painted-on smiles and insincere performances that riddle the West End. The performers are rambunctious balls of unbounded energy and exultation, overflowing with glowing smiles and performances that just keep on giving. Their euphoria is utterly infectious: if you're not smiling within the first 10 minutes, you can safely consider yourself dead inside. Perhaps it is our cultural stiffness that dissuades many performers or directors from going down this unashamedly convivial route, but it is not something frequently seen on London stages. More fool us for not regularly indulging in it; we'd probably be a much happier nation if we got a dose of intoxicating Umoja-esque merriment once a month.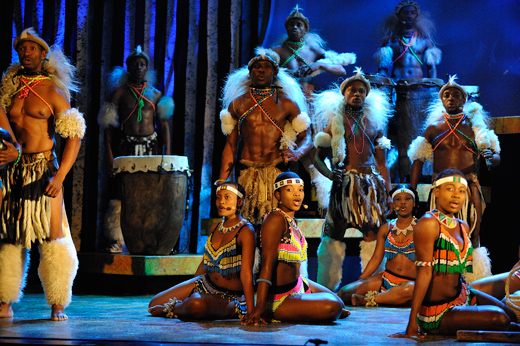 You cannot, however, run a successful production on 100-watt smiles alone, and Umoja sadly lacked any kind of theatrical through-line, or a strong enough concept to elevate its status from jolly night out to theatrical accomplishment, which is a shame given the potential it so obviously has. There is a an unfortunate glossing over of the more sombre subject matter: although the AIDs epidemic is referenced, it is only by a red ribbon on the performers' costumes, and apartheid is practically ignored altogether.
This is unquestionably a fantastic night out, rammed full of brilliant performers giving you every shred of their explosive energy. My one wish for Umoja, though, was that it had more faith in its own ability: crowd-pleasing gospel numbers sung in English were indicative of the keenness to please, which the production does in abundance anyway, regardless of the language it presents itself in, or how much we can sing along. A little faith, and a touch of narrative tweaking, could transform Umoja from an uplifting night out, to a theatrical tour de force.
Umoja runs until this Sunday, February 19th at Peacock Theatre, Portugal Street, Holborn, WC2A 2HT. Box office tel. 0844 412 4322. Website.