Not so long ago, we all assumed circuses were a thing of the past. Not so. Starting with Cirque du Soleil (and there have been many successors), the magic of the circus was recreated as a contemporary entertainment. As you might guess from its name, Circus 1903 takes a slightly different approach.
Back for its third appearance at the Royal Festival Hall, this is a recreation instead of vintage circus. Cue top hats and embroidered waistcoats, wooden circus stalls, corsets and glitter. There is also the masterly music hall patter of the ringmaster who combines Barnam-style American pazazz with a rare gift for bringing out the comic genius of his audience participants (aged six to nine). As Ringmaster Willy Whipsnade, David Williamson introduces (and pretty much steals) the show. Magician, raconteur, comedian and MC, he brings an anarchic tone to the proceedings, throwing popcorn at the audience, arranging for a Dad to be custard-pied by his daughter, and "murdering" his pet raccoon puppet.
The acts he introduces are truly spectacular and, in the comparatively intimate space of the Royal Festival Hall, you see every bead of sweat on the brow, every puff of chalk on the aerialistes' hands, every slip of the foot or hand. Your heart is frequently in your mouth.
The Daring Desafios are just amazing acrobats with split-second timing that narrowly avoids what seem to be inevitable collisions. Who would have thought four men and a seesaw (OK, teeterboard) could be so thrilling? Juggler, the Great Gaston, creates a waterfall of whizzing objects that speed blurs before your eyes. Les Incredibles, Olavo Rocha Muniz and Denise Torres de Souza, do the kind of dazzling display you'd expect on the trapeze – but without the trapeze.
Have you ever tried to hula hoop? Mademoiselle Natalia circles three at once (one around her knees), doing a sideways splitz and standing on a ball. Florian Blummel performs ballet on a bicycle. The Rolling Raspinis are roller skating acrobats and the Perilous Perigos perform on the Russian Bar (like a gymnast's bar but very, very flexible). The Sensational Sozonov balances on tiers of steel rollers and the Flying Fredonis perform the most sensual, gorgeous act on aerial silks.
And then there are the animals. Not real ones, of course. This is a 2021 circus, after all. But there are two elephants: mother Queenie (10ft 6in high) and baby Karanga (Swahili for "peanut") are both made of grey jute and metal levers. Created by the same team responsible for War Horse, they play quite a part in the show, interacting with the audience (watch out for water sprays in the front rows), being naughty (Karanga), raising a stately leg or trunk (Queenie).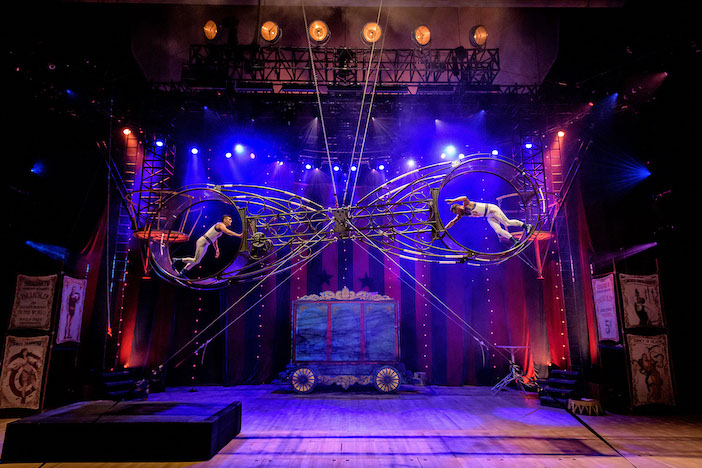 The show's climax is the Wheel of Death, a twin cage that looks like a giant rotating hamster wheel worked by two acrobats who run inside it and outside it, at times their heads almost touching the lofty Festival Hall ceiling. You get vertigo just sitting in your seat. My favourite moment, though, had to be six-year-old Otto plucked from the audience by Williamson. As Karanga crept up behind him ready for the big reveal, Williamson asked what was his favourite act (it wasn't the elephants), which was his favourite elephant (it was the big one). At least, pleaded Williamson, did he like the little one? Priceless. And a perfect family Christmas show.
Circus 1903 is on at the Royal Festival Hall until 2 January 2022. For more information and tickets, visit www.southbankcentre.co.uk.