The South Eastern stretch of the UK's extensive coastline has never had the best reputation. Not so full of beauty spots, secluded coves or isolated beaches, rather the preserve of tired towns, surrounded by post-industrial wasteland estuaries; a part of the country that many chose to forget if they were ever able to remember it. Times are a changin' though and, against the odds, increasingly vibrant communities are popping up, re-energised and reinventing themselves, encouraging a complete reassessment of what this maligned part of the UK has to offer both its inhabitants and the world at large.
The most ambitious of these projects has to be what has been dubbed England's Creative Coast. The brainchild of Folkestone's long-term resident, the dynamic Sarah Dance, the initiative's core conceit is to encourage cultural tourism and local interaction through commissioned, site specific art. Dance collaborated with some of the region's best known art spaces to introduce temporary artworks to across the board, including Margate, Folkestone, Hastings, Bexhill-on-Sea, Eastbourne, Gravesend and Southend-on-Sea.
Collectively called 'Waterfronts', the governing theme was the border between land and water, and the artists used local narratives to inform their work and install the generally three dimensional pieces with geographical and political subtexts. As if the art wasn't enough of a draw, the programme also made this the world's first ever art GeoTour. Functioning through a geocaching app on mobile phones, participants use GPS-enabled technology to find 'hidden treasures' around or near the artworks. Participants then logged their discoveries, all the while listening to stories, opinions and commentaries on the local community, by the local community.
In Margate, the geotour was made in collaboration with locals who took part in a series of workshops hosted by Iraqi-American artist, Michael Rakowitz. The residents chose six nearby locations about which they subsequently created poetry and musical works. Rakowitz's offering, 'April is the cruellest month', is a sculpture which stands on a grassy terrace, its edges covered in sand, overlooking the sea. It's easy to miss because it blends in so well with its surroundings and an older war memorial only a few metres away.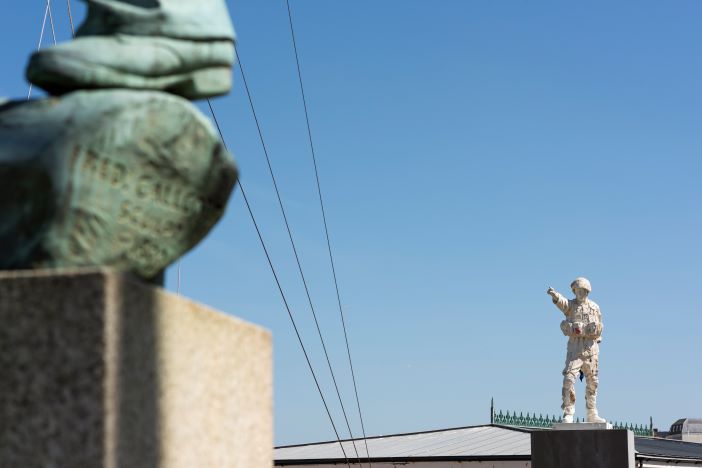 Upon closer inspection, the statue, of a soldier pointing out to sea (actually to the Houses of Parliament in London), becomes an emotionally loaded anti-war statement which empathises with the men who risked their lives and sanity to fight for their country. The sculpture is modelled after Royal Artillery veteran Daniel Taylor who served in during the 2003 Iraq War. As well as chalk from Margate and sand from Basra, where Taylor was stationed, the sculpture also contains objects donated by workshop participants, and includes the medal Taylor was awarded for his service. Even the work's title is site specific and named after the opening line of T.S. Eliot's epic anti-war poem, The Waste Land, some of which was written in the shelter right next to the statue.
Of all the towns in which the commissions are shown, Margate has seen the most noticeable turnaround of fortune. Barely a year old is The Albion Rooms, a boutique hotel owned by guitar band and general tabloid survivors, The Libertines. A terrace property over-looking the sea, the hotel is as you'd expect (or, at least, hope); a self-mythologising tribute not only to the history of rock 'n' roll but the band itself.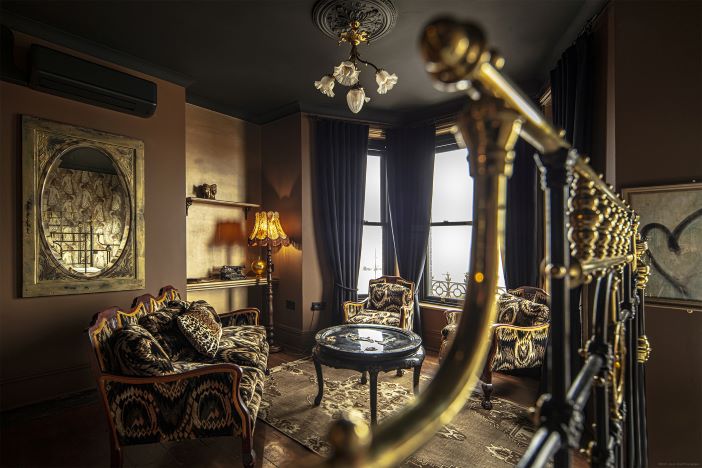 Baroque rooms and darkly hued walls offset music posters and contemporary artwork, some even made by The Libertines' lead singer, Pete Doherty. In the basement is a bar which hosts everything from comedy to poetry readings – to live music, naturally. The place is run by ridiculously happy and friendly staff, alla, it seems, excited to be there, and boasts a fine breakfast and dinner masterminded by former head chef at Soho House, Tim Ross-Watson.
Refreshingly, there's not a burger in sight, and everything about The Albion Rooms feels authentic and top notch. Should you want to break out of your rock den, two other recommended restaurants are Angela's and The Buoy and Oyster. Both concentrate on fish, but the similarity stops there. Angela's is more contemporary and innovative in its dishes, which change on a daily basis and are sourced from nearby Hastings.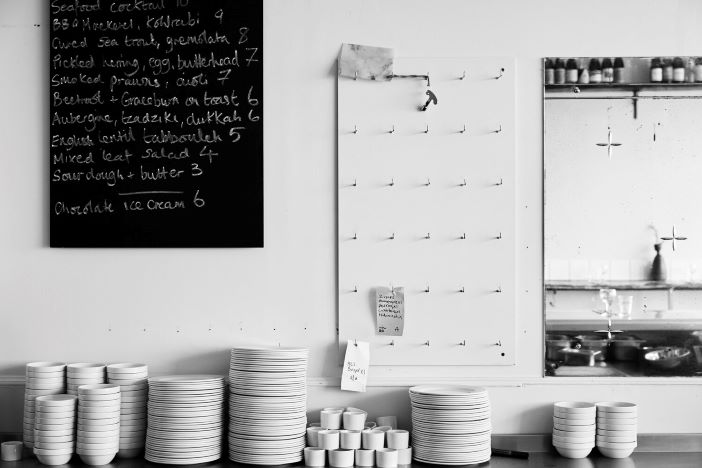 Expect the likes of plaice, smoked knobs, onion gravy or monkfish with leeks and mustard sauce, all highly textured and tasty. The Buoy and Oyster also sources its fish locally and daily, but serves its catch more traditionally and, arguably, purer. With little more than a zest of lemon or dollop of mayonnaise to accompany many dishes, the freshness of the fish speaks for itself and should not be missed.
It would be very easy to spend a long weekend in Margate, such are the abundant places of interest, such as Haeckels (an inspiring and fascinating local business born of Margate's excessive seaweed, producing sustainable body products), the Shell Grotto (an underground cave-like curiosity far away from the sea, decorated in shells) and, indeed, the Turner Contemporary (the art museum which, much like the regional Tates, arguably, kickstarted Margate's change of fortune).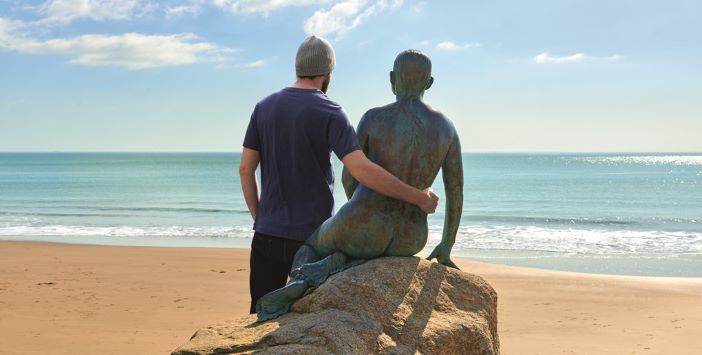 Alternatively, if you want to split your time, Folkestone is fast becoming an art destination in its own right, and following Margate's lead, uses the power of art to regenerate its community and its reputation. Spearheaded by Creative Folkestone and the increasingly well-regarded Folkestone Triennial, there are also several 'art walks' based around the city's impressive collection of purchased contemporary art which is on display all year round. With heavy hitters such as Yoko Ono, Mark Wallinger, Cornelia Parker and Tracey Emin, the South Eastern Coast never looked so contemporary, so creative.
For more information about England's Creative Coast, including details of current exhibitions, further ideas of what to see and do, and recommendations of places to eat, stay and explore, please visit www.englandscreativecoast.com. And discover more through the creative coast map at www.englandscoast.com.