On Sunday 10th February 2013, Ben Affleck made me do something I've never done before. I cheered at the TV. Twice. Not only did he win the BAFTA for Best Director but, against the odds, for Best Film. Even Samuel L Jackson, who read out the winner of the latter, seemed surprised. In fact, we were all surprised (if quietly hopeful). Because, you see, twelve years ago he uttered the immortal words, "Just get me into a goddamn plane" and his fate was sealed. He floundered in soppy, floppy romcoms and films with 'reindeer' in the title – and Pearl Harbour – becoming the lesser of the brothers Good Will Hunting in the process while his cinematic sibling, Matt Damon, had already clinched roles in the cool Oceans films and would soon become synonymously iconic as Jason Bourne.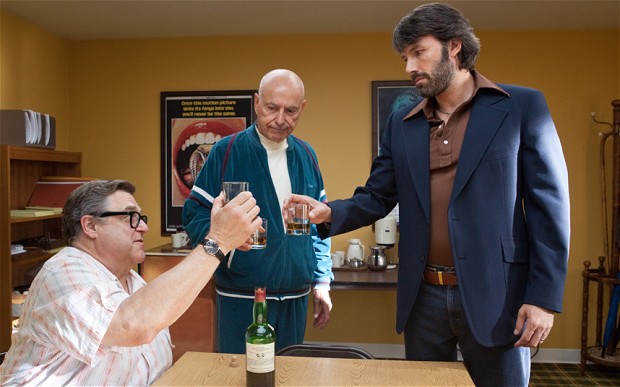 The second 'act' he referred to in his BAFTA speech was his way out. Out of embarrassment (I'm assuming) in front of the camera, he went behind it, first with his brother Casey in the commendable Gone Baby Gone and then, with confidence, in the brilliant The Town. Clearly having found his new forte, it was only a matter of time before we started to refer to the director, Ben Affleck. And now we have Argo. It's clever, gripping, even witty in places, and outshines anything Damon's done – "Who? That action movie guy?" – and it has an ending that will literally make you sweat through every pore and clench every muscle in your body. I don't need to say anything else about the film because I know you'll go and see it.
Argo won't win on Sunday (it's up for Best Picture, among a few other nominations), not because it doesn't deserve to but because the Academy doesn't vote in the same way we Brits do. Here, not only do we applaud the underdog but we like things that surprise us, films that keep us on the edge of our seats, that carry risk. We steer clear of the righteous and the sentimental which, unfortunately, is what the Academy always backs; the flag-waver, the tear-jerker, the triumph over tragedy; the safe bet, basically. And clearly they're still coming to terms with Ben Affleck, the director. He wasn't even nominated.
Read our reviews of the 85th Annual Academy Awards nominated films Hitchcock, Django Unchained and Les Misérables.
UPDATE: And the winners were:
Best Picture: Argo (Grant Heslov, Ben Affleck, George Clooney)
Best Actor in a Leading Role: Daniel Day-Lewis (Lincoln)
Best Actress in a Leading Role: Jennifer Lawrence (Silver Linings Playbook)
Best Director: Ang Lee (Life of Pi)
For details of winners in the other categories, visit the official Oscar's website.