Giacomo Puccini's La bohème makes a welcome return to the Royal Albert Hall in this magnificent Raymond Gubbay production, featuring some of the most exciting rising stars from the opera world.
Puccini's La bohème is based on Henri Murger's novel, Scènes de la vie de bohème, a collection of vignettes portraying young bohemians residing in the Latin Quarter of Paris during the 1840s. The novel drew on Murger's own experiences of living in a Parisian attic as a stuggling writer; memories he imbues with both comedy and sadness (his circle of friends at the time called themselves the 'water drinkers' as they were too poor to buy wine). Puccini's opera certainly adopts Murger's dry sense of humour, and as the bohemian flatmates decide to burn one of their cohabitant's manuscripts in order to keep warm, the stage is aptly set for a drama of fine comedy and tragedy.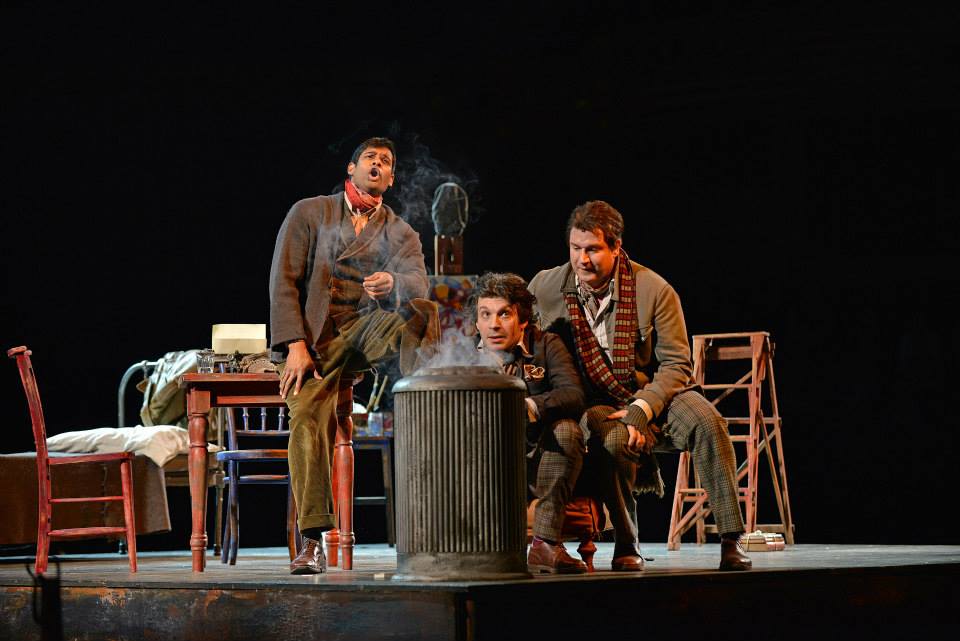 Set in the round at the Royal Albert Hall, this Raymond Gubbay La bohème production has transplanted Puccini's opera into a Paris of the 1940s, making the most of the stage and the fantastic accompanying Royal Philharmonic Orchestra. Sean Pannikar as the romantic lead, Rodolfo, gave a bold and thrilling performance packed with an effortless power. This American tenor of Sri Lankan heritage had no trouble commanding the stage and holding his own against the equally impressive supporting cast of Rodolfo's flatmates; baritone Michael Chioldi as Marcello the painter, Stefano de Peppo as Schaunard the musician, and Joshua Bloom as Colline the philosopher.
During the first act, the four flatmates sing about their poverty, have an unwelcome visit by their landlord, and finally disperse to their favourite haunt, Café Momus, leaving Rodolfo alone to finish some writing. Enter stage left, Mimi, played by Jessica Rose Cambio. If the audience had been wowed by Pannikar's Rodolfo, they were now utterly floored by this expressive Italian-American soprano, with a velvety smooth voice that left no dark corner of the Albert Hall untouched. By the time they came to setting the scene for act two at Café Momus, the audience were in no doubt that they were witnessing a fantastic collaboration of artists at the very top of their game.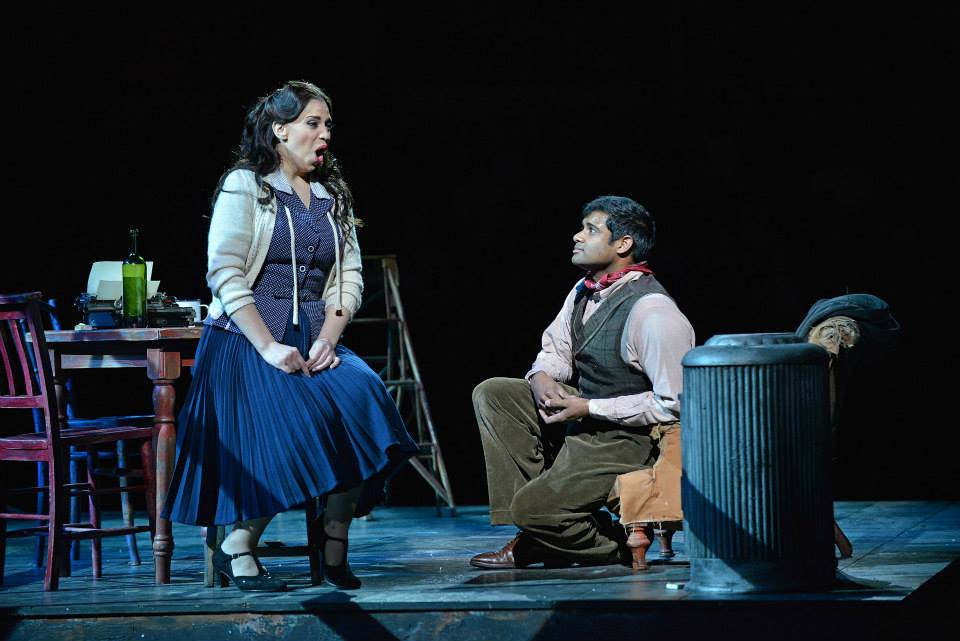 At Café Momus we are introduced to the flirtatious and conceited singer, Musetta, played wonderfully by Anna Leese, a New Zealand born soprano whose voice delighted the audience with Musetta's waltz: Quando me'n vo' ("When I go along"). It was here in act two that the Gubbay production really came to life, with a huge ensemble of supporting singers, actors, acrobats, and even waiters on rollerskates. There was so much to take in that one didn't quite know where to settle one's eyes. Being in the round at the Albert Hall is naturally restrictive in terms of set design, but this production cleverly made use of a colourful cast and a handful of props that replaced any need for set walls or elaborate backdrops.
Acts three and four after the interval were charming and tragic; the story had moved forward, and Rodolfo and Mimi had gone their separate ways due to Rodolfo's jealousy, yet the two remained very much in love. As snow fell from the ceiling of the Albert Hall onto the train platform staging, one felt almost as cold as Mimi appeared to be, shivering and coughing in her search to find Rodolfo. The last half of this electrifying opera raced by, and what had been a two-hour performance certainly felt much shorter due to the talented cast and the entertaining production design. This La bohème is a feast for the ears, a delight for the eyes, and a punch in the heart for romantics. Henri Murger and Giacomo Puccini would be most impressed.
Booking until 9th March 2014. For more information and tickets, visit the website.