The "mother of performance art" Marina Abramovic has been obsessed with Maria Callas for many decades. Abramovic first heard La Divina's voice when she was just 14 years old. Now in her seventies, she has created a tribute to the great diva that's appearing for a short run at the Coliseum, marking her birth 100 years ago. And it's the diva who is at the forefront here.
First of all, it's important to point out that, though this is part of English National Opera's autumn season, 7 Deaths of Maria Callas is not an opera. Instead, it takes seven tragic operatic heroines and recreates their death scenes and their arias: Violetta from Traviata, the eponymous Tosca, Madam Butterfly, Norma, Lucia di Lammermoor, Carmen and Desdemona from Otello. All have died for love and in all of them we are encouraged to see the character as part of Callas's own, their deaths and isolation a reflection of the great soprano's own tragedies.
Abramovic herself is present throughout, still as a statue as Callas on her death bed, perhaps dreaming of the seven heroines she has played. Front of stage, a series of seven fine sopranos (Eri Nakamura, Elbenita Kajtazi, Nadine Benjamin, Karah Son, Aigul Akmetshina, Sarah Tynan, Sophie Bevan) sing their arias, all dressed in identical maid uniforms (the significance of this is revealed later). The audience, though, is not watching the singers but the films projected behind them of Abramovic's representation of each heroine in turn, often accompanied by the wonderfully craggy-faced Willem Dafoe.
There is plenty of drama here. As Otello, Dafoe places a series of snakes around Abramovic/Desdemona's neck. He holds the hand of the dying Violetta on her death bed. Most memorably, face painted and dressed in gold lame, he walks with Abramovic/Norma towards the raging fire. Much of this is in hypnotic slo-mo and this is particularly effective as a mesmerising Abramovic/Tosca plunges to her death from the top of a building.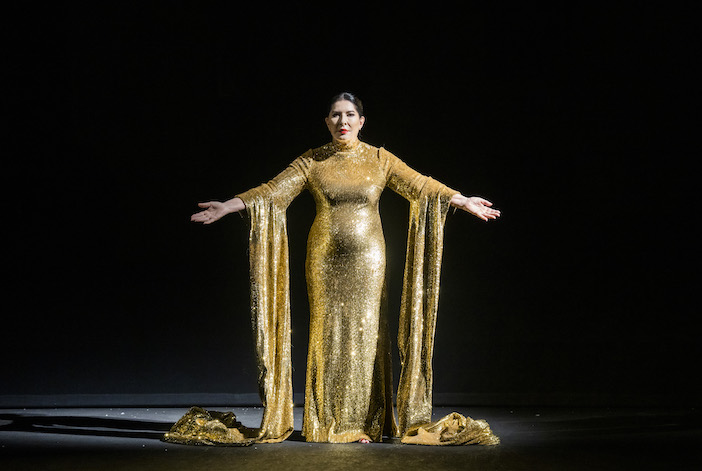 Clearly, the theme here is women as victims (a favourite trope of 19th century writers and composers – and just as popular today). It aligns with Callas's own victimhood at the hands of men (notably Aristotle Onassis) and her own struggles with illness and her weight (her dramatic mid-career weight loss is thought to have contributed to her sudden vocal decline). Unfortunately, though, almost none of this comes across. Such is Abramovic's emphasis on Callas as diva, Callas the woman is distant as ever. It is an opportunity missed. This is a performance to be watched as a series of exquisite tableaux, not one that engages you or draws you close.
This lack is underlined in the final Act when Abramovic rises from her bed and finds herself in a room that is a recreation of Callas's own final bedroom in Paris – one that looks uncannily like the perfect setting for Violetta in Traviata. This is reinforced when Callas calls for her maid (who doesn't come) and opens the windows to hear the sounds of the Parisian street. Is she now going to emulate Tosca? But no, she paces the stage, breaks a lot of glass and gradually disappears into the darkness. It is at this point that the sopranos reappear as the maids who, after the death of Callas, neatly fold the bedsheets and cover the furniture with black drapes.
In the run-up to the curtain calls, Abramovic reappears on stage, outsparkling Dafoe's earlier gold lame and embodying Callas as La Divina with the great soprano singing one last time. The aria? Casta diva. What else?
7 Deaths of Maria Callas runs at the London Coliseum until 11 November. For more information, including performance times, and for tickets, please visit www.eno.org.
Photos by Tristram Kenton