The highly anticipated Amélie The Musical has reached Bristol Old Vic during a UK tour. Produced by Hartshorn-Hook, Selladoor, The Watermill Theatre and Broadway Asia, this is an impressively staged rebirth of the cult film, although it was a flop on Broadway in 2017.
With a book by Craig Lucas and design by Madeleine Girling extremely faithful to Jean-Pierre Jeunet's highly imaginative five times Academy Award nominated 2001 film, the music score is meanwhile a new composition by Daniel Messé with lyrics that were a collaboration between him and Nathan Tyson. For lovers of Yann Tiersen's film score, an integral element of the iconic movie, this will take some getting used to, however much Messé has paid tribute to it with themes driven by the accordion and piano.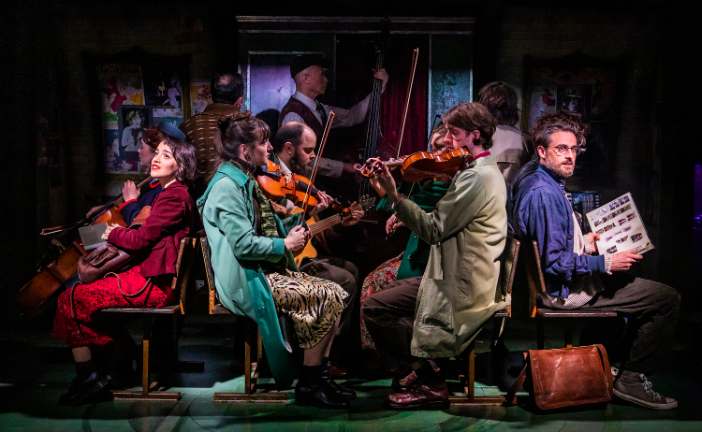 Directed by Michael Fentiman, the 12-strong cast of actor-musicians perform on stage throughout, a device which adds a great deal of movement and energy to each scene, enhancing the Parisian city ambiance created by the brilliant two tier 'Metropolitan' set by Girling, complete with clock face that reveals Amélie's cosy Parisian apartment. The novelty of musicians crowding the stage does wear off as the action progresses, however, for at times, particularly when metro journeys are being illustrated and the musicians face one another in rows, the production feels cluttered. It might have been more effective if occasionally some of the musicians had been moved to the higher tier of the set, so as to allow for a change of dynamic and pace.
Amélie is the story of a remarkable young woman who, despite being a humble waitress, not only sees how people from all walks of life connect in a unique way, but seeks to bring happiness into the lives of strangers, colleagues and her widowed father Raphael (Jez Unwin) who spends his life caring for the gnome holding her mother's ashes. Inspired by the empathy of Princess Diana whilst watching the televised funeral (prompting a rocking routine by Caolan McCarthy as Elton John in a white angel winged one-piece suit), of her own romantic happiness Amélie appears to think not at all, until a quest to unite a stranger's photograph album, filled with discarded photo booth images of other strangers, sparks the idea that she too might have a kindred soul.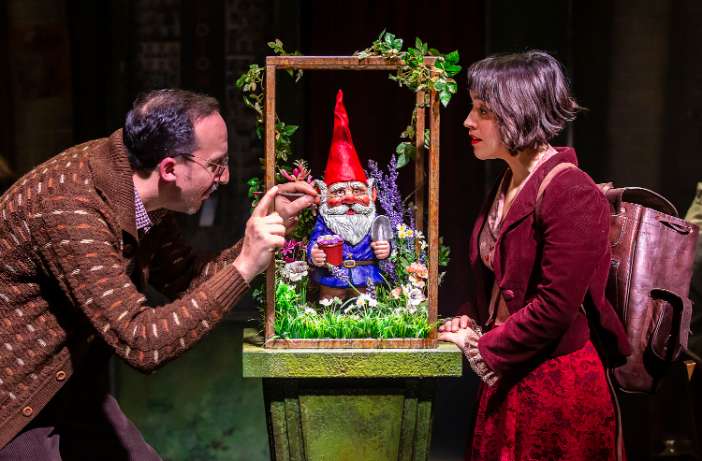 French-Canadian Audrey Brisson delivers a well-crafted portrayal of the quirky heroine made famous by Audrey Tautou, with humour and verve that makes us immediately warm to her. As for choreography, Brisson is a natural thanks to spending her earlier career with Cirque du Soleil for whom she worked as an acrobat and vocalist. She boasts powerful vocals, although her French accent sometimes makes it difficult to understand the English lyrics, and there is often an unpleasant screech to her voice when it comes to the top notes that mars the overall sound and harmony. This is nothing that could not have been corrected and I do wonder that it wasn't picked up by musical director George Francis.
In the second half Amélie's match-making pays off with romance aplenty at the café in which she works, whilst she plays a series of hide and seek games with the photograph album owner Nino (Danny Mac), reluctant to reveal her own identity until he finally persuades her to unmask and open her fragile heart (she has a heart murmur) to possibilities and the risk of love itself. There isn't a great deal of chemistry between Brisson and Mac, while the lyrics get increasingly trite and much of the magic of the original French tale is swamped with sentimental clichés lacking subtlety.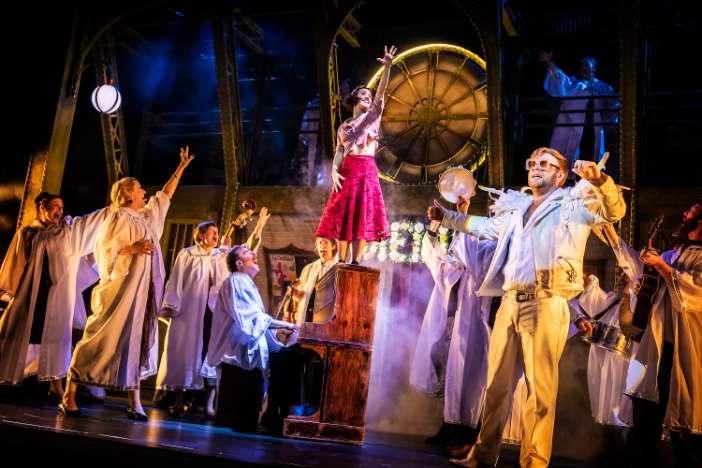 If you forgive Brisson's occasional shrillness which she makes up for by her acting breadth, you are still left with a less than inspiring musical and no single melody that will live in your memory. Rather this homage may find you reaching for the original soundtrack on Spotify the moment you get home. The most enjoyable aspect of the show is Girling's set, atmospherically lit by Elliot Griggs. That said, I think I was the only one in the Bristol Old Vic press night audience not won over and thoroughly charmed, as evident by a standing ovation. C'est la vie!
Amélie the Musical at Bristol Old Vic until 20th July 2019. Production images by Pamela Raith. Running time approximately 2 hours 30 minutes including an interval. For more information and tickets visit the website.