Currently on stage at the Royal Opera House is the story of a man whose hunger for power knows no bounds, a man surrounded by plots and intrigue, a man who repeatedly lets down those closest to him. A man called Boris. But this is Musorgsky's Boris Godunov (and no more BoJo jokes, I promise) and a pretty spectacular night for Covent Garden.
The ROH has used the original shorter version of Musorgsky's opera and builds on the intensity of the tragedy with a performance that lasts just over two hours, with no interval. The story is based on Pushkin's dramatization of the true story of a Boyar who rose to Tsar in the years after the death of Ivan the Terrible. Ivan left two sons – the older, Tsar Fyodor, frail both physically and mentally and his younger brother, Dmitry, who dies mysteriously, aged eight. Boris has already manoeuvred himself into the position of Regent and many believed him responsible for Dmitry's death. When Fyodor dies, it is Boris who will become Tsar.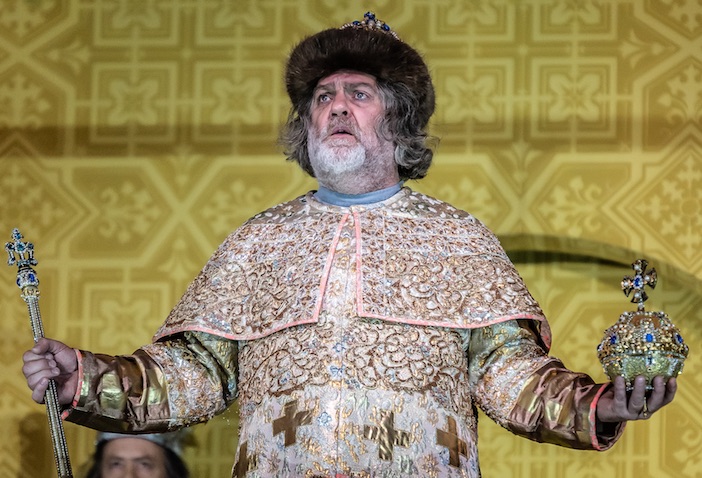 Apparently reluctant to take his final step towards ultimate power, Boris has retreated to a monastery but the crowds entreat him to become their Tsar and he is crowned in the Kremlin. For several years, he governs well and Russia prospers but then come terrible famines and suspicion and superstition, never far below the surface, rise up as Boris is suspected as the murderer of the Tsarevitch Dmitry.
Director Richard Jones has drawn a fine balance here between the relentless story unfolding on the main stage and the behind-the-scenes version, sometimes even more terrifying, playing out on the mezzanine above. Here, there are plots and manoeuvres and, most importantly, a murder that is repeated over and over, a child's spinning-top becoming the ultimate torment to the guilt-ridden Boris.
As Boris, Bryn Terfel, returning to the role from the original production in 2016, is simply magnificent in this role, as arduous dramatically as it is vocally. He is, from the very start when he is on the brink of great power, already a broken man and, as he descends into guilt and superstition, fear and madness, Terfel brilliantly and thrillingly unravels before our eyes.
Part of his nemesis comes in the form of the monk, Pimen (richly and beautifully sung by Matthew Rose – a future Boris, perhaps?), who tells his novice, Grigory (an ardent David Butt Philip), the story of Boris's murder of the young Tsarevich Dmitry. On hearing that Dmitry was the same age and of similar appearance, Grigory decides to impersonate him and stir up rebellion against Boris.
It is not Grigory and his plot that ultimately bring about Boris's downfall but his own guilt. On hearing from Prince Shuisky (Roger Honeywell) that the Pretender Grigory (calling himself the Tsarevich Dmitry) has appeared in Lithuania, Boris demands to know that Shuisky saw the corpse. Despite reassurances, Boris gives way to guilt and madness, hallucinating that he can see the dead Dmitry. Pimen demands to see Boris and tells him that Dmitry has become a saint from beyond the grave and even has a miracle attributed to him, curing an old man's blindness. Boris, tormented with guilt and grief, collapses in a seizure, pleading for forgiveness.
Marc Albrecht conducts the Orchestra of the Royal Opera House, giving full rein to Musorgsky's soaring, deeply Russian, score and the Royal Opera Chorus perform magnificently as ever, evocatively lit by Mimi Jordan Sherin. There are some eye-catching costumes from Nicky Gillibrand and even moments of humour. As two renegade monks, John Tomlinson gave full voice to his drinking song and Harry Nicoll brought the house down playing the spoons with a deadpan worthy of Baldrick.
Boris Godunov runs at The Royal Opera House until 3rd July. For all performance dates and details, call +44 (0)20 7304 4000 or visit www.roh.org.uk.
Photos by Clive Barda.