Calendar Girls – The Musical by Take That front man Gary Barlow and Tim Firth retells the heart-warming, yet much-told, true story of a Women's Institute group who made headlines by throwing off their bras and inhibitions for a Pirelli-style (not quite) nude calendar in order to raise money for charity. Inspiring a film of the same name in 2003 starring Helen Mirren, then a 2009 play, this musical is for many an improvement on all that came before.
First premiered in Leeds in 2015 before eventually heading to the West End in 2017, a new cast has been assembled for the current UK tour including musical theatre stalwart Rebecca Storm, actress Ruth Madoc from Hi-De-Hi and Lisa Maxwell from The Bill, flying the flag for girl power (or should that be old-girl power). Directed by Matt Ryan, Theatre Royal Bath's audiences lapped up the clichéd 'jam and Jerusalem' jokes like there was no tomorrow, begging the question if a large majority of the ladies in the audience were W.I. members themselves? Surely not even the annual W.I. national conference receives more enthusiasm. They would happily have leapt out of their plush red velvet armchairs for an ovation at half time should there have been an appropriate opportunity, something they more than made up for when it came to the whoop-filled and wobbly-bottomed finale (on and off the stage).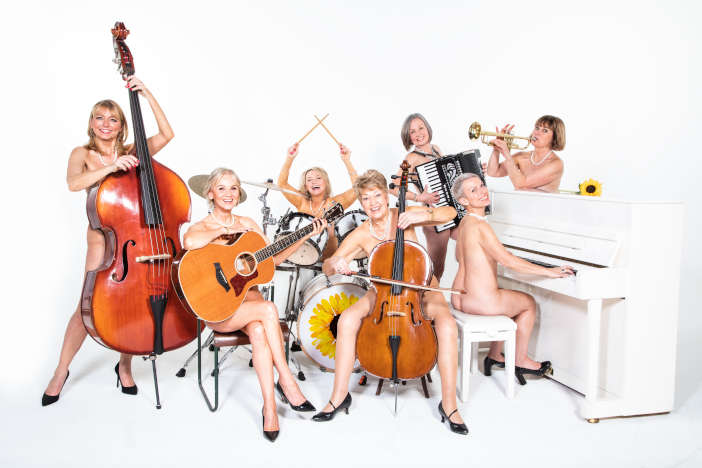 Sarah Jane Buckley (Hollyoaks) plays the central character, Annie, whose life is turned upside down when her husband, Colin (Sebastian Abineri) is diagnosed with cancer. Her plum jam-hating lifelong best friend, Chris (Rebecca Storm), who runs a floristry business with her husband Rod (Ian Mercer), considers the W.I. ridiculously stuffy, yet has second thoughts after coming up with the idea of organising a nude W.I. calendar in order to raise money for a hospital relative's room sofa in memory of Colin, and fears her adolescent son, Danny (Danny Howker) will want to disown her. Naturally more than a few feathers are ruffled within and outside the W.I. group, not least those of chairwoman, Marie (Judy Holt), who hides behind her hands when Annie and Chris seek support for the scheme at the W.I. annual conference. Yet even she has to see the benefit of the publicity from the calendar when her own teenage daughter, Jenny (Isabel Caswell) decides to become a member.
The backdrop of the Yorkshire dales is a permanent and comforting fixture, and an appropriate setting (designer Robert Jones) for the opening song 'Yorkshire', although there are barely any strong melodies to entice your foot to start tapping along to, a surprise considering Gary Barlow's reputation for catchy pop hits. The piped in backing track is bass-heavy, tinny and often overly loud, while the fact that each of the female characters is given their own 'belting ballard' solo seems far too contrived and unnecessary, especially given that the vocal talents of some members of the cast might cause you to wince or turn down the volume on your hearing aid (if you should be fortunate enough). Sue Devaney delivers a highly entertaining performance as the group pianist and vicar's daughter, Cora, whose reputation as a single mum has only partially been restored since joining the W.I., playing hymns which she changes the lyrics to in cheeky Victoria Wood fashion. In fact these are some of the few lyrics that seem to have been effortlessly composed.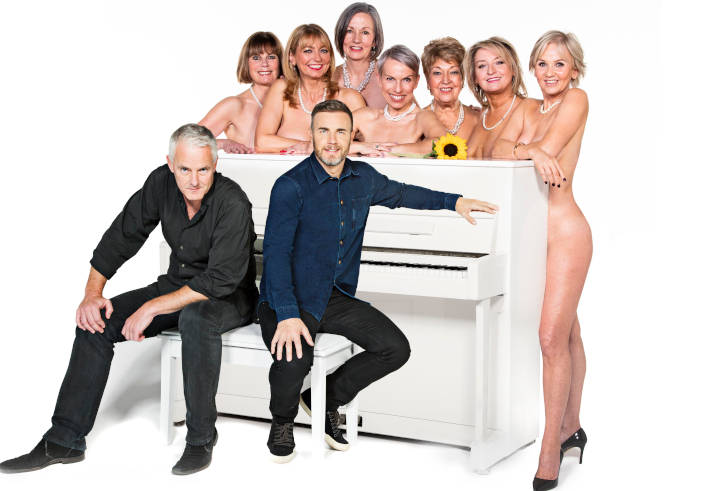 The songs in the second half are decidedly stronger than the first, with 'I've Had a Little Work Done' well sung by Lisa Maxwell and 'My Russian Friend and I'  performed by Julia Hills who possesses the strongest vocals of the group; both women prompting hearty cheers which are finally deserved. The finale is of course the camaraderie-fuelled photo shoot, with Lawrence (Derek Elroy), the hospital nurse with an interest in 'nature' photography, roped in to direct proceedings and the careful positioning of iced buns. Ruth Madoc shines both vocally and theatrically as retired teacher, Jessie, who shrugs off the stereotype of her age and former profession and encourages the younger members of the group to let go. Lisa Maxwell is equally vivacious as Celia, the former air-hostess, who proudly flaunts her enhanced cleavage as 'Miss July'. Ruth (Julia Hills), whose husband has walked out on her, leaving her confidence at an all-time low, saves the day by stumbling drunkenly onto the shoot to pose as 'Miss November'.
The fact is, there is much to enjoy in the well intentioned community-driven plot and the acting performances, I just would have preferred it without the gratuitous singing and pedestrian lyrics – and that's something of a problem given its 'musical' status. I confess I did laugh a hell of a lot, but almost wholly for the wrong reasons. My friend and I felt like cultural aliens amidst the cheers and rapturous applause with which we were surrounded at Theatre Royal Bath last night. Fans of the show (and there are clearly a great many) will respond to this review as warmly as Tony Blair's historic W.I. conference speech, I daresay, and it pleases me no end that nothing I can say would have the slightest influence over this bunch of single-minded theatre-goers, God bless 'em.
Calendar Girls – The Musical at Theatre Royal Bath until Saturday 9th November 2019. Running time 2 hours and 35 minutes. For more information and tickets please visit the website.