Opera in the summer has become something of a passion for us Brits. The granddaddy of them all is, of course, Glyndebourne with its gorgeous lakes and gardens and formidable reputation (and prices). Glyndebourne tickets are notoriously hard to come by but they're no longer the only game in town – or should that be the countryside? Because what we like with our summer opera is a picnic, a handsome county town or even a decent park (I'm thinking here of London's very own Opera Holland Park).
Nowadays, though, there is much more choice: Garsington at Garsington Manor in Oxfordshire, Buxton in Derbyshire, Grange Park in Surrey, The Grange (rather confusingly) in Hampshire, Nevill Holt in Leicestershire. And – new to me at least – Longborough in the Cotswolds. Like many opera festivals, this is very much a family affair. Founded by Martin Graham and his wife Lizzie in 1998, the artistic director is their daughter Polly and from comparatively small beginnings they now have their own full-sized orchestra, an extremely ambitious programme (including Siegfried this year and an entire Ring Cycle planned for 2024) and an outreach programme that extends to schools (they have their own youth chorus) and performances in care homes and playgrounds. So a pretty formidable enterprise.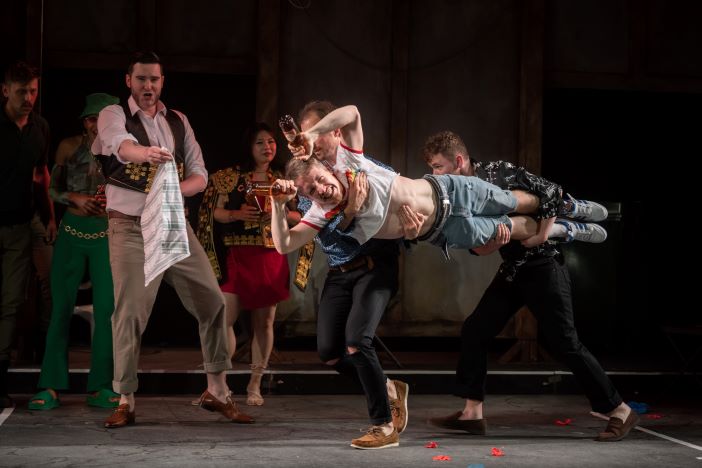 It was not Wagner I was seeing during the steamy summer heatwave, though, it was, appropriately enough, Carmen. The Cotswolds were as hot as Seville but in this production there wasn't much in the way of flamenco skirts and castanets. Instead, it was updated to a rather depressing present day with a meat packing rather than a tobacco factory (and yes we get it that just about everyone in this opera is treated like a piece of meat). It is certainly the only time I've experienced Carmen's wonderful Habanera sung in a blue hairnet.
But fear not – this is a Carmen with attitude and the hairnet (and the white coat) come off to reveal a sassy, casually seductive Bernadette Johns. It was not, in fact, Johns who was billed as Carmen but this was a cast almost completely overwhelmed by Covid and all of the main parts were covers. This is an impressive feat in itself and to be applauded but there was a lot more to like than the-show-must-go-on courage.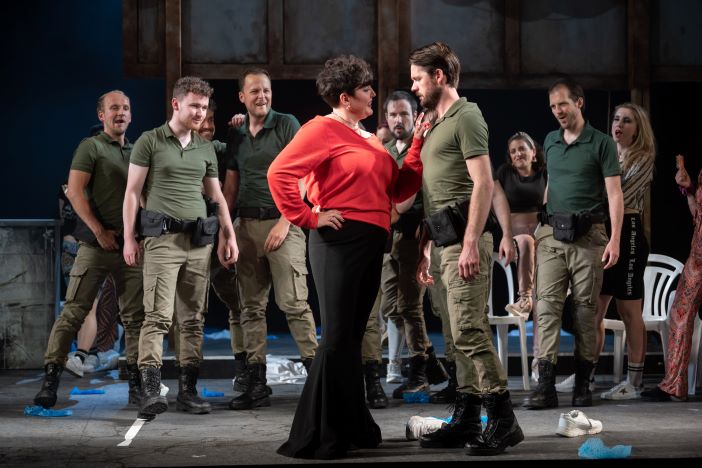 Johns was very much on top of her role and her rich, sultry mezzo was thrilling. There was rather a lack of chemistry with her Don Jose, Satriya Krisna, but that might be because he was standing in for the first time on Tuesday and also he has a complex role with director Mathilde Lopez's emphasis on the relationship between Don Jose and his mother (silent presence Maria Jagusz haunting the proceedings from the outset).
Matthew Siveter replaced Matthew Durkan as Escamillo and was a commanding on-stage presence while Ana Beard Fernandez was a childishly sweet Micaela with a truly lovely voice. The Longborough Youth Chorus were full of verve and fun and the orchestra under Jeremy Silver played with passion. It's an evening full of warmth (in every sense).
There aren't too many performances left (16, 17 and 19 July) then the following week (28 July – 2 August) there are performances in Longborough's Emerging Artist production of a double bill Spell Book and La Liberazione di Ruggiero.
Longborough Festival Opera is on now until 2 August, and includes Wagner's Siegfried, Korngold's Die tote Stadt, Bizet's Carmen, and a double bill of Caccini's La liberazione di Ruggiero with Freya Waley-Cohen's Spell Book for its Emerging Artists. For more information about the programmes, and for tickets, please visit www.lfo.org.uk or call +44 (0)1451 830292.