Carmen still has something to offer, 138 years on. Nick Hammond watches Bizet's classic opera comique at the Royal Opera House, Covent Garden…
Off and running with an instantly recognisable refrain, Carmen leaves no stone unturned in a galloping four-act tour de force. From the stifling heat of a Sevillian square, to a gipsy eyrie high upon windswept mountain passes, Bizet's masterpiece is brought dramatically to life by Francesca Zambello's ambitious production. Horses, donkeys, scores of ragged-clothed children and even abseiling bandits form part of the evening's flamboyant entertainment.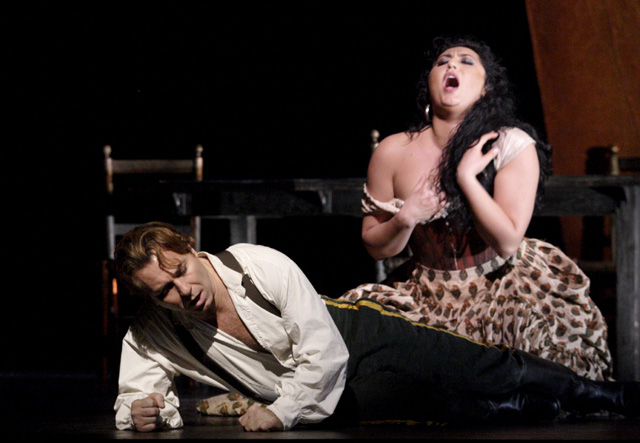 But almost everyone, from the orchestra to the leading lights, appeared to take a couple of acts to warm up on opening night; indeed, despite the accomplished Anita Rachvelishvili playing the title role, Argentinean soprano Veronica Cangemi threatened to steal the show with her sweet, moving portrayal of the innocent country girl Micaela, who spends the opera doing her best (and failing) to keep beau, Don Jose, clear of Carmen's ample bosom.
Don Jose is a soldier who finds himself inextricably drawn into the lust, crime and intrigue of the gipsy woman's life, despite trying his desperate best to lead an honourable existence. First, he allows her to escape police custody after a knife fight in the cigarette factory where she works. Then he can't help following her into the mountains to join her hedonistic band of outlaws and gipsies.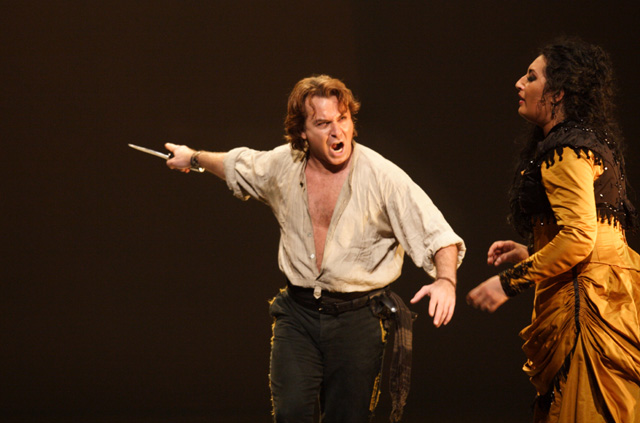 Rabble-rousing and cavorting with the best of them, Carmen is never going to be wife material – but poor Don Jose falls hook, line and sinker nonetheless. Enter Escamillo, a peacock of a bullfighter (played straight and true by bass baritone Vito Priante) who's very keen to show Carmen what's under his cape.
It's now a classic love triangle and by the time Carmen has had enough of Don Jose's jealously and paranoia, it's too late to stop their ill-fated union plunging headlong into tragedy. Tenor Roberto Alagna is a hulking, formidable presence, his descent into Don Jose's murderous rage painful to watch.
Bizet gives us both barrels as things shift from the bravura of the opening acts to the devastating final scenes outside the bullring in Seville. Butterflies creep through one's stomach as the lights, the music and the libretto get darker. By now, both Rachvelishvili and Alagna are hitting their straps.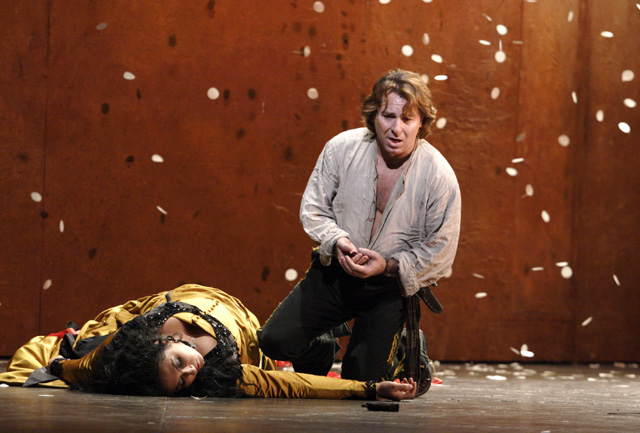 The final act is visceral, the cheerful bloodlust of the bullfighting crowd set directly against the desperate, inevitable, vengeful cries of Don Jose as he isolates Carmen outside the bullring. While her new lover postures and preens within, Carmen stands alone to meet Don Jose head on. He begs her to give in, go with him, renounce her love for the bullfighter. But she will not. A dirty-fighting, trash-talking strumpet she may be, but Carmen has her honour. "Free she was born and free she will die!" she tells him, knowing it will seal her fate. Almost reluctantly, Don Jose draws his dagger and kills her.
Carmen starts with a bang and brings a smile to the lips. It ends with a punch and brings a tear to the eye. After 138 years, Monsieur Bizet – bravo.
Carmen at the Royal Opera House runs until 9th January 2014. For more information and tickets, visit the website.