If you're looking for the perfect example of Italian opera buffa, Donizetti's Don Pasquale could just be it. Alongside Rossini's The Barber of Seville and Donizetti's own L'elisir d'amore it's a regular favourite at opera houses around the world. Packed with comedy, deception and glorious melody, opera buffa often gives centre stage to the lower male voices, making them a great vehicle for basses. Don Pasquale does just that – in the case of this production for Royal Opera favourite, Bryn Terfel.
But it's not necessarily a role you'd expect to find him in. In fact, the casting jars a little. For a singer still comfortable with commanding, even brutal, roles like Tosca's Scarpia, a role Terfel is returning to at The Royal Opera in 2020, a doddery seventy-something bachelor feels like a stretch.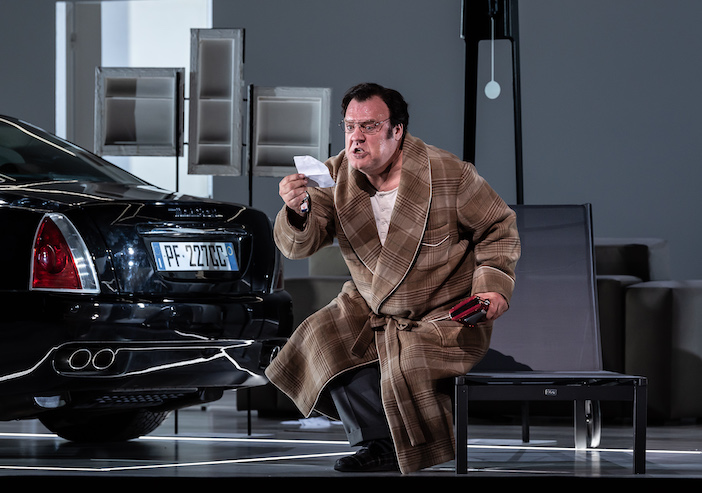 Not that it isn't glorious to witness. Bryn Terfel is one of those singers who seems to have an endless palette to choose from, both vocally and as an actor. He brings so much colour to everything he does and it's always a joy to see him on stage. There's a lot of great work going on around him, too. Olga Peretyatko's Norina is engaging and beautifully sung and Markus Werba's Malatesta and Ioan Hotea's Ernesto both have a lot to admire. In fact, it's the direction rather than the music that lets this production down.
Despite some wonderful set design, the overall direction feels overly cluttered – at best distracting, at worst confusing.  What exactly is Malatesta's relationship to Norina? They feel way more physically familiar than a brother and sister ought to be. Why do small children randomly wander on at various points in the show? What are the puppets supposed to be telling us? And why the fascination with green screens and mobile phones? Presumably there's a layer of meaning and social commentary there that I missed, but in truth, it felt like simply a clutter of modern devices deployed to prove that Don Pasquale lives up to the claim in the show's blurb, "Damiano Michieletto's exhilarating production shows how contemporary the characters still are and how immediate and touching the story remains".
In reality, it does the opposite. It left me feeling that a more traditional setting would have done the opera more justice. Stuff happens, people move about, there are puppets, green screens and small children – but what's the point of any of it? I honestly couldn't tell you. That probably sounds harsher then it should. It's an enjoyable production of an opera that's arguably harder to stage than either The Barber of Seville or L'elisir d'amore. The issue is, if you're going to load a production with modern elements, they should illuminate something and reveal a layer of meaning, and they don't.
All in all, it's a game of two halves; some great singing and great acting, but let down by the direction. Don't take my word for it, though, judge for yourself. At the very least you'll see a master of his craft in full flow.
Don Pasquale runs at The Royal Opera House until November 2nd. For more information and box office, visit www.roh.org.uk.
Photographs by Clive Barda.