Monday evenings are hard to satisfy, aren't they? Too early in the week to make an evening of it but often requiring a little 'down time' after that first, invariably fraught, day in the office…so here is something that might be just what the doctor ordered, both restful and restorative, and with time enough to get home for supper.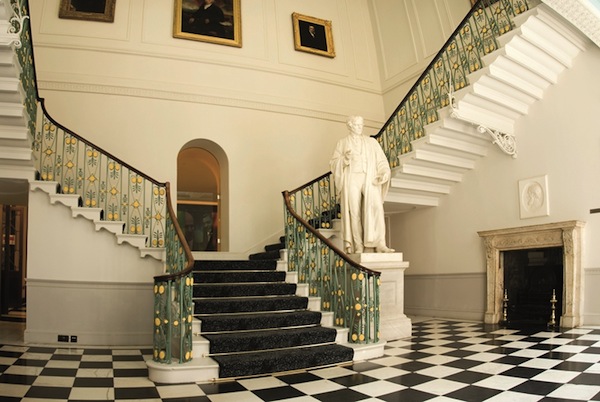 Brompton's, Europe's leading auctioneers for musical instruments, are hosting a delightful recital in the prestigious – and acoustically alluring – setting of the Faraday lecture theatre at the Royal Institution. The 'Brompton's Recital' is timed to introduce their major autumn sale and will last for just one hour, easy to drop into on your way home. Their aim is to provide music-lovers with a high-quality, inexpensive, post-work experience in its magnificent Mayfair home.
Some of the most illustrious names in British science have passed through the doors of The Royal Institution, however the presence has also been felt of musical luminaries such as Hubert Parry and Yehudi Menuhin, who would give 'Friday Evening Discourses' highlighting the link between science and music. Still, this will be one of the rare occasions live classical music will be heard in the intimate acoustic of the Ri's amphitheatre, the Faraday theatre.
The programme, featuring Haydn and Tchaikovsky, is performed by the Heath Quartet, formed in 2002 as an initiative of the Young Classical Artist
Trust. "Focused, skilled, and ready for anything," according to The Times, the quartet are fast-becoming noted as one of classical music's new and unique voices, with several accolades already to their name.
Peter Horner, Director of Brompton's Auctioneers says: "Buying and selling millions of pounds worth of instruments each year is all very well, but it is music and performance which brings them to life…I've always wanted to give the public the chance to experience classical music in this exquisite building, so we're encouraging people to pop in after work for an hour of gorgeous music-making."
The 'Brompton's Recital' will take place on Monday 22nd October at 6.30pm at The Royal Institution, 21 Albemarle Street, Mayfair, London, W1S, 4BS. For tickets please call 020 7670 2947/2916 or email info@bromptons.co. Tickets cost £10 and all proceeds from the Brompton's Recitals will be donated to the National Children's Orchestra.