Flaming June this isn't, so prepare yourself with blankets for Opera Holland Park's new production of Eugene Onegin in their semi-open air theatre. The park is, nevertheless, an appropriately bucolic setting. The opera's opening scenes take place in the country and here they are bathed in golden light, the characters dressed in creams and whites in takis' gorgeous designs. They will, along with the plot, get much darker.
The plot itself is beguilingly simple. A young innocent country girl falls passionately in love with a handsome dandy from St Petersburg. He rejects her but, on meeting her years later in the city, when she has risen through marriage to the very pinnacle of society, he falls just as passionately for her.
Based on Pushkin's most famous poem, Tchaikovsky created a score of such beauty, many people (including myself) regard it as his ultimate masterpiece. This is lushly played by the City of London Sinfonia under conductor Lada Valesova, albeit it at a rather slower tempo than usual. The orchestra is surrounded by the action – director Julia Burbach extends the stage to an apron in front of them so the singers are at times within touching distance of the audience. This is sometimes extremely effective – notably during Onegin's own tormented letter writing – but there are moments when the direction goes awry.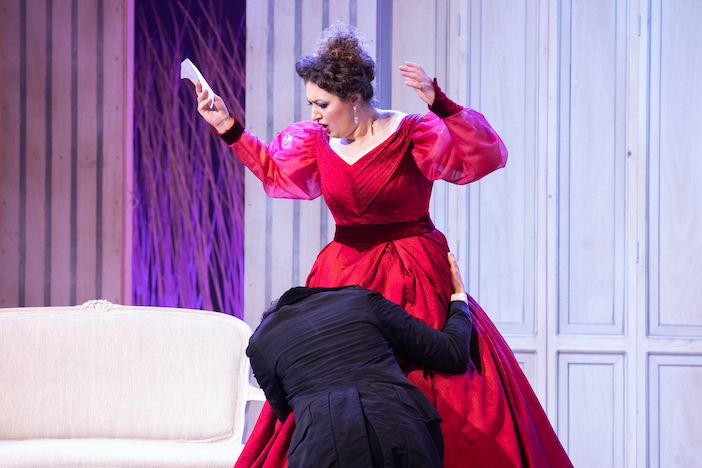 Burbach's aim is perhaps to give an insight into what is going on in the minds of the characters but this can be confusing. When Tatyana writes her letter to Onegin expressing her love, he appears in her bedroom, giving the first sign he will reject her. This misses the point, however. Tatyana is a very young girl (possibly as young as 13), inexperienced and fuelled by romantic novels into an imagining of true and profound love – the product of her solitude and isolation. An on-stage Onegin just becomes a distraction.
After her rejection by Onegin, humiliatingly, she has to celebrate her own birthday with a dance. Her sister Olga is there with her fiancé Lensky, Onegin's friend. Onegin, fuelled by ennui and annoyance at being dragged to a country ball by his friend, decides to dance the night away with Olga. This spirals out of control and ends in a duel between the two men. The duel is the most baffling of Burbach's directorial decisions. As the scene opens Lensky (a gloriously lyrical Thomas Atkins who pleasingly plays Lensky as an open-hearted, generous romantic rather than the usual insipid poet) sings of his lost golden youth. He knows it is about to be brought to a sudden end. Meanwhile his duelling second hunts around for Onegin who hasn't turned up – except he's right there, hanging on Lensky's every word. When the duel itself is fought, Onegin throws aside his pistol without firing but Lensky nevertheless falls to the ground, dead.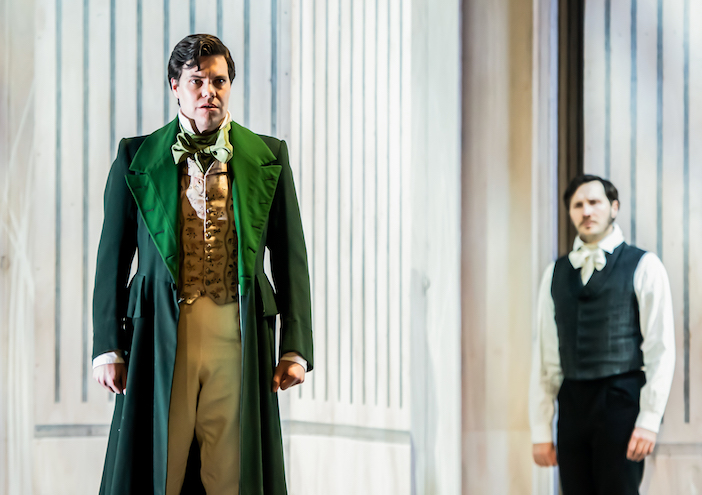 There are more rather inexplicable scenes like this, but fortunately they don't get in the way of the singing, particularly that of the men. As Onegin, Samuel Dale Johnson is a convincing actor as well as a fine singer. And the cameo role of Prince Gremin (Tatyana's husband) is very movingly sung by Matthew Stiff. There are some strong female performances, too. Emma Stannard is a playful Olga while Amanda Roocroft as Tatyana's mother and Kathleen Wilkinson as her nanny make the utmost of their love versus duty duet, setting the scene for Tatyana's later dilemmas. As Tatyana, Anush Hovhannisyan grows into the role – she doesn't have quite the ingénue qualities required for the letter scene but she is magnificent as the society princess. The Opera Holland Park Chorus are as impressive as ever. Just one thing:  could someone teach them how to perform a mazurka, please?
Eugene Onegin is sung in Russian, with English surtitles. Further performances are on 9, 11, 13, 15, 17, 19, 21, 23 and 25 June. Those on 13 and 23 are Young Artist Performances. There is a relaxed performance on 19 June. For more information, including details of the 2022 season, and to book tickets, please visit www.operahollandpark.com.
Photos by Lidia Crisafulli and Ali Wright