It may seem perverse to see the same opera by the same company twice in 10 days – and review them both. However, at Opera Holland Park, there is something of a unique situation. In the dance world two or three changes of cast for the same ballet is nothing out of the ordinary. Not so in the opera world – except in the case of Opera Holland Park's Young Artists Scheme. In their Eugene Onegin, they have the same set as the main production, with the same chorus and orchestra. However, the principal singers, the conductor and director are all new and their input makes it in many ways a very different production.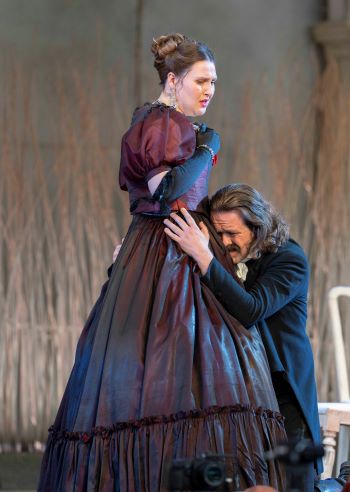 This year is the tenth anniversary of the Young Artists Scheme and during that time more than a hundred singers and other creatives have taken part – and seventeen of those are appearing as principal artists this season including the conductor of the main production of Eugene Onegin.
The Young Artists are coached, they rehearse alongside the main cast and they have their own dedicated rehearsals for five weeks, leading up to four performances (including two school matinees) as well as standing in during the main performances if necessary. It's a win-win: experience and exposure for the talent and a chance for opera lovers to see that talent early.
It was certainly a win for this production. The differences are visible from the opening moments. You could say before the opening moments – there is a long, long pause before the orchestra begins while Tatyana reads and reacts to her books. Lucy Anderson is a more diffident Tatyana than Anush Hovhannisyan, positively withdrawn when compared to her sister Olga (a feisty, teasing Anna Elizabeth Cooper).
This makes her great outpouring of passion in the letter scene even more compelling – a young girl discovering herself and her feelings. Unfortunately, there is still the same device of having Onegin on stage with her as she reveals her passion and it still gets in the way of a moment that should be a very private rapture.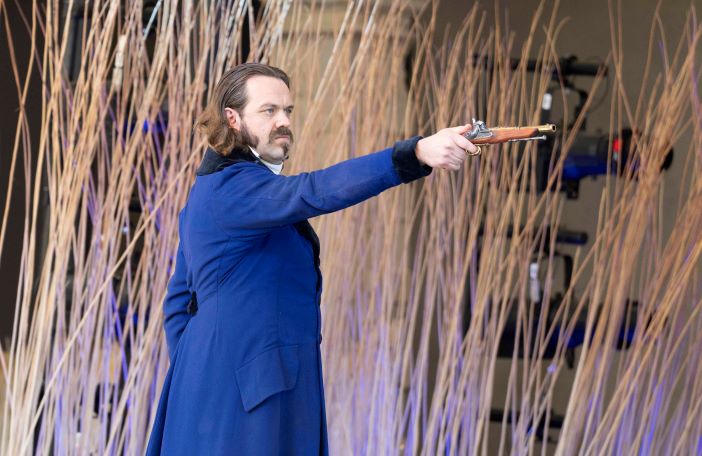 This Onegin, Rory Musgrave, is very different from Samuel Dale Johnson who played it cool as a world weary city savant. Musgrave is a dark cauldron of pride, anger and bombast – it's no surprise when he explodes with passion on meeting Tatyana again years later. That passion is there too in the build-up to the duel, when he rouses his friend Lensky's jealousy in a deliberately flirtatious dance with Olga at Tatyana's birthday.
His remorse is tangible and Lensky's "haunting" of him in the later ball scene becomes more believable than in the original production – this is an Onegin driven almost to madness by regret. Jack Roberts is convincing as the young poet driven to despair by his friend's treachery and indeed all four principals have a compelling chemistry. And I imagine great futures – I'd particularly like to see Musgrave in a villainous role.
There is one final public Eugene Onegin Young Artists Performance to come, on 23rd June. For more information, and tickets, please visit www.operahollandpark.com.
Photos © Alastair Muir