This is not an Evita for the traditionalists. As per the song "Oh What a Circus", Soutra Gilmour's design encompasses confetti canons, balloons, a minimalist concrete stepped stage, Che (Trent Saunders) in a "Che" T-shirt, cheerleader pompoms, a chorus clad in white trainers and Eva more high school social climber than global superstar. To say all this sounds like an insult but is quite the contrary; Jamie Lloyd's production is a triumphant revival that brings youth, excitement and an effervescent energy to a classic. It is a fresh, modern, edgy reimagining that brings out the rock musical that lies at Evita's core.
Much of its strength comes from the 24-strong chorus who adeptly navigate the stepped stage and bring emotion, colour and depth to the story. Choreographer Fabian Aloise lends modern dance a strong South American twist, illustrating the mourning populus of Argentina to Eva's many lovers (literally trodden on to advance her ambition) with the cast moving seamlessly through an incredibly energetic string of routines, evoking the passion which piques one of Andrew Lloyd Weber and Tim Rice's most beloved musicals.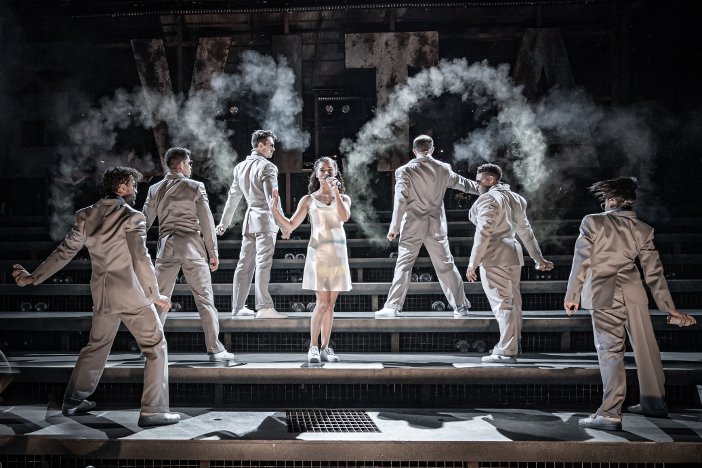 Elaborate costume changes occur on stage, especially when it comes to Juan Peron's mistress (Frances Mayli McCann) who literally hands Eva (Samantha Pauly) the regalia that comes with being that character when she is dismissed. I wondered whether she would simply assume this outward appearance to demonstrate the interchangeability of these women, however instead we see just how very much Evita is championed and indeed created for the people, by the people when her white slip is spray painted a variety of bright colours – we are very much led to believe that it is the role she embodies rather than Eva herself.
It feels more self-consciously parodic than a more conventional interpretation. There is no doubt that Eva is very much a flawed heroine; more pertinence is given to Rice's lyrics and we really do question why she is so revered and adored. We, the audience, know this story and there are ironic eye rolls, wry smiles and nuanced expressions that give us the impression that the characters know they are telling that story too.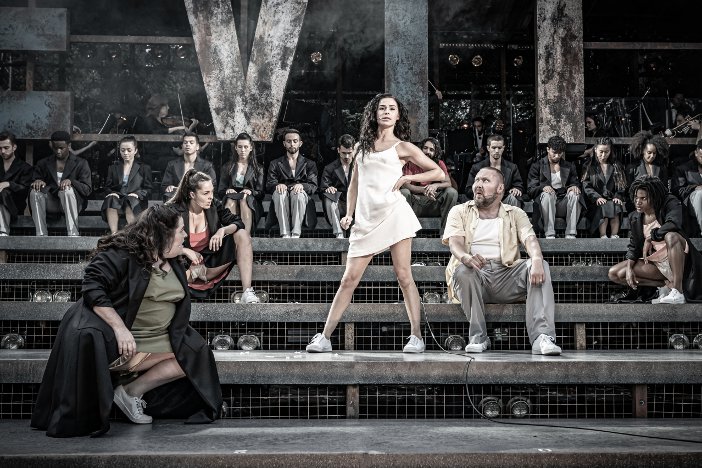 The magic of the Regent's Park Open Air Theatre can also sometimes be its undoing. On media night, the heavens opened about two hours before curtain up and I was convinced that the performance would be postponed. Instead we were treated to a nearly clear evening, save for some dramatic interludes caused by atmospheric gusts of wind and a torrential downpour at the curtain call, while Evita held her hands aloft – a final vision of the iconic blonde wig and ball gown.
Evita at the Regent's Park Open Air Theatre, The Regent's Park, Inner Circle, London NW1 4NU until 21st September 2019. For more information and tickets please visit the website.