Conor McPherson's Girl from the North Country has become something of a runaway success from its first appearance at the Old Vic in 2017. Since then, it has had a West End run, gone on to Toronto and is now back in the West End with a new cast before it heads to Broadway in February.
Nevertheless, it's a hard show to define. McPherson has a considerable reputation as a playwright but has never previously dabbled in musicals – but then this is not a musical. He has taken 20 of Bob Dylan's songs from the 60s to present day and created a show set in Duluth, Minnesota – Dylan's own birthplace – but it's not a jukebox of Dylan's greatest hits nor is it the story of his life.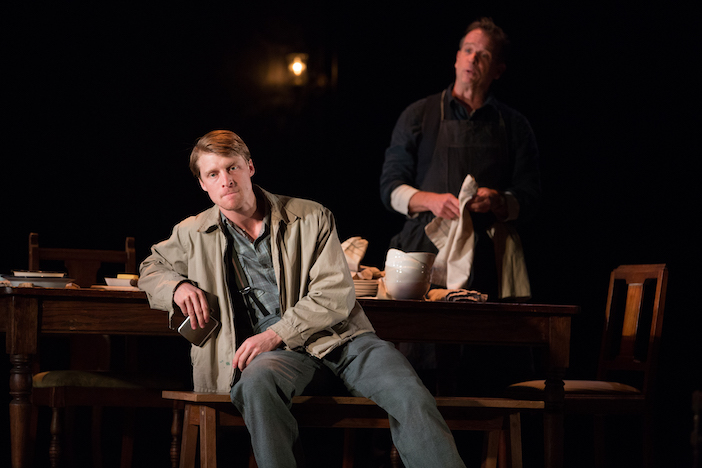 Instead, the story is set in 1934, during the Great Depression, and is focused on a down at heel boarding house and its various inhabitants. They all have their own stories. Steeped in the desperation of the era, we see poverty, racism, mental illness, violence, drugs, blackmail and despair. There are inevitable shades of John Steinbeck and Arthur Miller. But I promise you won't come out of the theatre depressed. The story is leavened with lightning strikes of humour and, most of all, by some wonderful music.
To be honest, I have never been the biggest Dylan fan but here, with some fantastic arrangements by Simon Hale and some of the best instrumentalists and singers you'll find in the West End, these songs soar. The music is, quite literally, centre stage. Instead of singing to each other, the actors take up their stand mikes and deliver them with full force from the front of the stage.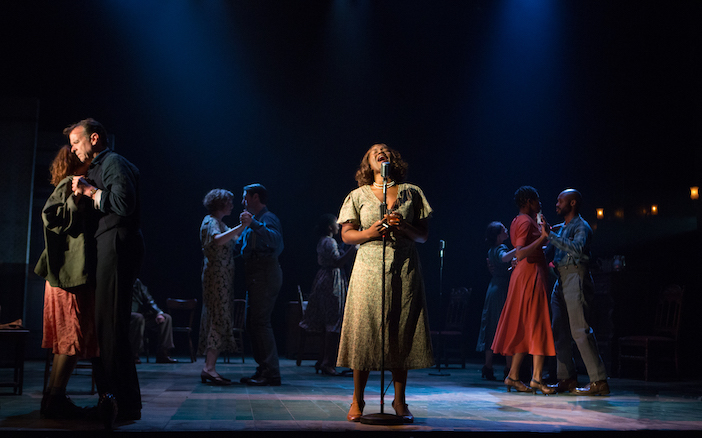 The songs themselves shine a light on the characters' internal workings, most poignantly in I Want You sung as Gene Laine (the feckless son of the house, played touchingly by Colin Bates) breaks up with his girlfriend. His is a massively dysfunctional family. His father (a fine performance by Donald Sage Mackay) is balanced on a knife edge barely keeping the mortgage company at bay, planning a getaway with one of the residents who is waiting for her inheritance (it never comes), caring for his wife who has early-onset dementia.
His wife, Elizabeth Laine, is an extraordinary role dazzlingly played by Katie Brayben (last seen as Carole King in Beautiful). She belts out her numbers with a raw power and delivers her comments on the other characters with an acid insight. As her adopted daughter, Marianne, Gloria Obianyo quietly steals the show.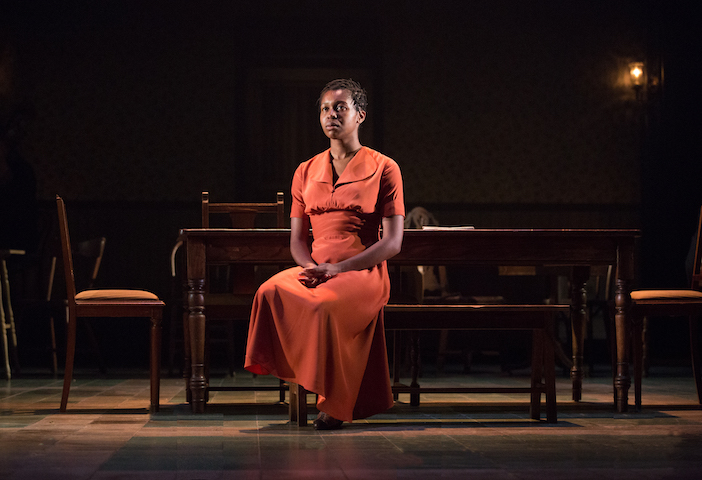 It's not just that her voice is stunning, she has a presence that exudes dignity against the odds. Single, black and pregnant, her father is trying to marry her off to a man old enough to be her grandfather. Her friendship with a wrongly imprisoned ex-boxer (played with an equally quiet strength by Shaq Taylor) is based on their shared experience of being black and casually exploited.
The boarding house holds many more secrets. There's a family with an adult son with the mind of a child – he turns out to be a murderer. There's the venomous Reverend Marlowe, played by Finbar Lynch with all the charm of a snake-oil salesman. This is a show that – for all its stars – has the feeling of an ensemble piece. Characters come to the fore and fall back into a tableaux or a dance routine or they turn backing singers in those electrifying numbers. It's powerful, sizzling stuff – enough to turn you into a Dylan fan.
Girl from the North Country is at the Geilgud Theatre, until 1 February 2020. For more information and box office, visit www.delfontmackintosh.co.uk.
Photos by Cylla von Tiedemann.