With autumn well and truly upon us, you might be tempted to think that the outdoor opera season has now drawn to a close. To walk the grounds at Glyndebourne for the opening performance of the tour, however, bathed in unseasonably bright sunshine and blue skies, the only thing belying we weren't there enjoying the festival itself was an absence of dinner jackets and fancy picnics. This, you might think, suggests it's second fiddle to the festival but, quite the contrary, if the opening night was anything to go by, the festival might be considered a warm-up to the tour.
Perhaps Mozart's well-known opera, The Marriage of Figaro is a romp in a single day through a series of love quadrilaterals, trysts and tribulations, a study in class and social graces, given a dash of ribaldry amid plenty of humour. It follows, principally, two couples, the aristocratic Count and Countess Almaviva (and their failing relationship) and their servants, Figaro and Susanna, happy and looking forward to their wedding that day, were it not for a number of efforts to thwart it in the ensuing action.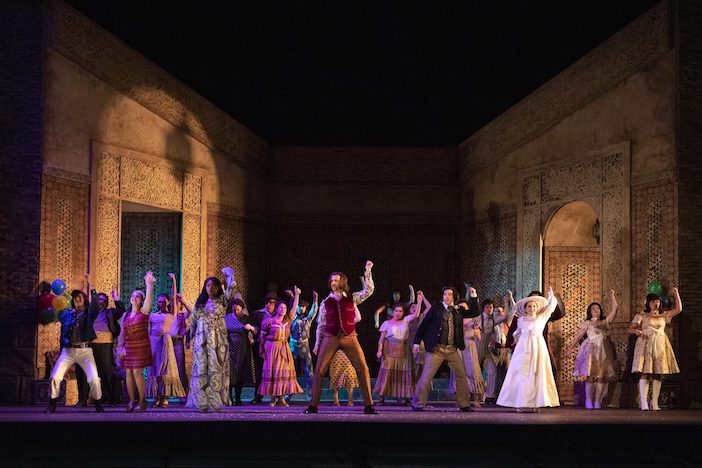 Significantly, this production, by renowned theatre director Michael Grandage, is a revival of his original for Glyndebourne in 2012. Given his pedigree as a former artistic director of the Donmar Warehouse, you can get a sense that this is one with a few contemporary flourishes – and, indeed, it's telling that, ten years on, its revivals suggest it's becoming something of a crowd favourite.
The action is set in Seville in the late 1960s, something the production team have taken to with wild abandon; Christopher Oram's sets are spectacular renditions of Moorish architecture, bristling with ornate detail and earthy palettes, and window-dressed by a spectacularly over-the-top wardrobe – the entire cast look like they could have stepped off the Marrakech Express.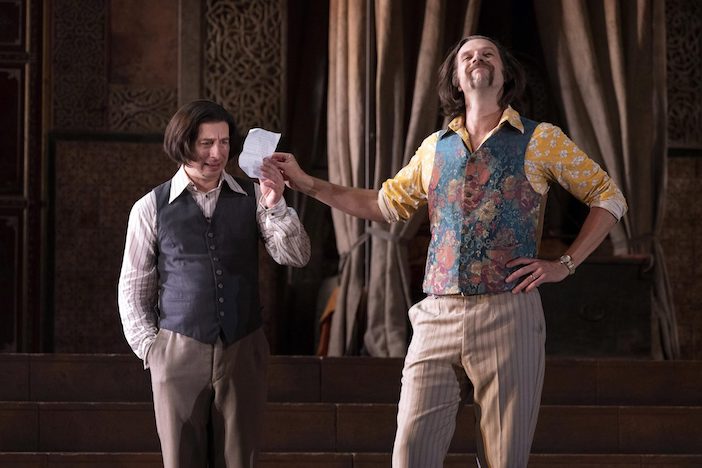 It's more than a fitting backdrop for the action, full of comedic turns reminiscent of classic sitcoms – the humour heightened by some Benny Hill-esque bawdiness – and contemporary dance set pieces that add some crowd-pleasing flourishes. The gentlemen leads, particularly, Alexander Miminoshvili as Figaro and George Humphreys as Count Almaviva, are right on the money, delivering delightfully expressive, hammed-up performances. In the pivotal role of Susanna, Soraya Mafi binds the action together with a commanding performance, made to look as effortless as it is nuanced. Her crystal tonality works beautifully in conjunction with the wholesome richness of Figaro and the softer coloratura of Nardus Williams' Countess, complimented by some wonderful execution by the supporting cast, particularly Ida Ranzlov as the overly amorous Cherubino.
It's not just the familiarity of Mozart's music that carries one through the action, but its richness and complexity that keeps one finding more, particularly when delivered under the baton of the astonishingly precocious talent of Stephanie Childress, currently Assistant Conductor of the St Louis Symphony Orchestra. And then come those moments; genuinely heart-stopping moments, whether it's the sheer gutsiness of the ensemble, or the emotive pull, you'll leave with a chuckle and a tear in your eye.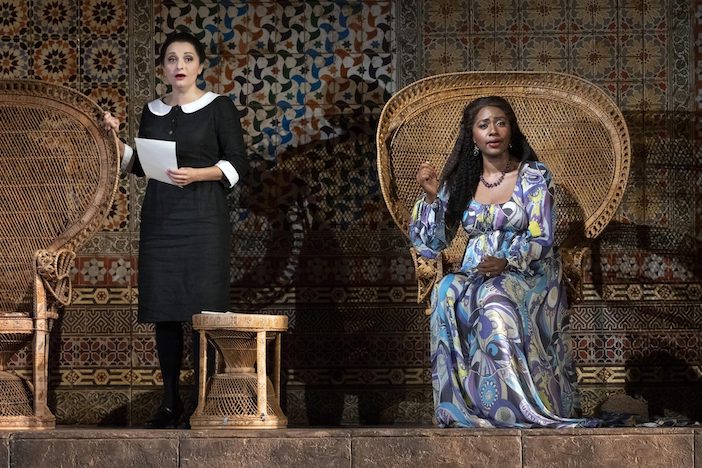 To give you an indication of quite how popular Mozart's opera is, it was first staged at Glyndebourne in 1934, and this opening performance on the tour was its 575th performance. And there's a reason Glyndebourne is as popular as it is; the setting. It's lovely, too, that the tour starts here, it's as if it's an excuse to keep the season going. And when this run is over, if it's coming anywhere near you, this Figaro is definitely not one to miss.
Glyndebourne Tour 2022 runs until 11th December 2022. The programme comprises Mozart's The Marriage of Figaro and Puccini's La bohème. Following performances at Glyndebourne throughout October, the Glyndebourne Tour goes on the road, with performances in Milton Keynes, Canterbury, Norwich and Liverpool. The season comes to a close at Glyndebourne in December with two performances of the Mozart's Requiem concert (on 3 and 9 December) and three Christmas concerts (on 10 and 11 December). For more information, including the full tour schedule, and for bookings, please visit www.glyndebourne.com.
Photos by Richard Hubert Smith © Glyndebourne Productions Ltd.