In an exciting new partnership, the legendary Harry Christophers and his choir The Sixteen who are celebrating their 40th anniversary, have teamed up with The Grange Festival for the first professionally staged full operatic production of Handel's Belshazzar in Britain for over 30 years.
With a festival programme including Le Nozze di Figaro and Falstaff this year, Handel's Belshazzar is a gem all the more admired for being rarely seen and is a satisfying sequel to The Grange Festival's highly acclaimed Agrippina in 2018, this year with a starry cast of Handelian stalwarts including mesmerising soprano Claire Booth as Nitocris, the Persian queen who despairs of her son Belshazzar (Robert Murray) the king's wanton excesses.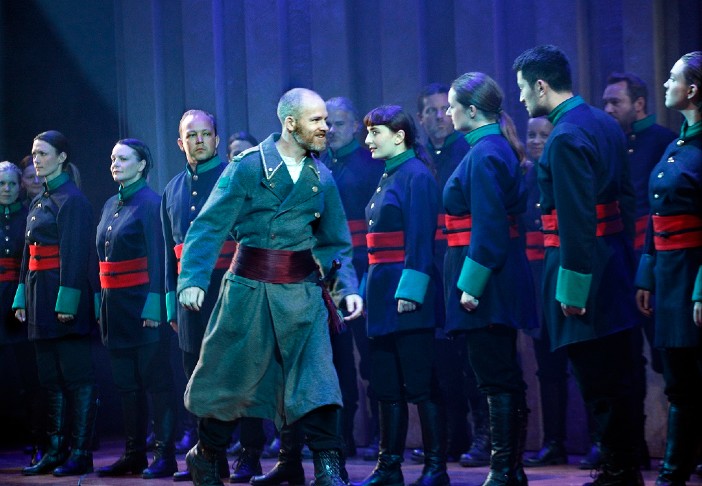 A soaring oratorio with a libretto by Charles Jennens based on the Biblical account of the fall of Babylon at the hands of Cyrus the Great and the subsequent freeing of the captive Jewish nation as recounted in the Book of Daniel, although the work fell into neglect following Handel's death, one listen confirms that the composer created this Baroque masterpiece at the height of his powers and fame after the 1741 premiere of Messiah, also with a libretto by Jennens. It is a tragedy that Belshazzar was an initial flop, nor should the sermonising quality of its subject matter deter you, the nothing short of sublime choral harmonies performed by The Sixteen and The Grange Fesitval Chorus, conducted by Harry Christophers, along with brilliantly choreographed aerial acrobatics is a feast for the senses.
Directed by Daniel Slater with a Babylonian set design by Robert Innes Hopkins featuring a revolving model Tower of Babel, this classic tale of good versus evil, where the devout Jews live a life of purity and prayer beside their hedonistic, wine-loving Babylonian counterparts who care for nothing besides pleasure and debauched banquets over which the bisexual Belshazzar presides, is nothing if not wildly, unashamedly sanctimonious. The solemn-looking Jews, dressed all in black, are led by the eloquent Jewish prophet, Daniel (countertenor James Laing), a man with a calling and an inherent faith in aiding his people to safety. He believes that the hour of liberation is at hand and that God will help Cyrus to defeat Belshazzar and allow the Jews to return to Jerusalem.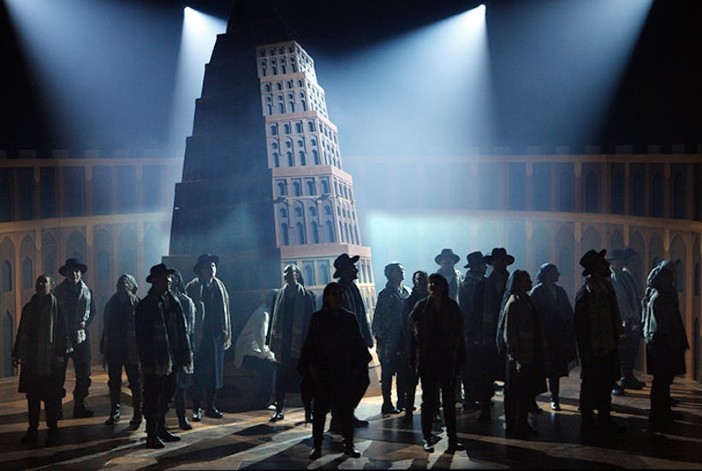 Cyrus of Persia (countertenor Christopher Ainslie) and his general Gobrias, played by the tremendous Henry Waddington – of whom we don't see nearly enough unfortunately, continue to drill their troops despite a goading crowd of Babylonians looking over an impressive wall. Cyrus is undeterred and means to penetrate Belshazzar's defences by draining the Euphrates dry, thereby allowing them to enter the city along the river bed while their enemies are feasting. With continuing political unrest in the Middle East and anti-Semitism still very much a scourge of modern times, the themes of Belshazzar have a profound resonance which this production bravely spotlights.
It does feel more of a tribute to choral music than opera and with The Sixteen at the helm who can complain? First performed at the King's Theatre, Haymarket in 1745 when the German monarch George II was on the throne, yes there are scenes where more direction and action is required and it is obvious that this work is more often than not performed in concert rather than staged as a full opera, yet this flamboyant orgy-tastic Belshazzar is testimony to The Grange Festival's continuing display of creative diversity under Artistic Director Michael Chance and their ability to draw some of the finest musical and artistic talents to Hampshire, not to mention an audience willing to travel a considerable distance in order to experience this magical atmosphere combining internationally renowned performers and the most spectacular English country house setting. It's a world away from most operatic experiences.
Belshazzar at The Grange Festival, The Grange, Northington, Alresford, Hampshire SO24 9TZ on selected days until 6th July 2019. Tickets from £45 to £195. For more information and tickets please visit the website.