Opera Holland Park's final offering in its summer season is a firecracker. Gilbert and Sullivan might have fallen out of favour over the years (and let's face it, there is still some snobbery about G&S) but OHP is mining a rich seam here and delivered not just some great singing but a visual delight and impeccable comic timing. A summer evening of fun – what more can we ask?
Their HMS Pinafore is a co-production with Charles Court Opera who have until recently been bringing G&S to mostly very small audiences in equally small venues. Their collaboration last year with OPH and The Pirates of Penzance was a hit and they have another big success on their hands this year.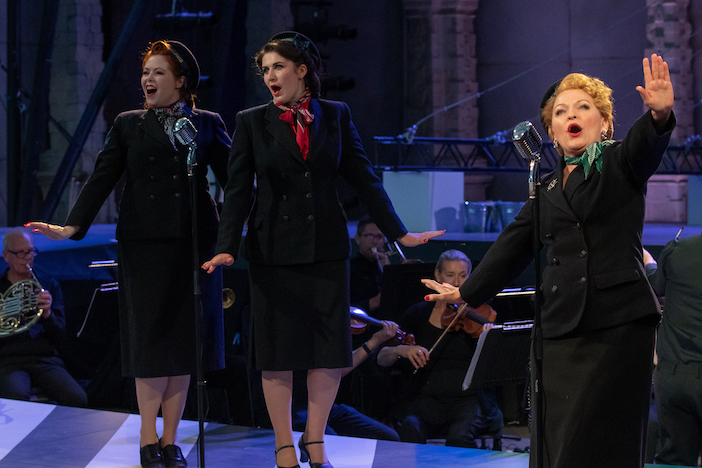 The audience clearly loved it – regularly bursting into applause and laughter. As well they might. The secret of the success here is that G&S are allowed to speak for themselves and director John Savournin has not felt the need to do any updating for modern audiences. Having said which, the setting is updated to the 1940s and Little Buttercup (Lucy Schaufer on sparkling form) delivers her opening number as a uniformed Vera Lynn complete with backing singers.
John Savournin is not just director, he is also a delightful Captain Corcoran, excessively kind to his crew and a man of impeccable manners. His daughter Josephine (Lilo Evans) does not want to marry the man he has chosen for her but falls instead for a lowly rating Ralph Rackstraw (Peter Kirk). Evans and Kirk both sang enchantingly, stepping out of the preposterous plot for moments of pure emotion.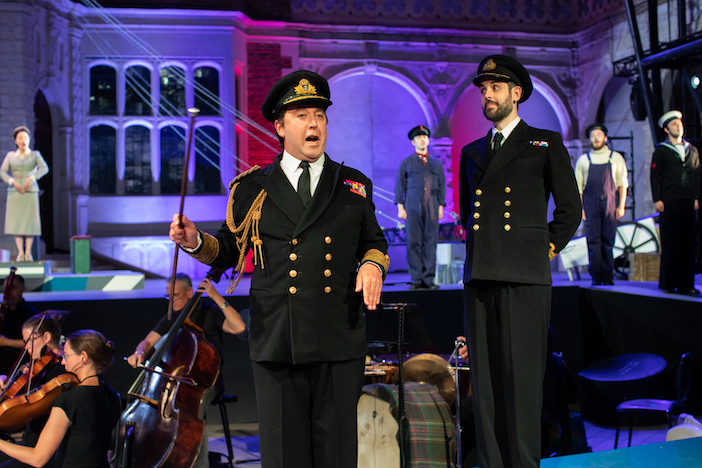 The man Corcoran has chosen is, of course, Sir Joseph Porter KCB and Richard Burkhard plays him with full comic effect from the moment he steps on stage and explains his wholly undeserved rise to power from office boy to monarch of the sea. He is backed by the chorus of sailors, plus "his sisters and his cousins and his aunts" who have been choreographed quite brilliantly by David Hulston. They march with mops, wave their arms in faux semaphore and rise up and down like organ stops with magnificently deadpan faces.
A reduced City of London Sinfonia under conductor David Eaton plays with gusto and everyone on stage was clearly having a ball. As was the audience – an evening of pure delight.
Remaining performances at Opera Holland Park on 11th, 12th and 13th August at 7.30pm, with a relaxed family matinee performance on 13th August. For more information and tickets, please visit www.operahollandpark.com.