When it was announced that the prestigious Iford Arts annual music festival was reluctantly relocating from their beautiful home of Iford Manor just outside the World Heritage City of Bath, loyal supporters were afraid that the magic would be lost, with operatic productions having been staged within the manor's Grade II listed Harold Peto garden where the atmospheric cloisters (currently under repair) somehow managed to transform itself into settings as wide-ranging as the Scottish moors, bohemian Paris to a flamboyant Wild West.
Fortunately, the owners of Belcombe Court, a private residence with 45 acres just a short distance away from the original venue, offered to accommodate the festival for part of this season, and what a marvellous holiday destination. Yes, there are inevitable changes, for example productions take place within a temporary geodesic dome, yet this has the advantage of offering more seating and an airier space. Following the opening production of Die Fledermaus at Bath's historic Guildhall, the company assembled at Belcombe Court for Donizetti's infectiously witty and melodic rom-com L'elisir d'amore following rehearsals in London. Directed by James Hurley, the effervescence of the cast and staging was enthusiastically received by the audience, some of whom were taking advantage of the new scheme offering free tickets to under 18s – it's not half bad if this is your first taste of opera let me tell you.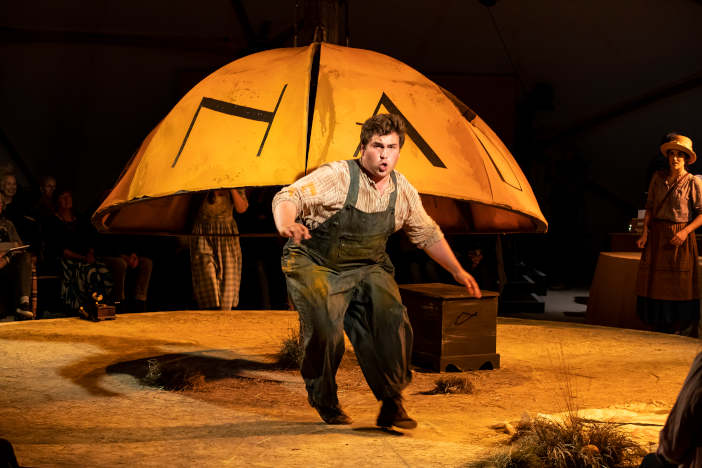 With the action taking place in-the-round, choreographed by Iford Arts regular Jo Meredith (who worked on Bruno Ravella's Macbeth) the experience has the feeling, and childish delight, of a circus big-top, with performers entering the stage via various aisles, with a colourful opening (designer Holly Pigott) showing our operatic heroine Adina (Claire Lees) running a Southern Californian orange grove circa 1920. Lees hails from the Guildhall School of Music & Drama with a vocal breadth and delivery that comes very close to stealing the show, nor is she any less proficient at acting. Country house operas are all about star-spotting and you don't need a telescope for this one.
The vivacious Adina, her flame-coloured hair complimenting Anna Dixon's orange costumes, sells fresh juice by the roadside to passing tourists; paying little or no attention to her humble, impoverished admirer Nemorino (Robert Lewis) as she offers customers her sunny, vitamin-C-radiant smile. Offering a buoyant interpretation of one of the best loved comic operas, stalwart conductor Oliver Gooch's energetic flourishes are meanwhile a great deal easier to admire now that he isn't tucked away in a cloister with Orchestra Chroma, although he was forced to do battle with a distant high speed train on occasion.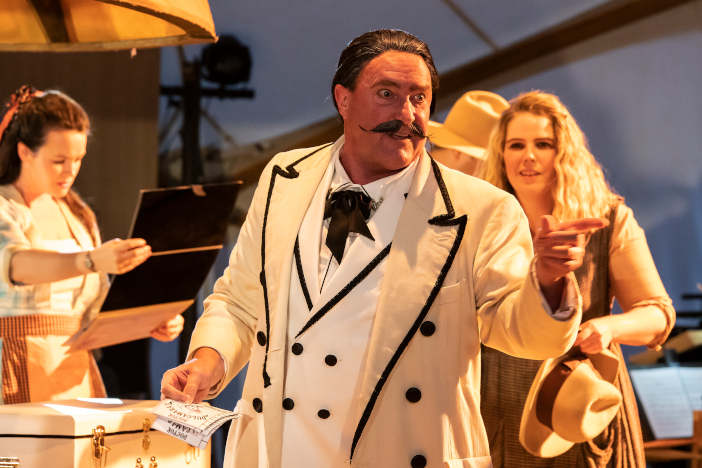 Dr Dulcamara, a name that means "bitter-sweet" is played by the celebrated Andrew Shore in a late casting coup for Iford Arts, and boy does he know how to make an entrance. In a white suit and hilariously tall, domed hat (the style escapes me), the doctor woos the peasants of the locality with his greasy charm and claims of having patented a cure-all elixir famed for miles. Shore does brilliant justice to the tongue-twisting rapid-fire lyrics boasting of the potion's countless health benefits as he brandishes medicine bottles presented in illuminated boxes – making up the price according to what he supposes he can extort from the crowd of gullibles hanging on his every word.
Selling out of the miraculous elixir by the time Nemorino approaches desperate for a cure to his unrequited love for Adina, rather than turn down a sale the doctor slyly decanting some red wine into the medicine bottle – and what a transformation his lovesick client undergoes! Welsh tenor Lewis is a superbly appealing Nemorino, both vocally and theatrically; creating peals of laughter when he climbs the central pole of the tent in order to escape the attentions of the womenfolk in the village after he has imbibed the seductive potion. But there is only one woman he wishes to impress, Adina, who is betrothed to the arrogant Sergeant Belcore (Matthew Durkan, an ENO Harewood Artist). Can he charm her before the imminent wedding? Panicking when he drains the last of the elixir and needs money to purchase more, Nemorino rashly enlists in order to collect the $20 Belcore uses as a sweetener to ensnare him.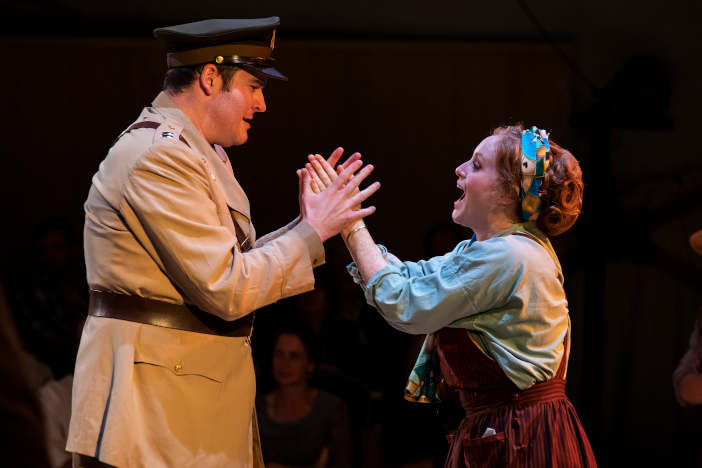 The second half fizzes when Adina discovers both Dulcamara's fraud and Belcore's ugly pomposity, with a series of wrongs being righted in the name of true love. Filled with soaring arias and spine-tingling harmonies (English translation Amanda Holden) I defy anyone not to feel a good deal better about life after seeing this juicy romp. Considering the challenges which have faced Iford Arts in the past year, forcing them to scale back to just two operas this season, it's heart-warming to witness their spirit of camaraderie and determination to not only adapt to new environments, but thrive. Where this production team go I will follow. This opera is just what the doctor ordered.
Iford Arts presents L'elisir d'amore at Belcombe Court 31 August, 3, 6 & 7 September 2019. Production images by origin8photography.com. For more information and tickets please visit the website.