One of lockdown's many hardships is surely the lack of a good night out at the opera. And who knows when the theatres will open again? Fortunately, the Royal Opera House has taken pity on opera lovers, so break open the fizz and dig out the tux. ROH are streaming some of the highlights of recent years, including Puccini's Il Trittico.
This is probably one of Puccini's least performed works, perhaps mostly because of its format. Rather than the standard three act opera, there are three one-act operas, all very different. In fact, that's putting it mildly. Puccini takes us on a rollercoaster from passion and jealousy, through grief and tragedy and ending up with a satire on the greedy middle classes of Florence that also happens to have one of Puccini's most utterly beautiful arias.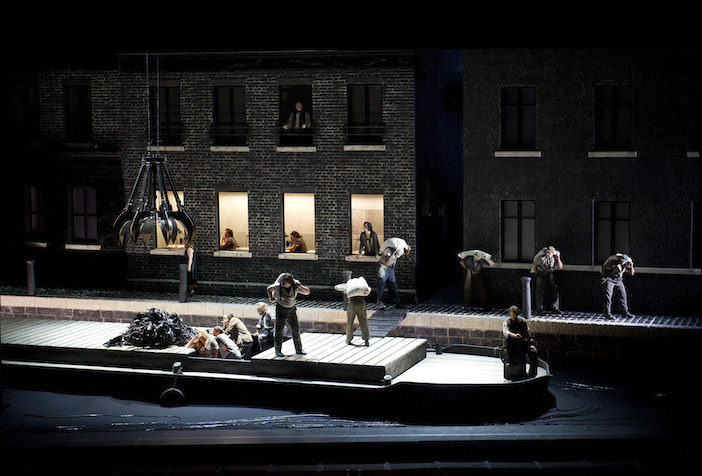 Despite all this, Il Trittico had been neglected for a long time until Richard Jones's acclaimed production for Covent Garden in 2011 – its first appearance there in 46 years. It follows Puccini's original intention of presenting the three operas together (there has been a tendency to do them separately, pairing them up with works by other composers).
In Jones's masterly production, all three operas are updated to the 1950s. The first Il Tabarro (the cloak) is set in the sleaziest of Parisian backstreets on a canal barge (designed by Ultz and moodily lit by D M Wood). There's a big dollop of Italian verismo – gritty realism – seasoned with grand guignol passion. Luigi (Aleksandrs Antonenko channelling Marlon Brando) is in love with Giorgetta (Eva-Maria Westbroek) who happens to be the wife of Michele (a cold and austere Lucio Gallo). Michele plans to catch them out and wreak revenge. It's a brutal melodrama with a deep sense of inevitability played out by three strong performers.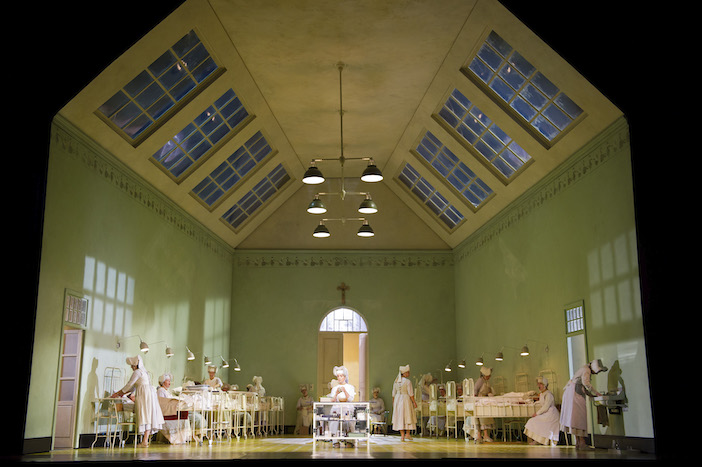 Next up is a complete change of tone. Suor Angelica also has a very different setting, this time by Miriam Buether – a cool, lofty children's ward in a convent hospital. Suor Angelica has been banished to the nunnery by her family and here she grieves and repents as she creates her herbal remedies from the convent garden. As her story emerges and she learns the child taken from her at his birth has died, it is almost too harrowing. Ermolea Jaho as Angelica is tragically touching and soars through Puccini's top notes.
After all this, you need Gianni Schicchi to finish the night on a high. The 50s update works best of all here in John MacFarlane's splendid set and costumes (not to mention the beehive hair). It's an everyday story of where there's a will, there's relations. Unfortunately for the Donati family, though, their richest relative, Buoso, has decided to leave all his money to the local monastery rather than to them. There's only one way out – call for Gianni Schicchi.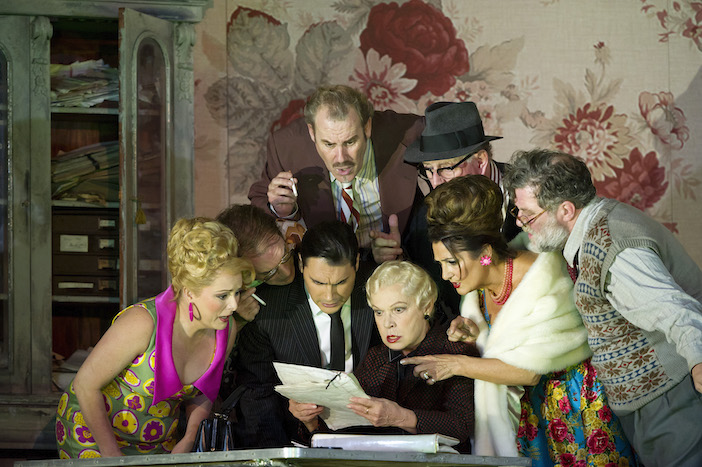 Gianni is known to be an utter rogue – just what a greedy family needs. So he suggests they hide the body and he disguises himself as Buoso, calling in a lawyer to write a new will. All is agreed, the lawyer arrives and Schicchi allots a farm here and a house there to each of the relatives – but they are all waiting to hear what will happen to "the mule, the house and the mills at Signa".
Of course, Gianni runs true to form and awards all of these riches to himself. There are extenuating circumstances, of course – it means his daughter Lauretta can now marry her beloved Rinuccio, the oldest and rather charming son of the Donati family (winningly played by Francesco Demuro).
Schicchi is sung with gusto by Lucio Gallo – quite a transformation from his grizzly earlier role in Il Tabarro – and the entire cast gives a master performance in comic timing. Ekaterina Siurina sings the sublime O mio babbino caro beautifully. The ROH orchestra plays equally beautifully under the baton of Antonio Pappano who brings out every nuance of Puccini's glorious music.
Il Trittico is streaming at www.roh.org.uk for the next 14 days. Coming up next, it's ballet – Frederick Ashton's happiest creation, La Fille Mal Gardee, Friday 12th June.