G&S always loved taking a pop at the establishment. The law, the army and the navy were all on the receiving end of W S Gilbert and Arthur Sullivan's unfailing eye for the ridiculous and, in Iolanthe, it's the turn of the House of Lords. In fact, you don't see any noble peers until almost halfway through the first act when a massive steam locomotive bursts through the backdrop bringing the 19th century into the previously bucolic scene set a century earlier where the pastoral lovers, albeit dressed in Toile de Jouy from head to foot, are simple country folk.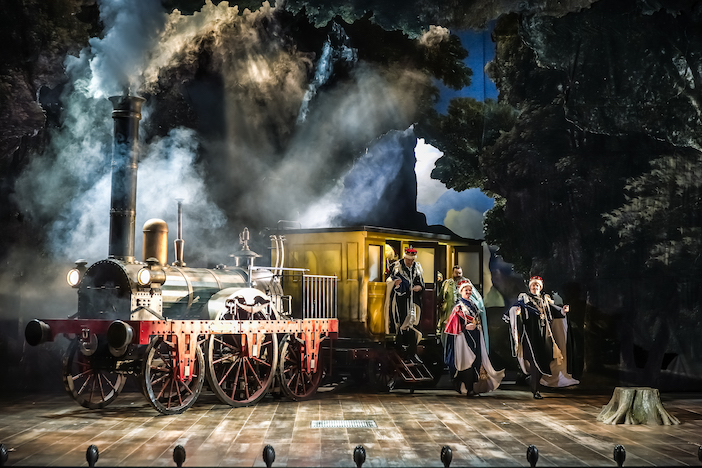 Or are they? Phyllis is apparently an Arcadian shepherdess but is actually a ward of court and needs the permission of the Lord Chancellor to marry Strephon who is also not as he seems. Though Phyllis does not know this, he is actually half fairy, his mother, Iolanthe (a sparkling Samantha Price), having broken fairy law by marrying a mortal. After 25 years of banishment, Iolanthe is allowed back to her fairy tribe by the redoubtable Queen of the Fairies (Catherine Wyn-Rogers on great form). Iolanthe promises her son she will help him marry Phyllis and from this point all the usual G&S mayhem commences.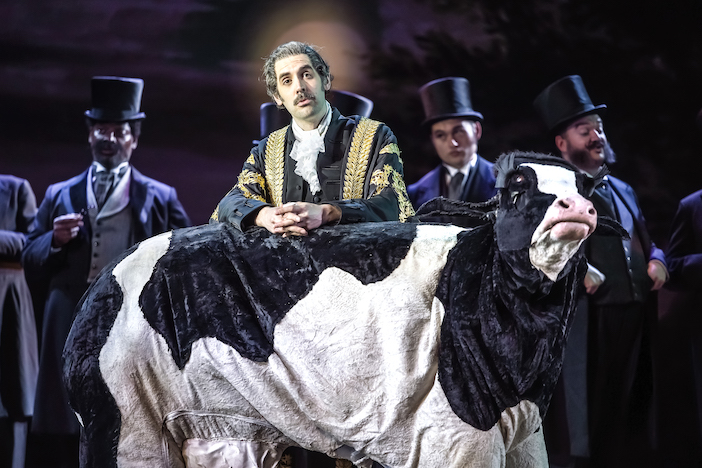 The Lord Chancellor (John Savournin, surely the ultimate G&S practitioner de nos jours) turns out – you guessed it – to be unknown to him, Strephon's father. There is plenty of mistaken identity – it's thought Iolanthe is Strephon's lover rather than his mother as fairies don't age. Plenty, too, of doubles-entendres, visual gags and the peers' pomposity bubble is well and truly burst, especially when they become putty in the hands of the fairies.
This wonderful revival of Cal McCrystal's deservedly popular production somehow keeps going with its story-line in spite of the mayhem going on all around. The lovers (Ellie Laugharne and Marcus Farnsworth) sing their duet convincingly straight while supposedly invisible puppeteers manoeuvre sheep around them. Plump fairies echo Swan Lake's cygnets (hilarious choreography throughout by Lizzi Gee).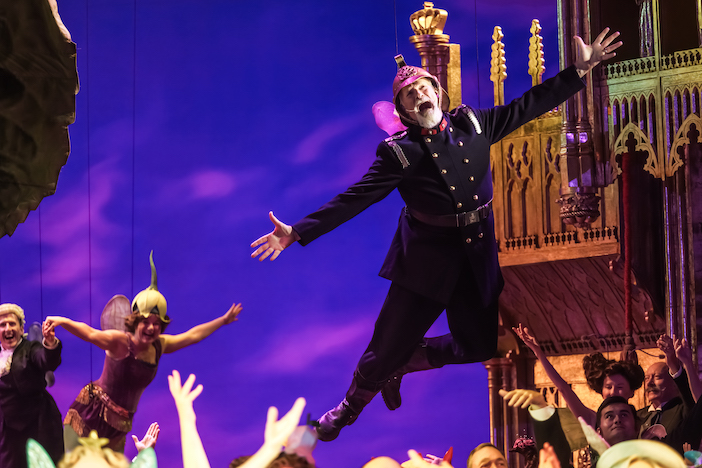 Clive Mantle as a Victorian fireman gives a magnificent warm-up to the show (including a rousing defence of the ENO remaining at the Coliseum, much to the appreciation of the audience) – and then walks in at crucial moments to quench magic fires. There are updates, too: a quizzical Boris Johnson and Nadine Dorries beating on the doors of the Lords to be let in. Not to mention more flying than Peter Pan.
This Iolanthe is, in other words, an absolute joy. The ENO Orchestra perform magnificently under Chris Hopkins' baton as does the entire cast. It looks absolutely gorgeous, too – you can feast your eyes on Paul Brown's rainbow costumes and sets. And I'd swear he had his own joke in there – wasn't that a gigantic raspberry I spotted adorning the fairies' set? G&S would have loved it.
Iolanthe runs at the London Coliseum until 25th October. For more information, including tickets and showtimes, please visit www.eno.org.
Photos by Craig Fuller