Another week and another opening at the Coliseum for the beleaguered English National Opera. And what a different proposition it is. From the Victorian absurdities of Gilbert and Sullivan's Yeomen of the Guard to the American whimsy of It's a Wonderful Life. If the name seems familiar, it is. Based on the Frank Capra classic starring James Stewart, it's a film that is sure to be showing on a TV channel near you this Christmas. It always is.
It's the sentimental story of the idealistic George Bailey who has reached a turning point in his life – not really of his own making – on Christmas Eve. He is about to lose everything and stands ready to hurl himself from a bridge to the river below and end it all. It would be better, he tells himself, that he had never been born. Cue guardian angel. In the original film, the angel was Clarence, a rotund elderly sort of an angel who had been sent down to sort out George's problems and thereby finally gain his wings to become an Angel First Class.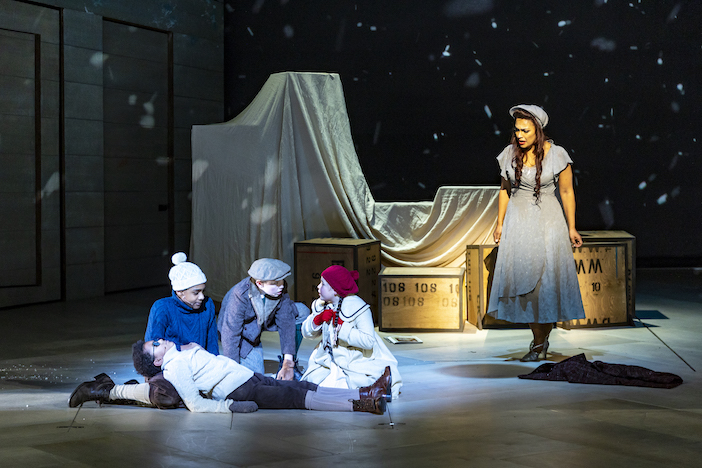 In the ENO's version, Clarence becomes Clara (much younger and not at all rotund) in the form of Danielle de Niese who soars both literally and vocally in this demanding role. She does a nice line in comedy, too. When she discovers that in her new, human form she can use her hat as a means of halting proceedings and stopping all the real humans in their tracks.
There isn't a lot of comedy here but there is certainly emotional uplift. Looking back over George's life, it's clear he has done all kinds of good for his fellow man – starting with saving his brother from drowning when they were children – and he is forced to reassess his value. Indeed, in the small town of Bedford Falls, there is no shortage of people who value him as becomes evident by the end when the whole population turns out to support him and solve his financial dilemma. It's Christmas. Angels fly. Snow falls.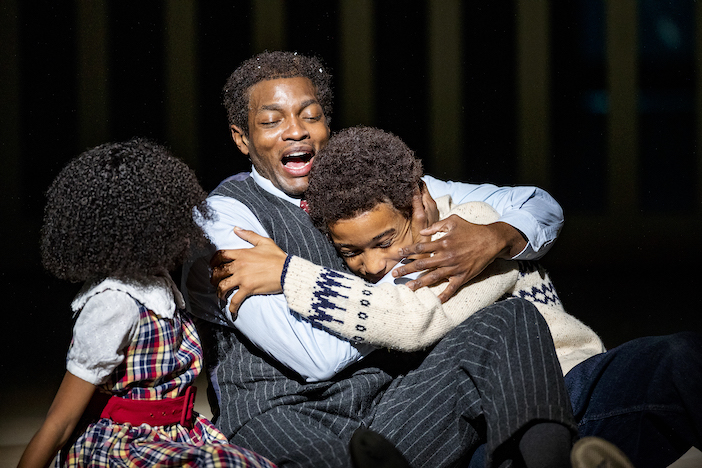 As George, Frederick Ballentine doesn't have the depth of Stewart in the film but both his character and voice are full of warmth and engagement. As his wife, Mary, Jennifer France is a delight and surely the most affecting of all the characters, her voice strong and clear. While Ronald Samm as George's feckless Uncle Billy (the root cause of George's problems) and Michael Mayes as the villain Mr Potter turn out good supporting roles.
The opera It's a Wonderful Life dates back to 2016 when composer Jake Heggie teemed up with his long-term librettist Gene Scheer to adapt the original 1946 classic film. Heggie's style embraces quite a few styles – a bit of Sondheim, a suggestion of vintage pop, the faintest hint of Bernstein (I'd have liked a bit more of that). So, even though the subject might suggest it, don't go expecting great soaring melodies. For me, musically, it didn't seem to be about to turn into the classic the film became.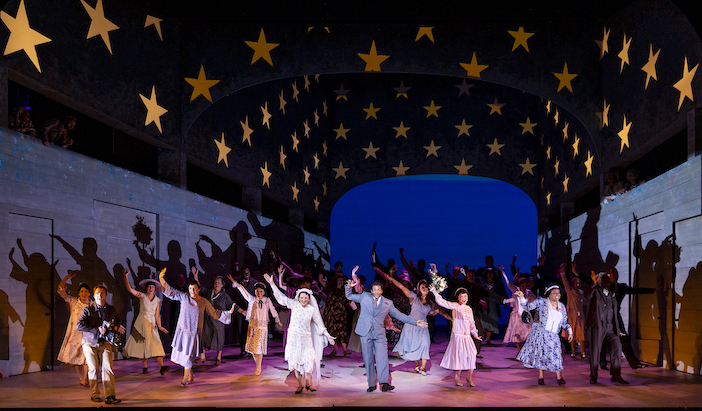 There is much, though, to like here: the opening is visually stunning; there are four delightful angels commenting on the human action below; the chorus are, as ever, marvellous and show it off in their big number in the second act; the soloists are all excellent; Nicole Paiement makes her conducting debut here with meticulous playing in the pit; there are some great dance numbers, notably at George and Mary's wedding courtesy of director and choreographer Aletta Collins; and the finale features Auld Lang Syne (audience participation welcome).
There is surely an irony here. Threatened with extinction by the dimwits at the Arts Council, Londoners really would like this particular old acquaintance not to be forgot. Bryn Terfel's petition to save ENO has now reached 60,000 signatures. That's still not enough. If you want to see innovative, affordable opera in London, I urge you to support this wonderful company.
Performances on 29th, 30th November and 3rd, 7th, 9th and 10th December at the Coliseum. For more information, and bookings, and to support the ENO, please visit www.eno.org.
Photography © Lloyd Winters