Like many, my first experience of Jesus Christ Superstar was the 1973 film. As someone with little in the way of religious proclivities, let alone not being much of a fan of musicals – particularly those of Andrew Lloyd Webber (sullied by a childhood experience of Cats, I'm ashamed to admit) – I had for years dismissed it as, simply, 'not my thing'. My aversion, however, was completely unjustified, and for those very reasons I was avoiding it.
Firstly, other than its obvious subject matter, there's little in the way of it being a religious piece. It's more a story of love, honour and betrayal – classic operetta stuff, really. And secondly, it's not, technically, a musical. There is no libretto, no recitatives; it's a sequence of songs strung together with a score. Indeed, it wasn't even designed for the stage. Lloyd Webber and Rice wrote and recorded it as an album, releasing it in 1971, and only after several unauthorised staged versions that followed did the producers bow to public enthusiasm and put on the first performance the following year; its later London production, sanctioned by Lloyd Webber himself, going on to become the longest-running West End show at the time.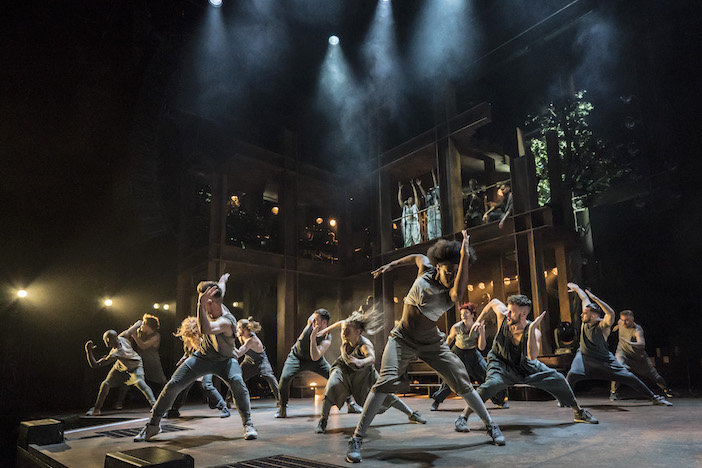 Having thus been converted (so to speak), becoming a fan of the film and the music, I have been angling for an opportunity to see it realised back on stage, and this production does not disappoint. So popular has the Regent's Park Open Air Theatre's been that its transfer to a fixed abode was inevitable. And what better venue than the Barbican; comfortable, spacious seats, racked to give maximum visibility to the stage, and acoustics to deliver the music flawlessly.
And what music. With such a legacy, and such a familiar sound, this would have been a challenge for any company, but the voices which occupy these parts are so powerful one almost needs ear defenders. They must have known these were their greatest assets, for while each cast member is mic'd up, all of the numbers are delivered with microphones, giving it the feel of a rock concert rather than a musical, which, in essence, it is. The mics, too, in many instances, are used as clever props.
While the music may be timeless, the chorus routines a homage to '70s street dance, it's a vibrant, contemporary production peppered with visually arresting set pieces. Herod's (a wonderfully decadent Samuel Buttery) comedic 'Prove to me that you're no fool, walk across my swimming pool' is suitably gilded and kitsch; the priests (ably led by baritone Cavin Cornwall as Caiaphas and Nathan Amzi's Annas) offer a measured, almost soulful line-up, and there are wonderful, often satirical touches throughout – the last supper, for example, concludes with a delightful tableau to Da Vinci's painting.
But it's the cast that sets this production alight. The voices are, simply, stunning. Chief among these – and affording the loudest cheer at the curtain call – was Ricardo Afonso as Judas. Literally 'the Voice' having appeared on the BBC talent show, Afonso has vocal cords like razor blades, ripping through the top tenor range like a knife through butter. He's equally matched by Robert Tripolino's Jesus, giving a moving, powerful performance, never more gut-wrenching than in the climactic torture and crucifixion finale. Another talent show success story, Matt Cardle, takes on Pontius Pilate, not a substantial part but a pivotal one, and Sally Garnett's richly-textured vocals give Mary a soothing quality to an otherwise testosterone and adrenalin-fuelled revival of the show.
This production is electric, and goes a long way to evoking the feeling of what it must have been like witnessing it for the first time. It's gripping, energetic, thrilling stuff and with a mere 60 performances available since its transfer is a must-see before it's gone.
Jesus Christ Superstar by the Regent's Park Open Air Theatre runs at The Barbican until 24thAugust 2019. For more information, tickets and to see a trailer, visit www.jcsuperstar.co.uk.
Photos by Johann Pearsson.