Backstreet Boys. Britney. Bon Jovi. An eclectic list with two things in common; all have had hits masterminded by Swedish master of the pop song Max Martin, and all feature in & Juliet, the jukebox musical directed by Luke Sheppard, that has landed at the Shaftesbury Theatre and looks to reverse the negative reputation that this genre can often have. It's as camp as it comes, it's twee, it's almost aggressively woke, it's a bit cringe at times but it's also entertaining, empowering, full of top ten hits and a wonderful evening of escapism. Judge it for what it is and you'll be singing along all evening with a smile from ear to ear (please note singing along is not encouraged as stated in the programme but the audience at press night had some other ideas).
We open to a final rehearsal of Shakespeare's new play (a suave and swaggering boy band type played by Oliver Tompsett) Romeo and Juliet – it's opening night and he's only just writing the ending. To create the meta theatrical 'play within a play' (a familiar Shakespearean concept) we are introduced to his long suffering wife, the original Anne Hathaway (a storming and spirited performance from Cassidy Janson) who poses the question: "what if Juliet didn't kill herself", knowingly pointing out that she's only had one boyfriend and has her whole life ahead of her – oh if only we could all have been so wise in our teens when grieving our first loves, eh? For two characters that could so easily fall to stock stereotypes, they give nuanced performances with big hit numbers, a tango-esque dance, a surprisingly poignant scene and a fantastic rendition of Backstreet Boys "I want it that way" when Shakespeare really can't bear to change the ending.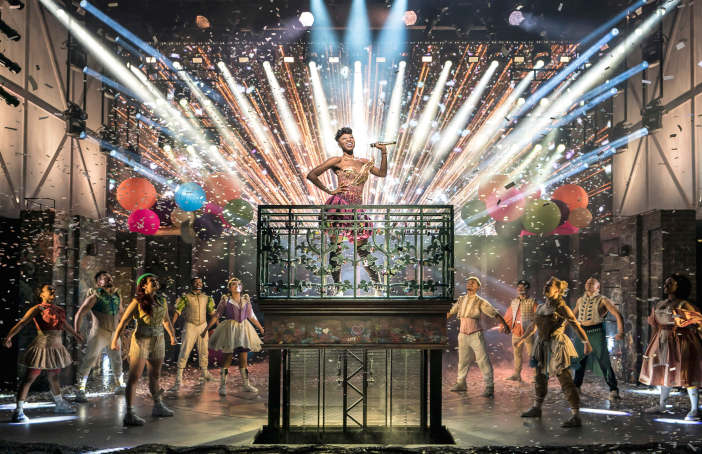 And so begins our tale. Anne takes the quill, a continued motif through the play, and begins to write Juliets story. We meet Juliet's non gender conforming best friend May (Arun Blair-Mangat), her nurse (Melanie La Barrie) whose comic timing and choice accent is only matched by her incredibly powerful voice and April (a wily Anne writing herself in to the story). They flock to Paris and that's where the story really begins. Jokes abound about gender fluidity, Shakespeare's almost certain ghost writers and his incomparable contribution to the British language, not to mention the lack of happy marriages in his writing (life imitating art perhaps) or the lightning speed of romantic relationships – at one point Juliet explains she's just coming out of a serious relationship, all four days of it. It's funny, presciently clever but always self consciously so. When cast members shout "yassss queen" the production is begging you to have as much fun as they are, and not take it too seriously.
What you can't help but take seriously, however, is superstar in the making Miriam-Teak Lee. She owns the stage barely leaving it in fact, your eye is constantly drawn to her, with an incomparable presence and pin perfect vocals. The comic timing of her rendition Britney's "Oops I did it again" provides particular enjoyment. We're having so much fun with this team and their Parisian exploits that we barely remember that there should be a hero in this story. It's no spoiler to know that not only does Juliet survive, but so does Romeo. Enter Jordan Luke Gage, providing eye candy and a storming entrance as the sappiest of romantics, mocking masculinity and the trope of a happy ending.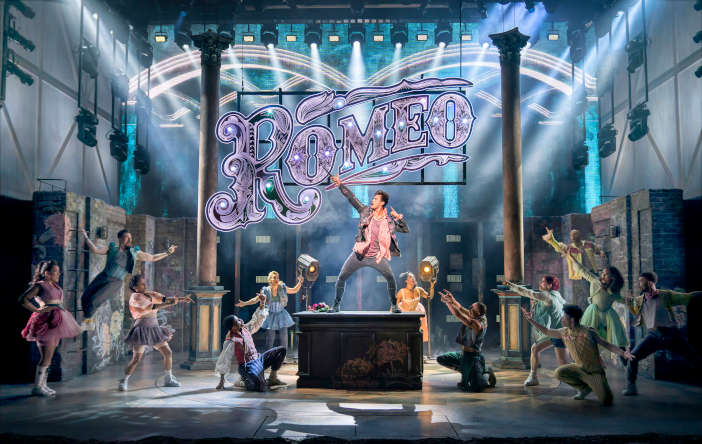 The performances are electric and the play comes into its element in the all singing, all dancing numbers. The 17-strong ensemble pop to Jennifer Weber's choreography with as much precision as the hydraulics turn the stage; belting out the songs with a seemingly unending enthusiasm and energy – you can't help but get carried away. There is nothing understated in Soutra Gilmour's multi-faceted European city set, from the Baz Luhrmann-style projections by talented illustrator Vic Lee, to the cornucopia of colourful Elizabethan-come-contemporary costumes from Paloma Young, the ostentatious amount of glitter to cast members appearing from above and below the stage in increasingly more elaborate guises. It's laughably cheesy at points, but that simply adds to the experience. Special mention must also go to Gareth Owen for some of the most precise sound engineering I've ever heard – to really allow the audience to appreciate multi-part harmonies from a large cast, solo singers, occasional dialogue and incredible musical arrangements from an off stage band must have been no mean feat.
As the writer of the book David West Read astutely came to realise when asked to pitch a play based on Max Martin's extensive pop catalogue – most chart hits revolve around heartbreak and young love and what better context to transpose these to than the ultimate tale of Shakespeare's very young star crossed lovers. At the crux of this, he says, there are "big feelings" and that couldn't encapsulate it any better, subtlety isn't what the team are aiming for here. The songs are pop classics at their finest, hits for a reason, and you could feel wry smiles of enjoyment shiver through the audience when you realise the clever ways in which the songs of your teen years have been so artfully integrated and remodelled, especially the showpiece mashup between Ariana Grande's "Problem" and The Weeknd's "Cant Feel My Face". I struggle to talk about my enjoyment of & Juliet without a smile on my face. Would I go again? 100%. Is it for everybody? Almost certainly not. But as the nights draw in, the rain continues and everything starts to look a little grey, you could do a lot worse than this level of sparkle and sass to warm you up.
& Juliet at the Shaftesbury Theatre, 

210 Shaftesbury Ave, London WC2H 8DP

, booking until May 2020. Production images by Johan Persson. For more information and tickets please visit the website.