So, just for complete disclosure here, Traviata was the first opera I ever saw, and I saw it at the Coliseum with the ENO. No surprise then (given I was hooked by the end of that first overture) this is one that holds a special place in my heart. Last night's revival of the 2013 production by Peter Konwitschny was very different from that first version. Gone were the sumptuous costumes and sets, gone were the Spanish dancers at the party – even gone were the intervals.
Instead, this is a production that runs straight through from start to finish and its sets consist mostly of scarlet curtains and a lone chair. Such a setting by its nature contracts the action, highlighting the isolation of the high-class courtesan, Violetta – even in the midst of her own party she is alone. Her "friends" (the ENO Chorus as brilliant as ever) grow increasingly venomous as the parties go on, while the relationship with her protector, Baron Douphol (Freddie Tong) is as transactional as it gets. All this changes when Alfredo appears. Played by the Argentinian tenor Jose Simerilla Romero, this Alfredo is nerdy and bespectacled, an Arthur Miller to Violetta's Marilyn.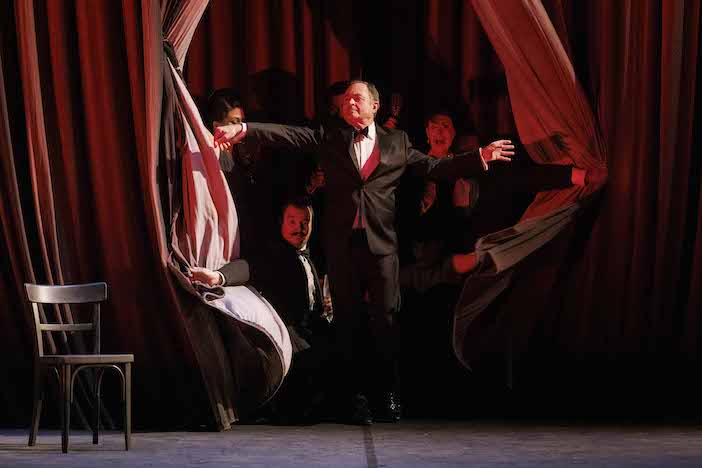 Alfredo belongs within respectable society so any recognised relationship between them is clearly impossible. He has, however, fallen in love with Violetta and persuades her to run away with him from Paris to live in the country. From here it can, of course, only go wrong.
Ruth Knight has revived this current production of Traviata and in its pared down staging, the focus is on the psychological and the torment of Violetta: her guilt as a "fallen woman", her early brittle determination to enjoy those parties in Paris, her short-lived joy on finding love, her hidden tragedies (the deception she plays on Alfredo, her illness, the very moment she thinks she might cheat death). On stage throughout, this is a heavy burden for any singer but one that Nicole Chevalier carries magnificently. Her voice never tires despite the demands on it and the subtlety of her characterisation of Violetta is probably the best I've seen.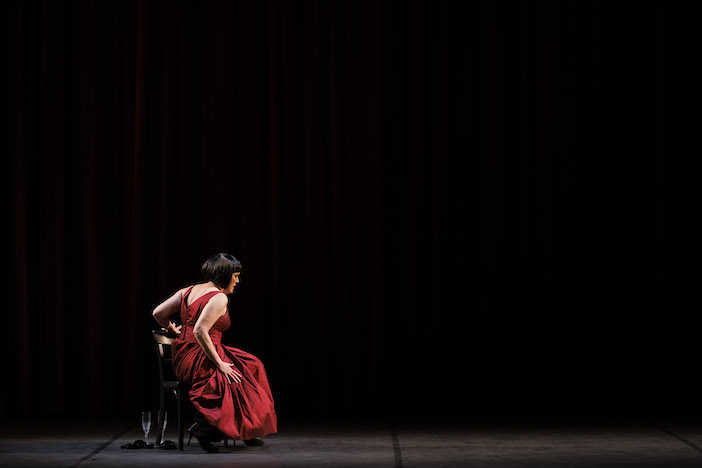 There are notable performances, too, from Roland Wood as Alfredo's father (though for me his heart melts a little too late – surely it should be when Violetta weeps, Piangi, in their first meeting); Sarah-Jane Lewis is a touching Annina and Amy Holyland a glamorous Flora. The star of the night, though, is without doubt Chevalier and her tour de force as Violetta, though she shares that honour with conductor Richard Farnes and the ENO Orchestra. All of them took to the stage on the first night to take a well-earned bow for their sensitive and lyrical playing.
It was a poignant moment and most of the audience (the ENO has a particularly loyal following) knew that the company's music director Martyn Brabbins recently resigned over the Arts Council cuts to the company's budget. If there could have been any doubt (there wasn't) Traviata is surely evidence of the magnificent work this company does – its loss would be devastating for London.
The ENO's La Traviate runs at the Coliseum until 12th November. For more information, including performance dates and times, and for tickets, please visit www.eno.org.