Keith Warner's 2017 production of Otello at Covent Garden has returned to packed houses and a rapturous audience. Last night's performance saw them give an extended and well-deserved ovation to conductor Antonio Pappano and the Orchestra of the Royal Opera House and, musically, this is a very fine evening indeed. The chorus was in its customary fine voice, too, and there were a number of lesser roles that were memorable – particularly Freddie De Tommaso's Cassio.
It is an opera, though, that focuses on its three main characters with an intimacy that is intense, almost claustrophobic. Across Boris Kudlicka's dark sets, dramatically lit by Bruno Poet, Iago hatches his dark plots and Otello and Desdemona fall unknowingly into his power.
Of course, Verdi's Iago cannot have the same depth and complexity of Shakespeare's original – and there are moments when it is hard to believe his unfathomable malevolence can really be down to simply being passed over as Otello's captain.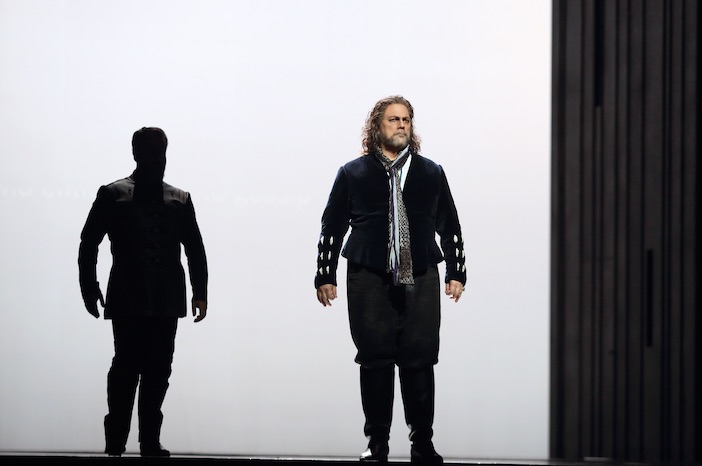 In Carlos Alvarez, though, Iago is a convincingly sinister figure whose schemes unfold apparently effortlessly. He plays the bluff soldier to his general, Otello's "honest Iago" while deftly showing the audience his true disdain. He is a commanding onstage presence. Ermonella Jaho is the ideal Desdemona, with a soft, soaring voice and an innocence that is clear to all – except of course Otello. She shines throughout, particularly in the final act with the Willow Song.
Gregory Kunde is Otello and, at 65, his voice is strong and intense with a hint of hoarseness and at times it cracks heartbreakingly under the weight of his emotion and despair. This is a hugely demanding role – Otello is barely off the stage all night. Kunde gives us a dangerous Otello, one who tips over into violence and paranoia. It's a tour de force, not just vocally but in his physicality as the torment of his suspicion takes over not just his heart and mind but his body, too. A triumph.
Performances run until 22 December 2019. For more information and box office, visit roh.org.uk.