Let me begin – most unusually – with the orchestra. The ENO's production of Peter Grimes (they're still, thankfully, at the Coliseum – despite the best efforts of the Arts Council) is remarkable in many ways, but the orchestra under Martyn Brabbins is quite outstanding. Their ability to draw the rapturous and rhapsodic from Benjamin Britten's score was met with deservedly tumultuous applause.
Rapturous? Rhapsodic? This is Peter Grimes we're talking about here, an opera famed for its grimness and desolation. The music itself, though, rolls in great glorious waves, the personification of the unseen character at the centre of the plot – the sea itself. Peter Grimes is a fisherman whose apprentice has died at sea. The village seeks to condemn Peter Grimes for some unknown crime against the boy but it is decided the death was an accident. Nevertheless, Grimes is still the outsider, untrusted and in some way different. Many have seen reflections in this of Britten's own life – the composer being not only a conscientious objector during the war (the opera was first performed in 1945) but also gay.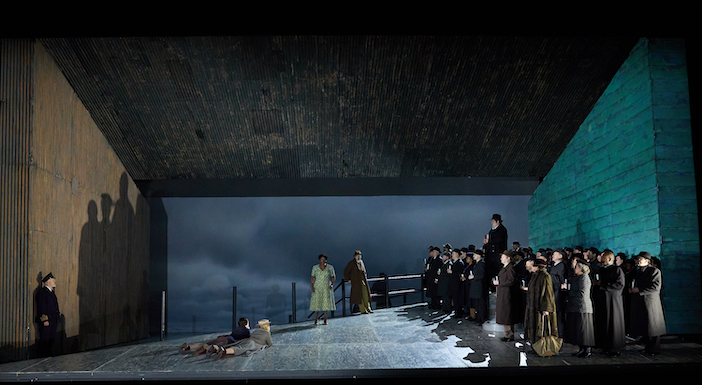 This is a village, though, where most of us would be pleased to be outsiders. In David Alden's fine production, the locals consist of busy-bodies and drunks, prostituted children (an astonishing Diane Arbus-style pair of twins, Cleo Lee-McGowan and Ava Dodd), crazy Methody preachers, quacks and gossips – a tawdry cast of finely-delineated characters provided by the magnificent ENO Chorus. The only light in this darkness is Ellen Orford, a widow loved by Grimes and, as played by Elizabeth Llewellyn an angel of hope with an equally soaring angelic voice.
Grimes's story is, despite the widow's love, all downhill – the seemingly inevitable fate of the outcast. As Grimes, Gwyn Hughes Jones is a bear of man, awkward, fierce and with shoulders broad enough to carry the immense weight of this demanding role. His fine tenor reached the top register effortlessly and his uncomprehending acceptance of his final act of self-destruction was completely convincing.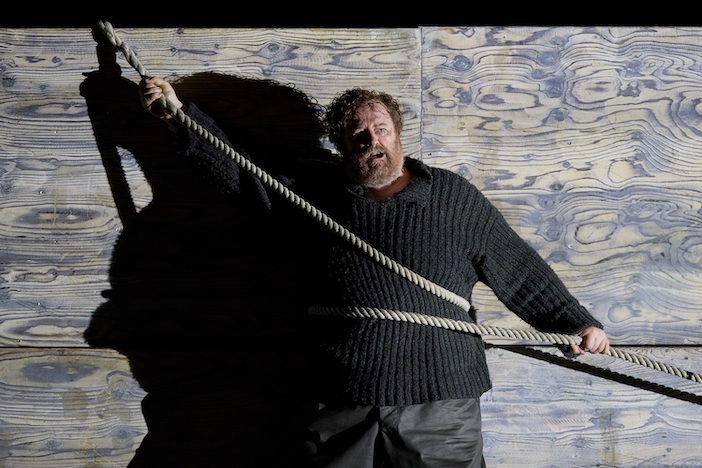 There is excellence, too, in the supporting roles. Simon Bailey was a warm Captain Balstrode, Christine Rice as the appalling "Auntie" dominated the stage whenever she appeared, Alex Otterburn was a spivvy Ned Keene and John Findon a manic Bob Boles. It is perhaps surprising that such a motley group should come from the cold grey Suffolk fishing village where Grimes is set. It's cleverly conjured by the raked platforms and murky interiors of Paul Steinberg's designs and Brigitte Reiffenstuel's drab 1940s costumes.
There is nothing drab about this production, though – stirring on stage and sumptuous in the pit, a memorable Peter Grimes indeed.
Peter Grimes concludes at the London Coliseum on 11 October. For more information, and bookings for this final performance, please visit www.eno.org.
Photos by Tom Bowles